Opera
Tannhäuser ★★★1/2 (Melbourne Opera)
In 1852 Richard Wagner issued instructions to opera houses planning to stage Tannhäuser. It had closed after only four performances when it opened in Dresden in 1845 – conducted by the composer without most of the scenery, delayed in transport – but was now attracting wide attention. His essay (14,309 words in English translation) was typically didactic and punctilious, and he demanded complete adherence to every detail. If, for example, the pilgrims were to enter the stage in traditional double file, 'then I merely beg the band to play some march from Norma or Belisario, but not my music'.
Wagner had an entertainingly low opinion of tenors, who were obsessed with 'the paltriest details of vocal trickery'. 'Besides this care and delight, they generally know nothing but the pleasure of fine clothes, and the toil to make their finery and voice together bring in as much applause as possible – above all with an eye to higher wages.'
It is interesting to know what the caustic German composer would have made of the Melbourne Opera production, which opened on Saturday at the Regent Theatre: it faithfully follows some of his dictums and utterly ignores others. This is early Wagner, and still has wonderful arias and duets, along with many foretastes of the profound genius to come. It is the story of the thirteenth-century minstrel Tannhäuser and his struggle between the sacred and profane, the fleshly and the spiritual, as personified by Venus, the goddess of love, and the chaste Christian Elizabeth.
Wagner, never quite satisfied, fiddled with it often, particularly for Paris in 1861, where he had to add a ballet to fit the inflexible French convention. Being Wagner, he set it in the first act rather than the second, incurring the wrath of the influential members of the Jockey Club, who were accustomed to a languid dinner, a stroll to take in the ballet, then amatory adventures back stage. Thwarted, they interrupted the performance with dog whistles and other bad behaviour. As in Dresden, the run was short.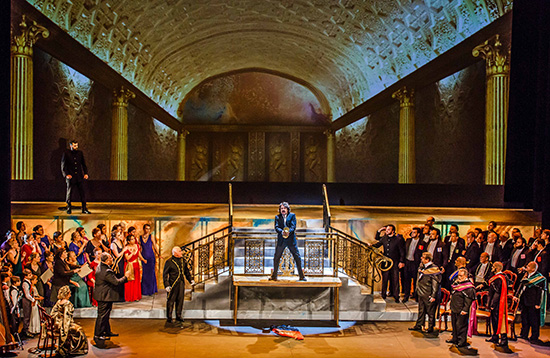 Marius Vlad and the cast of Melbourne Opera's Tannhäuser (photograph by Robin J. Halls)
I have to confess that when I heard that Melbourne Opera, in the third tier of the city's companies, had scheduled so ambitious an opera my thoughts flew to Macbeth and his 'vaulting ambition which o'erleaps itself'. Wagner's score calls for a large orchestra, with a further three dozen on stage (almost never observed), with ten solo singers, plus assorted nobles, knights, ladies, pilgrims, sirens, nymphs, and bacchantes in the chorus. My fears were utterly unjustified, with a highly engaging production proving a substantial success. At no point did it flag, thanks in part to Suzanne Chaundy's intelligent and sympathetic direction and a fine creative team. Zoe Scoglio's video projection, never overplayed, worked well with the bacchanale of writhing naked limbs and the key moment when Venusberg gives way to the Wartburg, and a reclining woman's back becomes a mountain. The hall set for Act Two was applauded.
But this Tannhäuser's success is built on two very fine principals. The title role is one of the most challenging Wagner tenor parts, not least because it requires a lyric tenor in the first act and a true Heldentenor in the last two. Wagner commands total commitment, saying Tannhauser is 'nowhere and never "a little" anything, but each thing fully and entirely'. Romanian tenor Marius Vlad brings plenty of volume, commendable accuracy, and a clarion tone.
The chief glory of the production is Lee Abrahmsen's Elizabeth, pure, lovely, and totally secure, good in her first big aria and wonderful in her final prayer. The production got better as the performance went on and nerves steadied. Manfred Pohlenz as Wolfram, slightly pallid in the first act, sang well in the vocal contest, and was highly creditable in his big aria about the evening star. Eddie Muliaumaseali'i was a steady and dignified Landgrave and Jason Wasley an ardent Walther, while Sarah Sweeting was a seductive Venus.
Yes, there were serious flaws – such as the underwhelming sixty-five-piece orchestra, which often took a democratic approach to intonation: rough agreement, with majority rule. But it would be ungracious to ignore some lovely seamless playing of Wagner's long melodic lines or conductor David Kram's generous sensitivity to the singers, both in shaping phrases and in reining in his forces to let the singers be heard without forcing their tone too heavily. His swift tempi ensured each act passed long before it could outstay its welcome.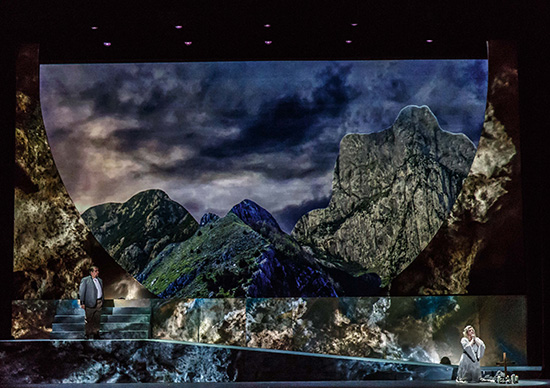 Manfred Pohlenz and Lee Abrahamsen in Melbourne Opera's Tannhäuser (photograph by Robin J. Halls)
The Regent is a handsome and venerable theatre, but I am not surprised that Tannhäuser is its operatic début, because its cavernous auditorium made a difficult and diffuse acoustic, despite the effect of 1,300 enthusiastic audience members. And it was extremely odd that, while the soloists sang in German, the chorus sang in English. Could they not master the diction in the original language?
Wagner wrote: 'I know that any opposition to the fulfilment of my demand will come chiefly from the parsimony – often alas! most warrantable, as I admit – of the theatrical Directors.' No doubt Melbourne Opera would have liked a bigger budget, but even so they have given a richly satisfying account.
Melbourne Opera's Tannhäuser, composed by Richard Wagner and directed by Suzanne Chaundy, continues at the Regent Theatre, Melbourne on August 17 and 20 2016, and will be performed at the Robert Blackwood Hall, Monash University on 28 August. Performance attended: 13 August.
Arts Update is generously supported by The Ian Potter Foundation.