Theatre
SHIT (fortyfivedownstairs) ★★★1/2
Patricia Cornelius has a passion for putting unlovely characters on stage. It has almost become an end in itself. Here she chooses, as her anti-social subjects, three violent, foul-mouthed women, all from broken families or foster homes, all victims of sexual and physical abuse, all bruised down to their moral core.
Billy (Nicci Wilks), a brawler and a bawler, picks fights wherever she can, always talking at maximum volume. She sees herself as a realist, someone who has shredded every last illusion about the world and her situation in it. She has never cried about anything or anyone. Then there's Bobby (Sarah Ward), quieter than Billy but just as tough, or perhaps tougher. She only gets worked up about one subject: women. She hates them, or says she does. In today's jargon, she has internalised misogyny. Finally, there's Sam (Peta Brady). She likes a good cry, feels bad for her junky mum and still holds onto some hope for a better future. Maybe she'd even like to have a baby. Bobby and Billy reckon she's hasn't really grown up.
Hours after watching a woman being almost beaten to death by her partner, the three of them have just beaten – and possibly killed – a stranger. Now they are in police custody.
These characters allow Cornelius to explore the traumatising effects of extreme socio-economic disadvantage, especially on women. And they also seem to operate, at least in certain scenes, as a metaphor for women generally, as second-class citizens who are never given a chance. For a playwright, these characters are also their own reward. They are lavishly alive. Cornelius writes with sympathy, but it is the vitality of the characters which attracts us. They have everything the stage needs, or almost everything.
This is also play about language – specifically bad language. It opens with Billy hurling a torrent of 'fucks' and 'cunts' more or less indiscriminately at the audience. And she loves it. All the women love it. They love to see nice people squirm as the air turns blue in a tram or on a train or on the street. The playwright, too, seems attracted to the potential for bad language, even in today's fallen world, to make an impact on audiences.
SHIT was first performed as part of the Melbourne Theatre Company's 2015 Neon Festival of Independent Theatre, directed by Suzie Dee, and this is a remount of that production. In the much larger Lawler Theatre, I thought Marg Horwell's set looked a bit awkward, a block fallen haphazard from some obscure disaster. At fortyfivedownstairs, however, the design fits snug with the theatre's dimensions. This better serves the snatches of physical theatre between the scenes. Now it really does look like the performers are exploring a hostile urban environment, not playing 'ring around the rosy' with a concrete behemoth. Now the bulky, almost featureless grey façade more effectively disciplines the stage space, always seeming to push the women right into our faces. Which is where they want to be.
In this season, as with the première season, it is the virtuoso performances by Wilks, Brady, and Ward that really excite. Miracles pile up as the brief scenes hurtle by. I think, for instance, of the scene in which the women compare their respective abilities to simulate submission and helplessness. When it's Bobby's turn, Ward immediately crumples, her eyes watering and her hands shaking, and from her mouth we hear a stranger's voice, begging not to be touched. It's a remarkable performance within a performance, one that is simultaneously terrifying and very funny.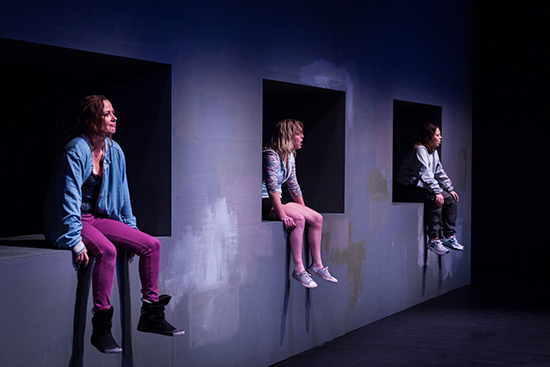 Peta Brady, Sarah Ward, and Nicci Wilks in fortyfivedownstairs' production of SHIT (photograph by Sebastian Bourges)
It must also be said that the play is better served by its audience at fortyfivedownstairs. On the opening night of the Neon season, the audience turned the play into a comedy, laughing at almost every expletive. And there are a lot of expletives. There is comedy in SHIT, but it is very black, and it rubs too close to horror to be laughing all the time.
SHIT was the clear standout in last year's Neon Festival, and it's a fine thing that we have this chance to see it re-staged. Still, I think it is a bit disappointing that the production has not been further developed. It is a short play, less than an hour, and there is a sense in which, in its current form, it is something of a writerly exercise, albeit one executed by a writer at the top of her game. There is not much dramatic shape to the play, and there is barely any tension. It is bravura from beginning to end. It does feel as though this play could be more than just a vehicle for energetic impersonation. You can glimpse the outline of something more substantial, something which takes the argument beyond the relatively banal observation that brutalised people do brutal things.
Still, to have brought these unlovely characters to the stage, and to have made them sympathetic without sentimentalising, is in itself a fine achievement.
SHIT, written by Patricia Cornelius and directed by Suzie Dee, is presented by fortyfivedownstairs. The production continues there until 15 May 2016. Performance attended: 5 May.
Arts Update is generously supported by The Ian Potter Foundation.