Opera
La Bohème ★★★ and The Pearlfishers ★★★★1/2 (Opera Australia)
Melbourne's long Indian summer coincided with Opera Australia's 2016 autumn season. It began with a revival of La Bohème (★★★) and the new production of The Pearlfishers (★★★★1/2) (first seen in Sydney earlier this year). The much-anticipated Luisa Miller with Nicole Car (which I reviewed in February 2016) will follow next week.
Giacomo Puccini does not seem to have been a highly emotional creature – promiscuous, yes (as his long-suffering wife, Elvira, could attest), but not loving. 'In later life,' William Mann has written, 'he lamented that nobody loved him; but Puccini seems to have been psychologically unable to form a loving relationship with anyone.' He was attracted, in Mann's phrase, to 'frail, appealing girls'. They gave him some of his greatest operatic creations: Manon Lescaut, Liù, Butterfly, and of course Mimì. In the composer, Mimì inspired unprecedented emotions. Of the evening in December 1895 when he finished composing the opera Puccini later told his biographer: 'I had to get up and, standing in the middle of my study, alone in the silence of the might, I began to weep like a child. It was as though I had seen my own child die.'
Like many a masterpiece, La Bohème might well not have happened. A less egoistic artist would have withdrawn after Leoncavallo, the composer of Cavalleria rusticana (1890), showed Puccini his own libretto for La Bohème, based on Henry Mürger's novel Scènes de la vie de Bohème (1851). Puccini, fresh from his own triumph with Manon Lescaut (1893), had another opera in mind – La Lupa ('The She-wolf'). When Marchesa Gravini (daughter of Cosima Wagner) dissuaded him, Puccini returned to Mürger's tale. His opera premièred in Turin on 1 February 1896 (the young Arturo Toscanini conducted); Leoncavallo's followed in Venice the following year. History tells us whose La Bohème has prevailed at the box office.
Puccini, ever sure of himself, was ruthless with his librettists (five of them had worked on Manon Lescaut, including Leoncavallo). He took his time with La Bohème, and Giuseppe Giacosa and Luigi Illica gifted him a witty, dynamic libretto. It elicited some of Puccini's most conversational writing. There is little old-fashioned recitative, for something is always happening. Nor is there much heroism in this swift-moving opera: the themes are penury, youthful ardour, and frozen hedonism. Arias are few, and two of the most famous of them were only added late in the day: Mimì's and Rodolfo's in Act I, which, culminating in the duet 'O soave fanciulla', comprise one of the most extraordinary fifteen minutes in all Italian opera. Melodies are aired prodigally then casually dropped. Applause, when it happens, as it always does, if only mechanically, seems inimical to this surging and engrossed melodic work.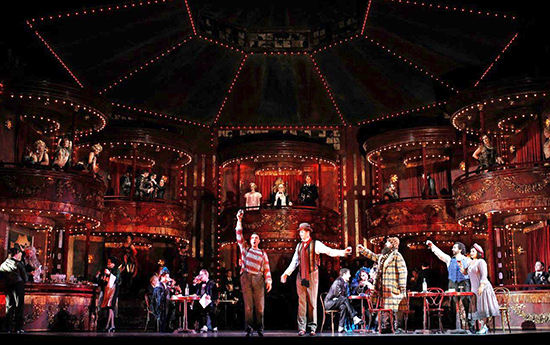 Opera Australia's production of La Bohème (photograph by Jeff Busby)
The structure of the opera is symphonic – two outer, expatiatory movements surrounding a scherzo and adagio. Perhaps only a concert version – or an unbroken performance – would fully reveal the riches of the score, of which Lord Harewood wrote: 'so attractive is the melodic flow, so lyrical the melodic invention that few of its vast army of fans bother to notice that points are made, contrary to the work's reputation for wearing its heart on its sleeve, almost too fast for any but connoisseurs to take in!' On opening night Andrea Molino led a most persuasive account of this detailed score. Orchestra Victoria, on excellent form, drew perhaps the biggest ovation of the night.
We first saw Gale Edwards's production in 2011. She moves the action to Berlin in the 1930s – the last phase of the Weimar Republic. She wanted 'to deliver ... a deeply romantic and youthful love story. Yet it is a decadent world upon which our impoverished bohemians have stumbled. Musetta is prodigiously available, and even Mimì, so winsome at the start, turns to a Viscount as her tuberculosis worsens. Decadence suits the director's aesthetic, and she brings much colour and movement to the production. Café Momus in Act II is even more louche than usual. At times the permissiveness felt overdone, as when Musetta undresses Marcello in the snow, which was taking bohemianism too far. It felt unveristic and embarrassing. Even for an intoxicated lover, Terranova spent too long on his knees.
One supreme moment in the opera – the orchestral crescendo in Act IV before the final duet – went strangely unnoticed, with no reaction from either Rodolfo or Mimì. This should be an almost unbearable moment for the audience.
The singing was mostly fine, though Gianlucca Terranova (Rodolfo) was not in good voice. Still, he hit all the high notes in Act I, including the top C at the end of 'O soave fanciulla', despite Puccini's instruction.
Lianna Haroutourian (Mimì) has sung with the company before (Desdemona), and last month she sang Amelia opposite Plácido Domingo in Simon Boccanegra at the Met. Hers is an unusually sumptuous voice, utterly comfortable in a large house. She began well in 'Mi chiamano Mimì', but then became a little squally. The final aria, 'Sono andati', was beautifully sung.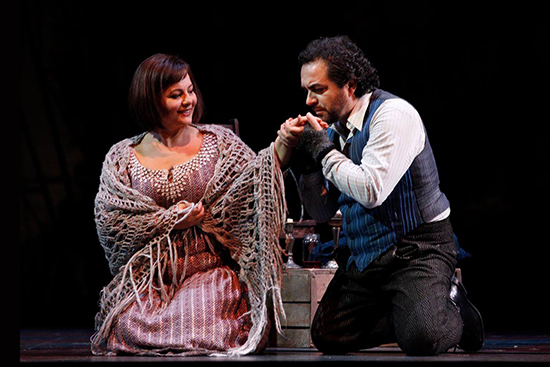 Lianna Haroutounian as Mimì and Gianluca Terranova as Rodolfo in Opera Australia's production of La Bohème (photograph by Jeff Busby)
Jane Ede was a superb Musetta – a true singing actor, especially in Act IV, when it was hard to take one's eyes off the broken-hearted Musetta. Andrew Jones was convincing and tuneful throughout as Musetta's agitated lover Marcello. Amid all the horseplay, Shane Lowrencev conveyed Schaunard's transformation from leggy fool to thoughtful mourner. Colline has one of the finest moments in the opera, the poignant arioso 'Vecchia zimarra', as the philosopher heads off to pawn his labradorial coat. Richard Anderson made much of this poignant tune.
In many other countries, Les Pêcheurs de Perles (1863) has not been a constant in the repertory. Georges Bizet was only twenty-four when he composed it. Often it is dismissed as a flawed work, not to be compared with Bizet's Carmen (1875). Bizet himself referred to it as 'The Shrimp Fishers'. The Metropolitan Opera's recent (much-lauded) production was its first since 1916.
The Pearlfishers has fared better in Australia, with frequent productions and extended seasons (the current one runs to eight performances). For Arts Update, Michael Halliwell has already written at length about Michael Gow's new production. Roger Kemp's sets and costumes looked superb on the big Melbourne stage; the effect when the mighty State Theatre curtain rose for the first scene was exceptional.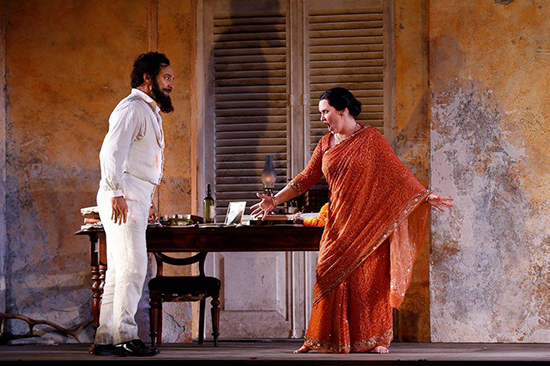 José Carbó and Emma Matthews in Opera Australia's production of The Pearlfishers (photograph by Jeff Busby)
As Michael Halliwell wrote, 'This is an opera that objectifies and fetishises the voice ... and it needs good singers.' Here it had some exceptional ones. Of the four principals, only José Carbó (Zurga) repeated his Sydney role – his first French one with the company. Rarely has he sung better, which is saying something. His contribution to the famous duet was telling, but Carbó was most arresting in the Zurga's long scene in Act III – which was transplanted here from Zurga's tent to a colonial study with antlers and empty wine bottles. Carbó was superb in the aria 'O Nadir, tendre ami de mon coeur' and in the ensuing clash with Léïla.
Emma Matthews, assuming the role after Ekaterina Siurina, was an assured Léïla. The coloratura never troubled her, and devotees of the trill would have been well pleased on the night. Léïla great aria in Act II, 'Comme autrefois dans la nuit sombre', was beautifully shaded, and Matthews was at her best in the key duets with Nadir and Zurga.
Dmitry Korchak – in his début with Opera Australia – succeeded Pavol Breslik in the ardent, testing role of Nadir, Leila's inamorato. Minutes into the performance, it was clear why the young Russian lyric tenor is in such demand around the world: already he has sung in the great houses of London, New York, Vienna, Milan, Berlin and Munich. Arts Update envies those who will shortly hear Korchak as Rossini's Otello and Bellini's Arturo in Naples and Vienna, respectively.
'Au fond du temple saint' is a daunting duet, and it can be a hackneyed one, but Korchak, in close rapport with the conductor, immediately put his stamp on it with singing and phrasing of great refinement, worthy of a prayer. Carbó followed him with similar thoughtfulness and delicacy, and this famous quasi-love duet acquired new meaning and interest (Korchak can be heard performing it here, with the outstanding young baritone Vasily Ladyuk).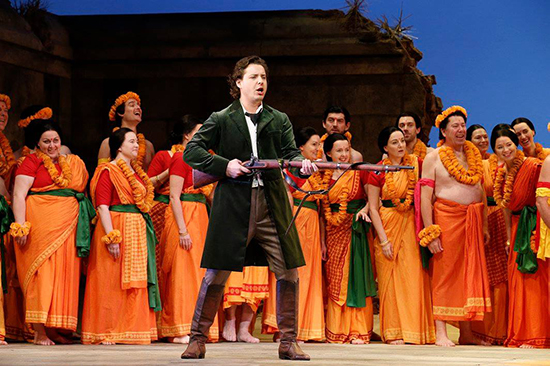 Dmitry Korchak in Opera Australia's production of The Pearlfishers (photograph by Jeff Busby)
Nadir then sings one of the most famous tenor arias – 'Je crois entendre encore' – and here Korchak was magnificent. The aria – most famously recorded by Nicolai Gedda of whom Korchak consistently reminded Arts Update – is marked piano throughout, and the Russian never shirked its high and exposed music, easily rising to the high B naturals at the end. Tenor singing of such elegance is rare in theatres the size of the State Theatre; Korchak clearly has the intelligence, and the technique, to pull it off. His is a performance not to be missed by Melburnians.
Steven Gallop, in the small role of Nourabad, acted the part well and sang with real power and assurance.
Guillaume Tourniaire conducted his ninth opera for the company – of which he is now a clear star. His poise, his daring, his preference for languorous tempi and fresh, subtler readings was impressive. The chorus has much work to do in The Pearlfishers, and here it was consistently fine.
La Bohème, composed by Giacomo Puccini and directed by Gale Edwards (and revival director Andy Morton) for Opera Australia, continues at the State Theatre, Arts Centre Melbourne until 28 May 2016. Performance attended: 3 May.
The Pearlfishers, composed by Georges Bizet and directed by Michael Gow for Opera Australia, continues at the State Theatre, Arts Centre Melbourne until 28 May 2016. Performance attended: 7 May.
Arts Update is generously supported by The Ian Potter Foundation.