Music
Monteverdi's Vespers (Melbourne Recital Centre) ★★★★1/2
Reaching for an English word to capture the shifting rhythmic pulse of his Concerto Italiano's performances of Monteverdi, director Rinaldo Alessandrini hazarded 'elasticity'. 'Is that the word?', he queried ABC Radio National's Andrew Ford (who had suggested 'freedom'). It was, yes, and Ford went on to ask, 'Like jazz?'
Exactly. Amazingly. Like jazz. As alive, unpredictable, and fresh as a great session at The Blue Note, Concerto's Italiano's way with Monteverdi is the way of dance and rhythmic play, of seeming improvisation. For all its early music discipline, the ensemble breathes an air of fresh invention. What on earth will come next you wonder? It might be an intimation of swing in their rendering of the great psalm 'Lauda Jerusalem, Dominum' ('Praise the Lord, O Jerusalem'), or a prefiguring of Ella Fitzgerald's virtuosic scat in the filigree ornamentation of the soprano duet, 'Pulchra es' ('Beautiful you are, my love'), from the Song of Songs. You never know what to expect, but when they come, Concerto Italiano's renderings have the force of dynamic inevitability.
I had wondered, before hearing the performance (it was Concerto Italiano's inaugural appearance in Australia – bravo Recital Centre), how a twenty-first-century audience would receive this music, written more than four hundred years ago (1610), and set to a text that is a liturgical and scriptural miscellany (compare Handel's Messiah – though Handel had at least a linear narrative with which to work). Monteverdi welds together Gregorian plainchant (cantus firmus), psalms, a snatch of Isaiah, then John, then back to Psalms, to the Song of Songs, to concerti and, finally, the great canticle, the Magnificat, Mary's hymn of triumphant joy at the prospect of pregnancy and birth (given by Concerto Italiano in the grander of the two versions that Monteverdi provided – this one resplendent with its seven voices, six instruments, and basso continuo).
But the joints hold. The music coheres, magnificently. Whether Monteverdi intended it as a celebration of the Blessed Virgin, or a piece in honour of Saint Barbara (associated with the Trinity invoked in 'Duo Seraphim') is a question to enliven scholars, but hardly matters to a listener, who will be hearing only Monteverdi's dramatic onward momentum, his breathtaking rhythmic swivels, piercing cascades of solo and plaited voices, the exhilarating dissonances in his polyphony that resolve into cadential harmonies. You can sense the mathematical complexity of Monteverdi's sound play – an abstract marvel, and exciting to read on the page – the score moves with such speed and compositional intricacy. Yet this is fully embodied music – or, as the Christian theologians would put it, incarnated, made flesh – and so sumptuously Italian. None of Hildegard's northern European 'feather on the breath of God' ethereal transcendence here. In live performance, even under the baton of the scholarly, quietly precise Alessandrini (bless the Recital Centre for its continued provision of pre-performance talks by its artists), it is a stylistic world away from the CD performances of John Eliot Gardiner and his English Monteverdi Choir (Decca, recorded 1972 and 1974) or even from Jordi Savall's 1988 Vespro (Alia Vox), recorded in Mantua's Basilica of Saint Barbara, a space and acoustic familiar to Monteverdi himself.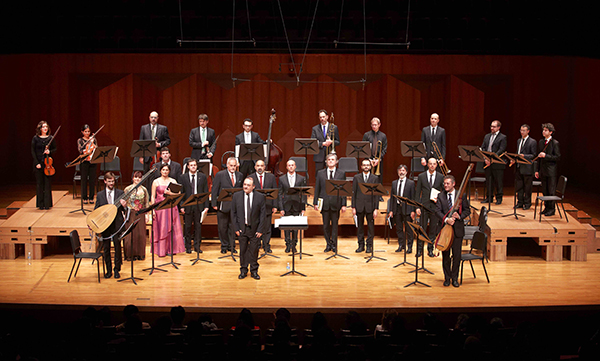 Concerto Italiano (during a Seoul performance in late 2015)
Listening to Concerto Italiano with ears schooled in an austere English choral tradition, I kept remembering Geoffrey Chaucer's gently satirical probing of his worldy-prim Prioresse's devotional flourishes (in The Canterbury Tales): 'Ful weel she soong the service dyvyne / Entuned in hir nose ful semely.' There was nothing constrained or seemly about Concerto Italiano's performance, and not much entuning in the nose either. If it did not make me want to repudiate a choral tradition I unrepentantly love, it did make me smile because it was such a revelation to hear (and see) a completely different style and approach, where the emotional heft of words matters as much, or more, than clouds of glorious sound – or pious vocalising.
Monteverdi's music, famously, draws out the meaning, the affect of the text he employs. In this he is a pivot in musical history, an exponent of the moment when Renaissance cedes to Baroque, a pioneer of opera, his words so much more than syllables, or the vowels and consonants of musical articulation. 'Nigra sum, sed formosa filiae Ierusalem' ('I am a black but beautiful daughter of Jerusalem') sings the solo tenor, with a quiet plangency that provides the perfect foil to the preceding psalm, 'Dixit Dominus', with its triumphalism and assertion of power. Concerto Italiano's tenor, Raffaele Giordani, gave a fine, sustained performance here, every word weighed and lived. His 'Surge, amica mea, et veni' ('Arise my love, and come away'), with its rising intensity, was profound and moving, as was the gentle subsidence into pastoral: 'flores apparuerunt ...' (flowers have appeared in our land; / the time of pruning has come'). And there was a tantalising forward throw to the Mozart that Monteverdi could never have heard (think Don Giovanni and 'La ci darem la mano'). One hopes Mozart absorbed the Monteverdi.
How much the words matter, and how universalising they are, how they radiate from this singular liturgical masterpiece, came home to me as I listened to the psalm 'Laetatus sum' ('I was glad'), with its timeless aspiration: 'Rogate quae ad pacem sunt Ierusalem' ('O pray for the peace of Jerusalem'), which then mounts into the doxology, 'Glory Patri et filio', that you think you know, but which in Monteverdi's hands becomes almost new – grand, expansive, and transcendent. O pray for peace indeed. In Jerusalem, in Syria, in Europe. Everywhere.
The structure of the Vespers is seemingly free – so much variation – and yet deliberate, intentional, and as gratifying as the succession of the seasons or the alternation of day and night. No longueurs. In 'Dixit Dominus', vocal declamation is followed by a dance-rhythm ritornello that shifts the pace, and refocuses the listener's attention. The choral expansiveness of 'Laetatus sum' contracts to the sublime intertwining of two, then three males voices in 'Duo Seraphim'. Syncopated choral passages give way to unison grandeur. The doxologies which complete each psalm and the Magnificat are never mere repetitions. Each has its own particular splendour. The 'et in saecula saculorum. Amen' of the psalm 'Nisi Dominus' unfurls like a giant flower enshrined by time lapse photography.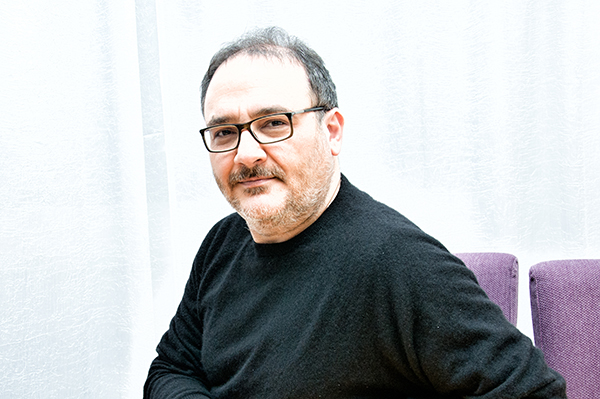 Rinaldo Alessandrini
A particular pleasure of Concerto Italiano's performance was the orchestra: the fluted black cornettos, piercing trombones, cello, double bass, energetic violins, the two percussive (and entrancingly beautiful) theorbos, planted at either side of the stage, and, with the organ, often the only accompaniment, or counterpoint, to the singers. Their playing was the embodiment of verve and spirit. True ensemble – with no hierarchy of performance, but every part essential. And how much volume can come from such spare resources! And what a joy, on an occasion like this, to be able to hear the separate threads of sound, of voice and instrument, even while admiring their concerted effect.
If there were moments of imperfection, a raggedness in the fugal passages of some of the psalms, an occasional metallic overtone in the higher voices (and one soprano who conducted herself rather distractingly), or a hint of fatigue in a voice or instrument, they were expressions of something human, a fallibility more endearing than distracting.
It was fitting, I think, that Concerto Italiano's performance should have been greeted not with a moment of hushed silence but with immediate and shouted bravos and applause – a joyful venting of gratitude that went on and on. But, thank heaven, and Rinaldo Alessandrini's tacit refusal, its relentlessness yielded no encore. After Monteverdi's supreme work what more could one want – or need?
Monteverdi's Vespers, Concerto Italiano, directed by Rinaldo Alessandrini, Melbourne Recital Centre, 23 and 24 February, 2016. Performance attended: 23 February.
Arts Update is generously supported by The Ian Potter Foundation.