Film
Looking For Grace ★★★
As with many fine Australian films, Looking For Grace opens with arid, spectacular landscape. Aerial shots of remote two-lane highways highlight expanses of blonde dirt, granite, and shrubbery across the Western Australian wheat belt, where the film was shot on location. These colours are rare in Australian cinema, which often favours vibrant red desert sand. But there is nothing unusual about the fact that Brooks focuses on long stretches of road leading nowhere. They are flanked by barren expanses whose immensity becomes a motif for discovery and loss.
Looking For Grace opens like a conventional mystery film. Two runaway teenage girls share a bus ride to an unknown location, and on the way their plans are interrupted by a beautiful, electrifying stranger. Grace (Odessa Young) gravitates towards the enigmatic Jamie (Harry Richardson). Sensing her status as third wheel, her friend Sappho (Kenya Pearson) decides to catch the bus home. The film tries to change direction but merely drifts along endless roads. Through a series of related scenes during the bus trip, Brooks weaves together five perspectives. In a non-linear narrative format, they dart forward and backwards in time. This prismatic narrative style sometimes stifles the development of emotional tensions, and impedes what might have been a rather powerful story. The film is heavily weighted towards the final two scenes, which focus on Grace's parents, Dan (Richard Roxburgh) and Denise (Radha Mitchell), during their search for her. The result is an uneven film that doesn't flow smoothly.
Looking For Grace, Brooks's first film as director since the award-winning Japanese Story (2003), is notable for a sustained directorial interest in aesthetic devices. Beyond the harsh and beautiful terrain, what drives her work are the characters' thoughts. Brooks is interested in the things people keep from each other and the mystery of other people's consciousness.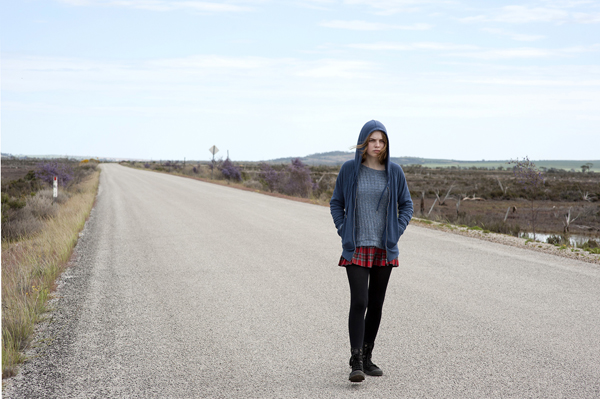 Odessa Young in Looking for Grace (Palace Films)
Because of its inconsistencies, Looking For Grace is a difficult film to engage with. Brooks's first screenplay falters at times, particularly in its non-linearity. Instead of dwelling on the inner perspectives of characters, each spoken line is lingered on too long. Characters snap at each other, mishear each other, and refuse to answer questions, and this can be frustrating. Elizabeth Drake's lively and sympathetic score helps to make up for this.
The most interesting thing about Looking for Grace is its place it assumes in Brooks's small directorial oeuvre. Brooks is about crossed wires, unanswered questions, unwilling participants, stilted conversations. She had more success in Japanese Story and the excellent Road To Nhill (1997), perhaps because these more sensitive films. Characters in Looking For Grace are on edge, apprehensive, withdrawn, and in the face of these anxieties the film offers little pathos. The accomplished cast, which includes veterans Julia Blake and Terry Norris, are not given a chance to excel in their thinly drawn parts. And yet, as a film operating within the road movie genre, it works. Teenagers grow up, middle-aged couples overcome the stasis of long-term relationships, elderly characters reflect on their past decisions.
Produced with the assistance of the Melbourne International Film Festival Première Fund, Looking For Grace had its world première at the 2015 Venice Film Festival, where Brooks was nominated for the Golden Lion. Brooks's wonted team includes cinematographer Katie Milworth, who explores the effects of different lenses on moving vehicles, blending opposing velocities to sustain a sense of displacement. Milworth's cinematic focus is a highlight and makes certain moments compelling. Some warmly presented Australiana, like repeated shots of ice cream refrigerators, suburban restaurants, and silos, recall films like Shirley Barrett's Love Serenade (1994) and its awkward surrealism.
In the end, Looking For Grace has a touching dénouement, moving but unsentimental – one of Brooks's specialties – but it comes too late after the uneven dialogue and the flat humour. Brooks has said the film is 'messy and contradictory and bewildering' because that's the way life is. Sometimes cinema needs to offer more than this.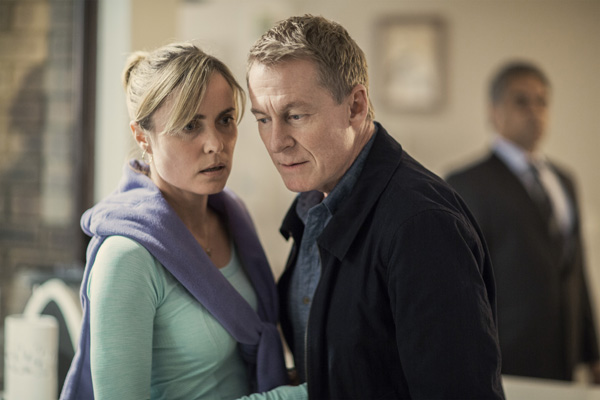 Radha Mitchell and and Richard Roxburgh in Looking for Grace (Palace Films)
Looking For Grace (M), written and directed by Sue Brooks, distributed in Australia by Palace Films. In cinemas from 26 January 2016.
Arts Update is generously supported by The Ian Potter Foundation.