It is a Hollywood staple: C meets T; they fall in love; obstacles stand in their way (a husband, a boyfriend, but most particularly the attitudes of the 1950s); obstacles are mostly overcome, and C and T march happily into the future together. In Todd Haynes's film, Cate Blanchett plays Carol, a soon-to-be-divorced, sophisticated mother of a four-year-old who falls for the younger, unworldly, besotted Therese (Rooney Mara).
The film is based on Patricia Highsmith's 1952 novel, originally and briefly called The Price of Salt before the much more satisfactory Carol. The book was and remains notable not only because the two people in love are women, but also because neither of the women must die for their love like so many lesbians in books and films, or end up lonely and grotesque like Sister George, or die for their fun like Thelma and Louise. Highsmith's novel tells of a romance, with hardship and sacrifices on the way, but a romance nonetheless.
Much of the film is set in 1950s New York. The street scenes (filmed in Cincinnati, Ohio) are stunningly authentic with mustardy lighting, quaint round cars, businessmen in hats clutching cases, gingham curtains in the windows. Later, the two women take a road trip through small-town America staying at poky motels, eating at greasy spoons, meeting down-home characters. Throughout, the clothes and accessories, the hairstyles, the ubiquitous cigarettes, even the food they eat are wonderfully evocative of 1950s. I see an Oscar nomination here.
Unfortunately, confusion reigns for the first fifteen minutes – it is a flash forward, but this does not become clear until much later. Then the film takes off with a wonderful scene in the department store, Frankenberg's, where Therese works in the toy department during the busy weeks before Christmas. Carol comes in to buy a doll for her daughter. Their gaze connects, and immediately these gals are in trouble. Within a short time, Carol is inviting Therese for Sunday lunches at her home in New Jersey, and Therese is jilting her boyfriend, Richard, in order to accept.
Blanchett looks like a Marilyn Monroe 1950s blonde: she is big, her hair is full and waved, her clothes, particularly the mink coat, bulk her out. Like Marilyn, the exterior belies any interior frailties: for most of the film Carol comes across as a strong, worldly woman and not a 50s female oppressed by her husband and the times (which in fact she is). Mara has been made to look like the young Audrey Hepburn in the 1953 film Roman Holiday: the straight eyebrows, the bobbed hair, the fragility. The camera lavishes a greedy eye on these women; indeed, the camera comes close to fetishising them.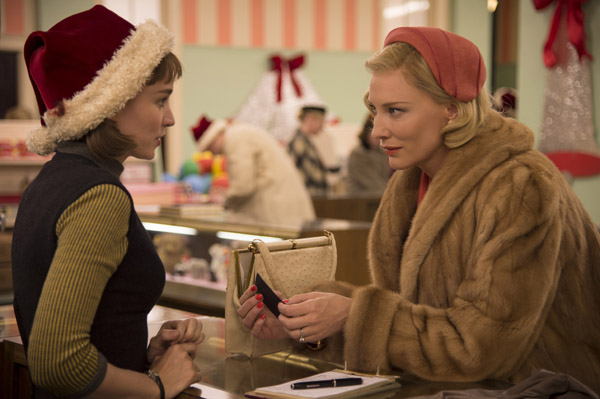 Rooney Mara and Cate Blanchett in Carol (Transmission Fims)
Carol tells of forbidden love forced into the shadows. The cinematography tends to translate this theme by filming the women through glass or fog or some other scrim. Many scenes have an aestheticised, contrived artiness that results in a distancing effect: you admire the beauty of these women, but often you feel detached from them and their situation. And the single sex scene, like so much of the film, is shot in close-up; it's tasteful but cool. The film's portrayal of a lesbian relationship while beautiful, is not particularly bold. Perhaps this is all that mainstream cinema can manage, even in 2016.
The mutual attraction between the women is not entirely convincing. It is not lust, because there is a long time before they do anything more than look meaningfully at each other or apply an occasional electrifying touch to a shoulder (we actually have to wait for their Waterloo, the name of the town where the deed is finally done). It is certainly not shared interests or shared background that unites them. Most crucially, they don't seem to have much fun together.
Then there are the men in the film, the stereotypical 1950s boyfriend Richard who loves Therese and knows what's best for her, and the stereotypical husband, Harge, who loves his wife and knows what's best for her. When Carol doesn't obey, Harge turns nasty, but the fact is we already feel a certain sympathy for this man who has, on several occasions, proclaimed his love for his wife. It is misplaced sympathy, but it suggests the film waits too long to portray how oppressive Harge and the marriage actually are.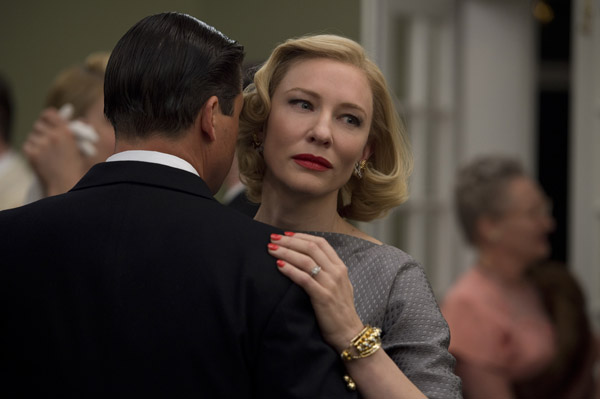 Kyle Chandler and Cate Blanchett in Carol (Transmission Films)
Blanchett plays Carol to perfection, and Mara is well-cast as Therese; it makes a pleasant change for the best-looking women on the screen to be lesbians. Phyllis Nagy's screenplay is admirable, particularly given that Highsmith's novel is written entirely from the point of view of just one of the women (Therese). The 1950s setting is superb. The last scene, even more than the early one in Frankenberg's, is a knockout. All the love, sexiness, and desire associated with romance is there, in a last final gaze. Here the camera is exactly where it should be. Watch for it.
Carol (M), directed by Todd Haynes, distributed in Australia by Transmission Films. In cinemas from 16 January 2016.
ABR Arts is generously supported by The Ian Potter Foundation.