Theatre
Ian Dickson reviews 'Orlando' (Sydney Theatre Company)
Virginia Woolf's early impression of the aristocratic, free-loving woman of letters Vita Sackville-West was not exactly complimentary: 'Not much to my severer taste – florid, moustached, parakeet coloured, with all the supple ease of the aristocracy, but not the wit of the artist.' Her opinion soon changed, however, and she found herself falling in love with the patrician dynamo who had already caused a scandal by eloping with Violet Trefusis, daughter of a mistress of Edward VII. The sexual aspect of the affair between Virginia and Vita was brief, but the emotional side was intense and longer-lasting.
In 1927 To The Lighthouse had just been published to mostly complimentary reviews. Virginia was struggling with a non-fiction book and wondering what to write next. In a letter to Vita she wrote: 'Yesterday ... I couldn't screw a word from me; and at last dropped my head in my hands: dipped my pen in the ink, and wrote these words, as if automatically, on a clean sheet: Orlando: A Biography. No sooner had I done this than my body was flooded with rapture and my brain with ideas.' What emerged from this moment of inspiration was one of Virginia's most popular works, a cod biography, a satirical history, a rumination on gender, sexuality, and creativity, a love letter to Vita, and an attempt to woo her away from her latest conquest, Mary Campbell – A book that Vita's son, Nigel Nicholson, called Vita in Wonderland.
The novel begins in Elizabethan times and proceeds to the year of publication, 1928. Orlando/Vita, who ages twenty years in three hundred and fifty, starts out as a young nobleman but mysteriously changes sex while ambassador to Constantinople, and ends as the wife of a sailor in England having had many adventures in between.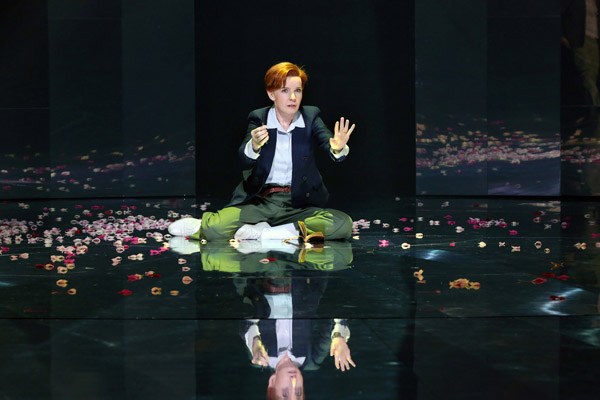 Jacqueline McKenzie in Sydney Theatre Company's Orlando (photograph by Prudence Upton)
The picaresque narrative is notoriously difficult to transpose to the stage. Too often it becomes a series of loosely related scenes which never truly meld into a whole. Candide famously eluded the combined talents of some of the most gifted American theatre artists of the mid twentieth century, and Don Quixote has only succeeded when it has been trimmed and simplified into a shadow of the original. Sally Potter's film version of Orlando (1992), beautiful as it is, doesn't entirely avoid the trap.
'What emerged from this moment of inspiration was one of Virginia's most popular works'
Playwright Sarah Ruhl attempts to circumvent this narrative snare by judicious pruning. She omits Orlando's low-life encounters both as a man and a woman, her adventures with the gypsies on her way home from Constantinople, and, sadly, the poet and later critic Nick Greene. She surrounds Orlando with a chorus of four actors who act as narrators and play all the other roles with the exception of Orlando's great love, the Russian princess Sasha, who reappears throughout the performance and is played with great flair and an accent as thick as borscht by Luisa Hastings Edge.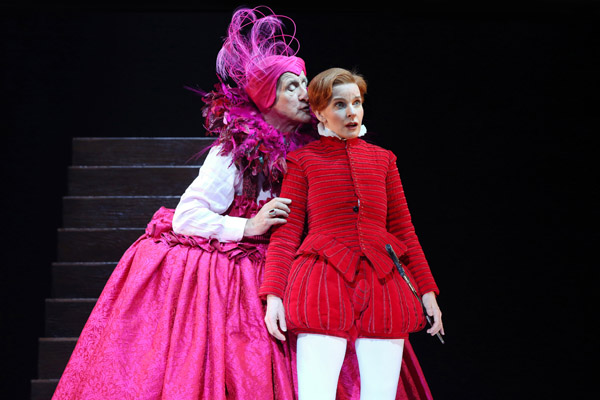 John Gaden and Jacqueline McKenzie (photograph by Prudence Upton)
In a reversal of the old theatrical adage 'show don't tell', Ruhl has the actors comment continually on the action in words taken more or less directly from the novel. At times it feels more like a staged reading of sections from the novel rather than a full theatrical adaptation, a reading which unfortunately loses much of the book's wit but retains rather too much of its whimsy.
'The picaresque narrative is notoriously difficult to transpose to the stage'
Sarah Goodes does her best to bring theatricality to this somewhat academic work. The staging, dominated by Renee Mulder's mobile staircases, is fluid and imaginative. Alan John has put together an attractive, atmospheric score. The moment when we discover that Orlando is irrefutably a woman is exquisitely presented. The chorus are in modern street clothes and add bits and pieces of costume as they move in and out of character. Only Orlando and Sasha are fully costumed throughout.
The pace is rapid as we hurtle through the centuries, and Goodes has her talented and versatile cast play broadly and for laughs. John Gaden's Queen Elizabeth and Garth Holcombe's archduke/archduchess, for example, are played simply as grotesques, when the hint of genuine emotion might have added extra depth and interest to their scenes.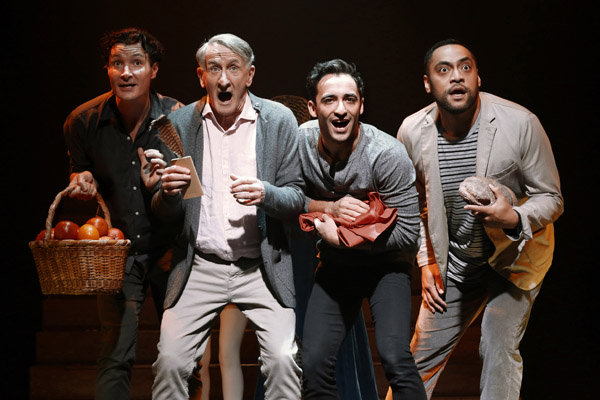 Garth Holcombe, John Gaden, Matthew Backer and Anthony Taufa (photograph by Prudence Upton)
When planning to write the novel Virginia noted that 'it should be truthful but fantastic'. The rest of the cast supply the fantastic and it is left to Jacqueline McKenzie to provide the truth. If Tilda Swinton's Orlando was enigmatic and aloof, McKenzie's is the opposite. At the start she is bursting with youthful energy. Naïve and impetuous, she falls in and out of favour with Elizabeth and has her heart broken by the deceitful Sasha. Gradually, over the centuries, and with a change of gender, she matures. Her final happy marriage to the seaman Shel allows her to discover that 'a woman could be as tolerant and free-spoken as a man and a man as strange and subtle as a woman'. With gamine vigour and charm, McKenzie holds the production together and gives it the propulsion it needs to prevent it being a static series of tableaux. It is her performance that makes Orlando worthwhile.
Orlando, adapted by Sarah Ruhl from the novel by Virginia Woolf, is directed by Sarah Goodes. The Sydney Theatre Company production at the Drama Theatre, Sydney Opera House, continues until 19 December 2015. Performance attended: 16 November.
Arts Update is generously supported by The Ian Potter Foundation.