Opera
Audra McDonald sings Broadway (Sydney Symphony Orchestra)
In 2012 Stephen Sondheim reacted rather unexpectedly to a new production entitled 'The Gershwins' Porgy and Bess'. The original show, which itself has undergone multiple transformations since its première in 1935, was somewhat rewritten, incorporating new scenes, additional dialogue, revised orchestrations, the insertion of new biographical details, as well as the creation of a more 'upbeat' ending.* Sondheim shot off an acerbic letter to The New York Times, commenting on the new title: 'I assume that's in case anyone was worried it was the Rodgers and Hart Porgy and Bess that was coming to town' – a veiled reference to his unhappiness regarding the downplaying of the role of DuBose Heyward, the novelist and playwright on whose adaptation the original version was based, and who co-wrote the libretto with Ira Gershwin.
Sondheim attacked the producers, but reserved a particular barb for the singer portraying Bess, Audra McDonald, whom he rather unfairly and probably out of context quotes as describing Bess: 'she's often more of a plot device than a full-blooded character.' Sondheim explodes: 'Often? Meaning sometimes she's full-blooded and other times not? She's always full-blooded when she's acted full-bloodedly, as she was by, among others, Clamma Dale and Leontyne Price.' The targets of his attack range widely: 'These characters are as vivid as any ever created for the musical theater, as has been proved over and over in productions that may have cut some dialogue and musical passages but didn't rewrite and distort them.' However, he does conclude with the observation: 'certainly I can think of no better Bess than Audra McDonald whose voice is one of the glories of the American theater.'
Audra McDonald is undoubtedly one of the glories of the music business in general as well. After McDonald trained as a classical singer at the prestigious Juilliard Music School in New York, graduating in 1993, success came quickly with an astonishing three Tony awards by the age of twenty-eight; she won her fifth Tony for her portrayal of Bess in the above-mentioned production (she has won six Tony Awards, two Grammy Awards, and an Emmy). Like Australia's Kate Miller-Heidke, a solid classical vocal training underlies the ability to perform in a dizzyingly wide range of musical styles; no mere 'triple threat', she defies generic boundaries. While McDonald has enjoyed her success mainly in Broadway-type shows and in the eclectic range of music characteristic of contemporary musical theatre, she has retained her classical links, appearing in operas and music theatre productions such as Poulenc's La voix humaine, Weill's The Rise and Fall of the City of Mahagonny, as well as opposite Bryn Terfyl and Emma Thomson in a concert performance of Sweeney Todd at the Lincoln Centre in 2014. Of course, this range of activities suggests that one will not see her as Mimi or Butterfly, but her appearances in a wide range of 'classical' music concerts, often with prestigious orchestras, give her street cred as a classical singer as well, able seamlessly to cross the often unbridgeable divide between the classical and the popular – in fact, one of the very few singers who is able to do this convincingly. Added to this is an impressive film and television career as a 'straight' actress – the Oscar to add to her other gongs cannot be far off.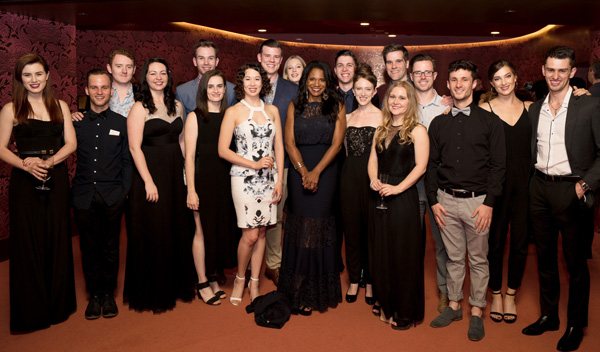 Audra McDonald backstage with young singers at the Melbourne concert, An Evening with Audra McDonald, October 31, 2015 (photograph by Andy Drewitt)
'Audra McDonald is undoubtedly one of the glories of the music business in general'
So what underlies this success? Primarily it is the voice – and what a voice – rich, warm, and clear in timbre, flexible and controlled, and with a wide range from a smoky-hued lower register to crystalline and ringing top notes, all underpinned by her innate musicality and thorough training. She, of course, follows in the grand tradition of great African American sopranos and mezzos – both in the classical and jazz repertory. But her finely developed dramatic instincts are very much on show as well – the ability to shape and mould the music à la Sinatra or Fitzgerald, and to extract the maximum subtlety and nuance possible from a single phrase to a complete song. All of this was revealed in her magnetic performance at the Sydney Opera House as part of her Australian tour.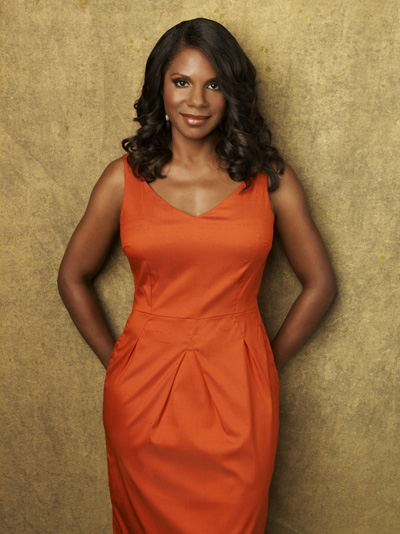 Audra McDonald (photograph by Andrew Eccles)
It is fascinating that two of the great American sopranos of our time have trod the Opera House Concert Hall within the last few months; and both are prime exponents of the oft-derided 'crossover' genre. Renée Fleming is probably America's favourite opera diva, and McDonald the great Broadway star, but both venture on each other's turf with conspicuous success, Fleming drawing on her youthful jazz background. McDonald showed what a large and sumptuous classical voice she has in an unamplified and soaring version of 'Summertime'. She also revealed a charming, warm, and unforced personality in her apposite comments between songs, instantly connecting with the audience, including suggesting a sing-along to 'I Could Have Danced All Night' – the predominantly youngish audience revealing an encouraging number of promising young sopranos.
'McDonald showed what a large and sumptuous classical voice she has in an unamplified and soaring version of ''Summertime'''
The program was an expertly chosen mix of well-known older songs and newer pieces, some of which McDonald premièred herself as a champion of new musicals – 'to keep myself in a job', she quipped. There were some songs just for her and the small band that have been her companions on her sixty-two-city tour, revealing her ease in an intimate cabaret setting, but the luscious sound of the Sydney Symphony accompanied the bulk of the material. Particular highlights for this reviewer were 'Stars and the Moon' by Jason Robert Brown, a wry look at relationships that she has made her own. A Puccini-esque version of 'Moon River' and several other songs allowed her voice to ride gloriously over the full-blooded orchestral sonorities, while the arrangement and performance of 'Maybe this Time' had operatic drama from its slow, steady opening to its rousing, life-affirming climax. In contrast to this was a version for piano two-hands, played by her energetic musical director, Andy Einhorn, and pianist Brian Hertz, of 'I Wish I Were in Love Again' – a particular highlight. McDonald's crisp, clear, and expressive use of text contributes in no small way to her success, particularly apparent in the comic songs. Mention must be made of her version of Kate Miller-Heidke's 'The Facebook Song' – the composer was in Thursday's audience and would surely have enjoyed the rapturous reception her sharp-edged song enjoyed.
Unfortunately, McDonald is not appearing in the SSO's concert performance of Porgy and Bess in 2016, but one can only hope that her next appearance on these shores is not too far off.
*Incidentally, the upbeat ending of 'The Gershwin's Porgy and Bess' was scrapped for the Broadway run.
Audra McDonald sings Broadway, Sydney Symphony Orchestra, conducted Andy Einhorn, 5, 6, and 7 November, Sydney Opera House. Performance attended: 5 November.
Arts Update is generously supported by The Ian Potter Foundation.