Opera
Mary Stuart (Melbourne Opera)
Amongst the seventy works composed by Gaetano Donizetti (1797–1848), only three, The Elixir of Love, Don Pasquale, and Lucia Di Lammermoor were regularly performed in the first half of the twentieth century, and the most popular of these, Lucia, was often presented in truncated form. After World War II, a burgeoning recording industry in search of novelty, coupled with a nascent interest in the bel canto repertoire led by Maria Callas and enthusiastically followed by Joan Sutherland and Richard Bonynge and such singers as Montserrat Caballé and Beverly Sills, rediscovered and re-evaluated other long neglected Donizetti works.
Like the hapless queen herself, Maria Stuarda (1834), had a traumatic history. Repressive censorship in the Kingdom of Naples resulted in forced changes to the libretto before the first performance. The singers suffered from temperament and were often out of voice. A failure at its première, the opera was revived the following year in its original form and thereafter had limited success. Not until the 1970s was there a serious reappraisal of the opera, and indeed a growing realisation that Maria Stuarda contained spectacular singing roles, appealing melodies, and, above all, compelling drama.
The structure of this opera is unusual in that the first two acts are compact, followed by a longer last act where the horror of the execution of a queen by the warrant of another monarch, who is also her cousin, is revealed. Thrilling stuff, requiring a capable company of pulling it off in all departments. With snappy conducting from Richard Divall, a responsive orchestra, terrific singing from principals and chorus, restrained direction from Suzanne Chaundy, an effective set design from Christina Logan-Bell, and vivid costuming from Lauren Ritchie, Melbourne Opera gave this reviewer another wonderful night at the opera.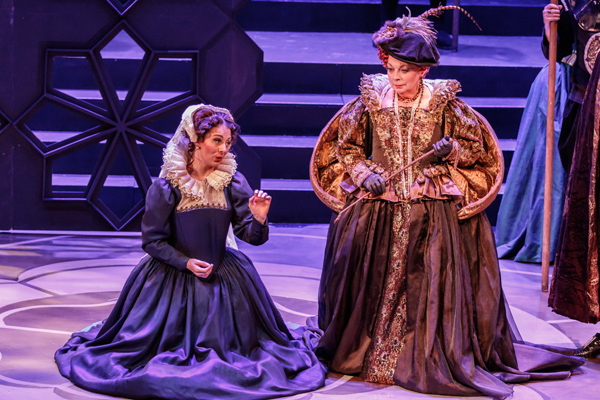 Elena Xanthoudakis as Mary Stuart and Rosmund Illing as Queen Elizabeth I (photograph by Robin Hall)
As Queen Elizabeth, Rosamund Illing used her powerful voice and regal presence to reveal a character who was fearful, resentful, jealous, manipulative, and yet who needed to be cajoled into signing the death warrant of Mary Queen of Scots, sung by Elena Xanthoudakis, a stunning beauty who was in sublime voice of great range and clarity. Henry Choo, as the Earl of Leicester, carried the unenviable dramatic task of balancing Elizabeth's political and personal needs with Mary's despair and failing hope of release. Choo's convincing acting and precise diction worked perfectly to portray the differing aims of the two monarchs. His is a voice well suited to the bel Canto repertoire.
As Lord Cecil, the driver behind the English desire for Mary's head, Eddie Muliaumaseali'i, impressed with his powerful bass voice and menacing presence. Phillip Calcagno, last seen as a jaunty Figaro in Melbourne Opera's Barber of Seville, gave a suitably creepy performance as Talbot, Earl of Shrewsbury playing both rival queens against each other. Caroline Vercoe, as Mary's sympathetic companion, Anna, invested her role with warmth and suitable anguish. Cecil, Talbot, and Anna added the volume of their lower registers to the sextet and finale of Act 2 and the prayer in Act 3, giving great dramatic depth.
The translation used is by Tom Hammond of the English National Opera. When the two queens meet in the forest of Act 2, the question must be asked, is it more fun to have the Italian exchanges of Figlia impure di Bolena and vil bastarda or the more modest 'daughter of a harlot', as sung with considerable relish by Xanthoudakis. I was unconvinced before seeing this production, but am now willing to concede that for the benefit of engaging with a modern audience the vernacular is to be preferred.
'As Queen Elizabeth, Rosamund Illing used her powerful voice and regal presence to reveal a character who was fearful, resentful, jealous, manipulative, and yet who needed to be cajoled into signing the death warrant of Mary Queen of Scots'
That the story of Mary Stuart is essentially a family affair was highlighted by the production's use of the Tudor rose, simply and effectively employed on the stage floor and as a backdrop. The ingenious arch, an arc of doom, gradually closed over the action sealing the fate of Mary. The sombre costuming gave a claustrophobic aura to the drama. Elizabeth, on the other hand was bedecked with gold and silver, complete with fairy wings attached to her shoulders, as though she was removed from whatever was happening on earth and could not be held responsible. Indeed, Rosamund Illing seemed at times to drift above the action as an evil rather than a just presence.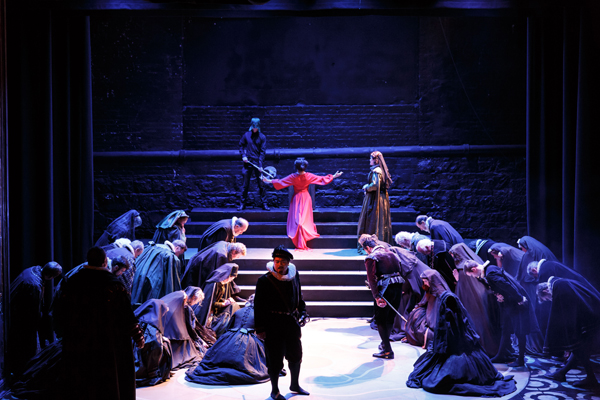 Henry Choo as Leicester (photograph by Robin Hall)
Of course, all of this must end with the execution of Mary Stuart. My wife commented that the red dress worn by Xanthoudakis was pitch perfect; a tone lighter and it would have been banal, a tone darker and it wouldn't have carried the horrific drama. As it was, in the gloomy staging of the prayer scene with the only light appearing to come from the bloody dress, the cumulative nature of the music combined with the fragile beauty of the about to be executed queen created a chilling effect.
There are many ways to declare an opera's success. One aspect that struck this reviewer was the moment when Rosamund Illing took her bow at the end. Some audience members booed, not as a comment on her performance, but because they were so caught up in the emotion of the events. Keeping to her part, Elena Xanthoudakis, gave tremulous affecting bows in response to the audience's enthusiastic reception.
Overall, seeing this opera performed at last (we recall it hasn't been staged in Australia since 1993) is to recognise the dramatic genius of Donizetti and his librettist, Bardari. I hope Melbourne Opera will revisit some of the other works by this under-estimated composer.
Mary Stuart by Gaetano Donizetti, was conducted by Richard Divall and directed by Suzanne Chaundy for Melbourne Opera at the Athenaeum Theatre. There are further performances on September 5, 8, and 12, then one at Alexander Theatre, Monash University on September 19. Performance attended: September 2.