Music
Festival of Slow Music
For anyone who witnessed the frenetic pitch of Afrolankan Drumming System, the festival's name might seem like a misnomer. Now in its third year, Ballarat's Festival of Slow Music isn't about reduced tempos but about listeners slowing down to properly digest music. All of the performances across nine days were acoustic, yet that term too can mislead, associated as it is with folky songwriters. The Festival veered far beyond that – in genre as well as in geography. When a sixteen-piece band paid tribute to cosmic jazz voyager Sun Ra on opening night, earplugs became necessary despite the lack of electrical amplification.
While housed largely in two rooms of the historic Mechanics' Institute, settings ranged from a public library to art galleries and gardens. Beyond providing calm counter-programming to modern life's harried oversaturation, the festival removed many invisible barriers found at concerts, whether rock gigs or classical recitals. Music was performed on floors (or on grass) rather than on stages. A mix of day and night and free and ticketed events opened it up to a wider audience, and children sporadically romped on the periphery. The unenhanced volume meant listeners could absorb everyday sounds at the same time.
Despite bringing in world-class musicians like Polish percussionist Jacek Kochan (initially billed as a 'mystery drummer'), the playfulness of the programming kept stuffiness well at bay. Curated by versatile Ballarat musician Adam Simmons, who is well known for his genre-bending Toy Band, most of the performances encouraged looseness and collaboration. Simmons's young daughter struck the gong during the Sun Ra tribute, and the festival's finale included a handful of celebrated pianists playing squeaky rubber dog toys.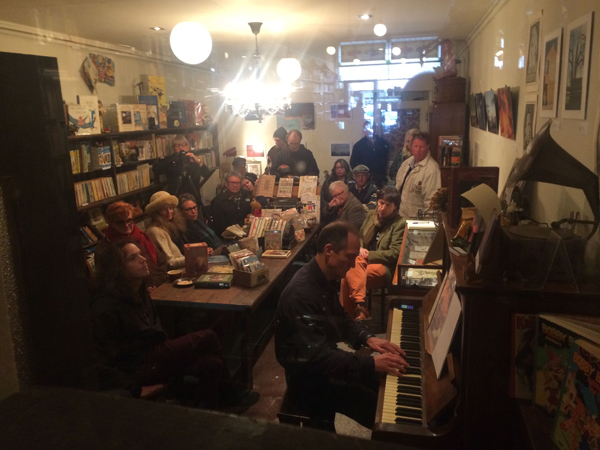 Michael Kieran Harvey performing at The Known World Bookshop, Ballarat
Among his many appearances, pianist Michael Kieran Harvey débuted at the festival on toy piano and later played in the children's section of The Known World Bookshop, part of a free lunchtime series. Another series let audiences watch an open rehearsal between collaborators, and an open workshop enlisted outside musicians. A free twenty-four-hour piano marathon in the cosy basement of art gallery The Lost Ones put such acclaimed pianists as Tony Gould to work in shifts while offering mulled wine and cheese platters. A free 'tasting plate' concert at the Art Gallery of Ballarat also provided rare flexibility, letting some of the visiting performers showcase a tidy sampling of their work.
Even at the tail end of winter, the festival's main weekend was particularly cold, as well as punctuated by rain. But the bounty of cultural offerings would have impressed visitors to the regional city, which typically lingers in Melbourne's shadow as a destination for the arts. The festival also coincided with the annual International Foto Biennale, a citywide photography exhibition, and precedes the Ballarat Cabaret Festival and 2015 Archibald Prize exhibition, both in October.
'Beyond providing calm counter-programming to modern life's harried oversaturation, the festival removed many invisible barriers found at concerts, whether rock gigs or classical recitals'
Absorbing it all was a welcome challenge. On the opening night alone, music ran all night at the Ballarat Observatory and culminated in breakfast. That night's Sun Ra tribute was a riot of florid colour, complete with Egyptian costumes and group singalongs. Watching the variety of ways in which musicians treated the Federation Hand Bells – on loan from Museum Victoria – was another treat the same night, whether struck or stirred or bowed for natural feedback. Michael Kieran Harvey also performed a stunning forty-minute grand sonata by Melbourne composer Michael Bertram.
Violent Femmes's Brian Ritchie and Midnight Oil's Jim Moginie lent some rock credibility on the Friday night, collaborating with the Australian Chamber Orchestra's principal violinist, Satu Vänskä, on pieces by Bach, Nirvana, and Nick Drake. In addition to her incredibly articulate playing, Vänskä sang beautifully in several languages. Ritchie and Moginie eventually swapped acoustic guitars for a variety of other instruments, befitting a festival that showcased Balinese gamelans, Sri Lankan drums, Japanese bamboo flutes, and, in the hands of Wang Zheng-Ting, the trilling yet often effusive Chinese mouth organ the sheng.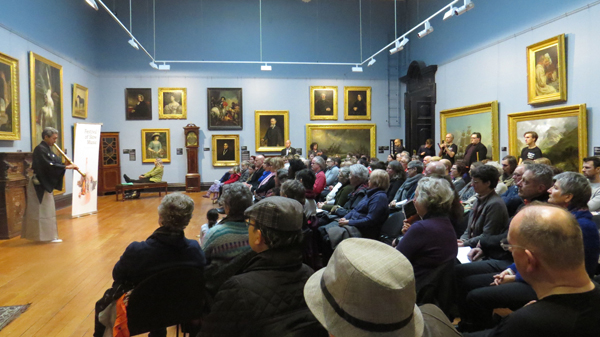 Kaoru Kakizakai performing at the Peter Blizzard Memorial Concert, Art Gallery of Ballarat
Other highlights included Jacek Kochan adding jazzy clatter to the local amateur orchestra Squawkestra; Monica Brooks conjuring heady cloudbursts of piano; tuxedoed pianist Chen Shuhua dispensing Chinese love songs; the Afrolankan Drumming System playing fast enough to blur their hands in determined motion; Fine Blue Thread mingling Dirty Projectors-esque art-pop with stripped-down classical instrumentation; and Ad Hoc Music Collective's visceral 'Suite Actuality' collaboration with Dotahn Caspi's improvised on-screen visuals.
The festival concluded with a loose all-star ensemble as Simmons conducted with a drumstick baton and invited vocal contributions from the audience before a surprise interlude (and 'cakebombing') by the Ballarat Ukulele Collective and The Flying Tapirs. Closing out the nine days with a belly-warming reprise of Sun Ra's 'Space is the Place', the finale captured the mystery and immediacy of the entire program. Lodging high-calibre musicians in lively new contexts, the Festival of Slow Music rekindled the excitement of witnessing live music.
Festival of Slow Music, Ballarat, ran from 22 August to 30 August, 2015.