Dance
Sylvie Guillem: Life in Progress
Unsurprisingly, each of Sylvie Guillem's six performances of Life in Progress in the Sydney leg of a world tour sold out. She will soon retire as a dancer after thirty-nine remarkable years. Unsurprisingly too, her program was edgy and contained two brand new works. Sylvie Guillem doesn't rest on her laurels, and this wasn't an anthology of her 'greatest hits'. During her career, Sylvie Guillem has moved from making ballet to collaborating with some of the titans of contemporary dance and influencing contemporary dance practice. She is interested in the new and in testing ideas.
Sylvie Guillem is known for her athleticism, her agility and flexibility, but it is this commitment to stretching, to innovation, making anew what is in the world already, that is her greatest contribution to her art form. The next is the level of emotional charge she inspires in audiences. There is a visceral impact in what she does with her body, how she amplifies both strength and fragility in the choreography. There is an unmistakable Guillem-style: pared back, intense.
In this program, immaculately designed, there is an upswelling of emotion at the pairings, the solos, the musicians performing onstage, the ageing body still at the height of its power. Or more powerful than ever, perhaps, because of the decades of continuous thinking and application. That she has included a William Forsythe duo, DUO2015, for two male dancers – it comes after her solo and before a duo for two female dancers – is much more than a pragmatic downtime choice between works. It goes to the heart of Guillem's interests in abstraction and emotion; the cornerstone of her being onstage in the first place.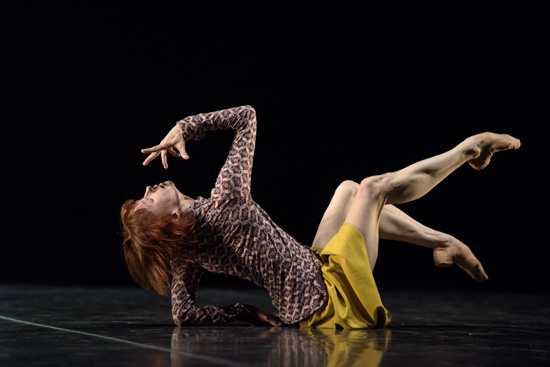 Sylvie Guillem in Bye (photograph by Bill Cooper)
The two male dancers, Brigel Gjoka and Riley Watts, arrive in training pants and baggy singlets, against the lines of their their muscular bodies, and perform the composite parts of a clock, getting close and always symbiotic in intent but never subsumed into a singular mechanical entity. It was hypnotic and logical in the way Forsythe invites viewers like me to see this complexity despite not really knowing how or where these ideas are generated from. In the eschewing of costumes that could enhance the beauty of the movement, for example, I wonder what is going on and why he has done this – and then stop wondering and focus on the intricacy. A comment overheard behind me when the lights come up reminds me some of what is at stake: 'I miss the guys in tights.'
'Sylvie Guillem doesn't rest on her laurels, and this wasn't an anthology of her ''greatest hits'''
The program's first work, techné, premièred in 2015, is by the British-Bengali dancer and choreographer Akram Khan, a long-term collaborator. Khan aspires to make tradition anew, using the accretion of generations of expression and meaning, making and flipping it into palimpsest. This suits Sylvie Guillem's approach to expression. In this virtuosic new work, which has as its centre-piece a bendable tree made of wire with three musicians onstage behind black mesh (violin, beatbox, percussion, and voice), we have the obvious influences of the music through Sylvie Guillem's body: the rhythm of Katak, that exuberant life force learned by Khan as a child in London, far from its source. The dancer's long limbs are used to remarkable effect here as she squats and conjures other life shapes and movements.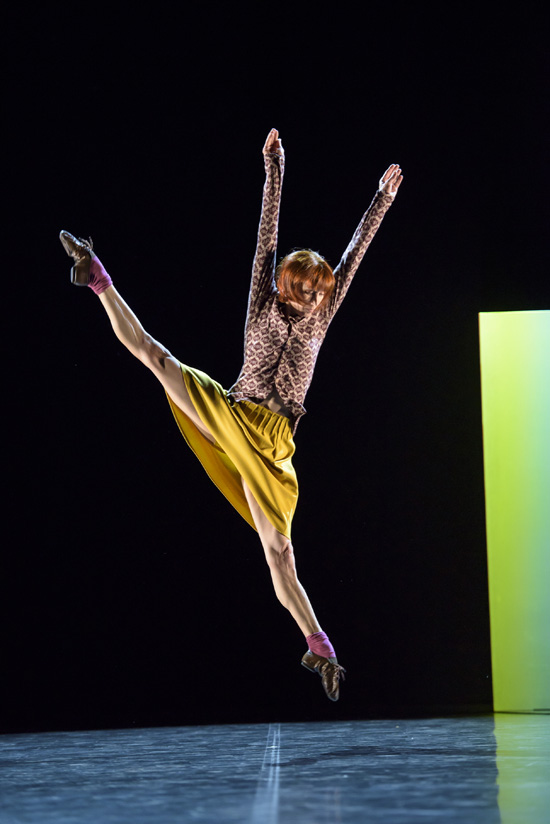 Sylvie Guillem in Bye (photograph by Bill Cooper)
The third item is Russell Maliphant's Here & After, an exquisite new work. Sylvie Guillem is joined in a duet by Emanuela Montanari. This sensual work is made through an extraordinary precision between the two moving bodies, similarly shaped and moving in a mirror effect until the inevitable fracture of progression and pattern. The quotient of joy builds and builds, and within this complexity we hear yodelling, and watch the pair dappled in a glorious design of light. Maliphant, a particularly close collaborator, references some of the things he and Guillem have achieved; my critical eye faltered as I was swept away by their passionate and affectionate eye contact.
The final work is Bye, by Swedish choreographer Mats Ek, a new work made for Guillem in 2011, and something of a prescient note regarding her future. (I first saw this work when it was was part of the 6000 Miles Away program at the 2013 Melbourne Festival). Bye addresses the culmination of a great artist's performing career and all of the wistful concerns of discipline and being inside and outside of society as vocation. This time the work reminded me strongly of those masters of silent expression, Charlie Chaplin and Buster Keaton. Guillem's set of gestures in this work provide a new take on the whimsical, self-knowing self – the mild melancholy located in the moment rather than as a permanent state of being. Even the music, Beethoven's Piano Sonata Opus 111 Arietta (played by Ivo Pogorelich), accentuated this mood with its drive and gait.
'A comment overheard behind me when the lights come up reminds me some of what is at stake: ''I miss the guys in tights.'''
During Caroline Baum's public conversation with Sylvie Guillem during her single day off while in Australia, Guillem said two things that illustrated the daring and magic of her artistry. One was the bond she had with Rudolph Nureyev, who made her a star at the Paris Ballet when she was nineteen. They barely spoke during their partnership, but such was their affinity this wasn't a hindrance. Guillem said: 'Rudolph made my career.'
Then Guillem admitted that during their collaboration she began to edit Nureyev's choreography. In Romeo and Juliet she cut out half of the steps so as to reinstate the approach to character between the lovers. Rather than 'jumping around'for the sake of beauty, she needed to explore the space between the lovers, that intense space.
How grateful I am to have watched this this unique artist, who was seduced at an early age from gymnastics onto the stage as a performing character. This was a captivating program for her Sydney farewell.
Sylvie Guillem: Life in Progress, presented by Sydney Opera House (19–25 August 2015) at the Drama Theatre. Choreography by Mats Ek, William Forsythe, Akram Khan, and Russell Maliphant. Performance attended 20 August 2015.