Music
Australian Festival of Chamber Music
Musicians like to play. Some play instruments, others play pieces, and a few, somehow, go deeper. They play 'the music', ideally sidelining the instrument or documentation, to connect with their audience person-to-person, even ear-to-ear. Chamber music is probably the most intimate of music's genres. It is fundamentally about unmediated musical relationships, 'the music', presented within the eponymous 'chamber'. With chamber music at its best, the listening of the audience can become so palpable that it is almost loud. You start to feel guilty even at the sound of your own breathing. There were such moments at this year's Australian Festival of Chamber Music in Townsville.
This Festival's greatest name was undoubtedly the Polish-born pianist, Piotr Anderszewski. Brought out from Europe under a 'super star' scheme of the Queensland Government, Anderszewski well justified the taxpayer's outlay. Whether playing a Mozart concerto (in A, K414), Bach suites (English, Nos 3 and 6), Schumann variations (the 'Ghost') or Szymanowski's poetic Metopes, he placed his instrument, and even the compositions themselves, in deep service to 'the music'. In the process, he sometimes pushed beyond the boundary of interpretation into revelation – of new musical vistas and meanings – in works we may have heard dozens of times before, but never before quite like this.
Anderszewski was the anniversary icing upon the cake of a festival that has been consolidating its reputation over the past quarter-century through consistent artistic direction and cunning co-promotion of winter tropical tourism. The Festival's founding Artistic Director, Ukrainian-American violist, Theodore Kuchar, over sixteen years established a very strong base in the strings-plus-piano heartland of chamber music. His early festivals played a repertory rich in central and eastern European works with a smallish band of players, many initially coming from the United States.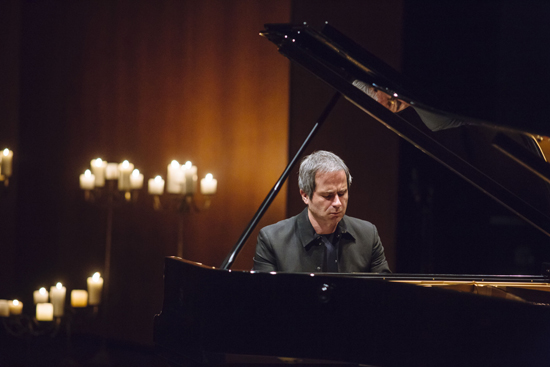 Piotr Anderszewski (photograph by Andrew Rankin)
His successor, London-based Australian pianist, Piers Lane, has over the last nine years expanded the Festival's ensemble, inviting in more wind and brass players, and occasional vocalists. Lane has also come to rely upon the impressive Brisbane-based chamber orchestra, the Camerata of St John's, for larger or more daring chamber repertory, such as Schoenberg's Transfigured Night in this year's opening concert. As a Brisbane boy, Lane well understands the proud regionalism of Australia's most decentralized state, and happily collaborates in the Festival's fringes with Townsville's own Barrier Reef Orchestra, and the local Army Band, and in mounting a Winter School for young players. After twenty-five years, and with many concerts now attracting audiences approaching one thousand – a good half of them from inter-state or abroad – the Australian Festival of Chamber Music has truly become a leading music festival of the southern hemisphere.
If Anderszewski was the 'super star', then a clutch of younger 'stars' were keenly snapping at his heels. Chinese-born cellist Li-Wei Qin, accompanied by the Camerata, turned Haydn's first Cello Concerto into a display of consummate virtuosity, returning two days later, in Brahms's second Sonata for Cello and Piano with Piers Lane, to allay any lingering suspicions that such technical brilliance might be at the expense of deeper musicianship. Singaporean-born violinist Ike See ranged effortlessly across classical, folk and popular idioms in a way few classically-trained musicians feel comfortable doing, while Sydney-born saxophonist Amy Dickson appeared in a series of commissioned, transcribed, and repertory works that caused you to rethink the role and future of this instrument, which still lurks awkwardly on the borders of classical music. And Australian soprano, Valda Wilson, essayed with ease such contemporary works as Betty Olivero's Achot Ketana and Sebastian Currier's unrelenting Vocalissimus, although will probably be most remembered for a freak feat of singing-through-gargling at the Festival's concluding 'All Stars' romp.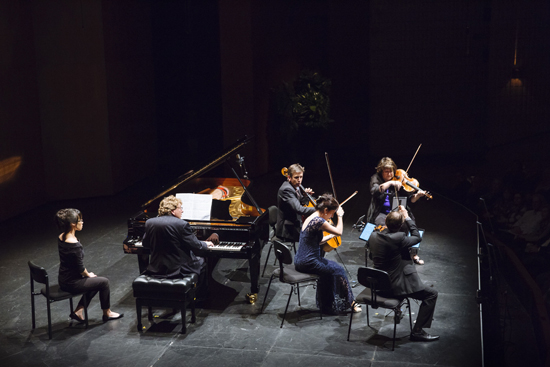 Piers Lane and the Goldner String Quartet (photograph by Andrew Rankin)
The heart of any chamber music festival still lies, however, in the less sensational core of this genre, the string quartet. The Festival's Quartet in Residence, the Sydney-based Goldner String Quartet, as in many past years played the anchor role. Its performances were polished, urbane, appropriate, and professional, electronically avoiding the hurried page turns of those Luddites still playing from paper music. But their performance sometimes lacked verve. They played the pieces so well, but were they always playing 'the music'? By contrast, the Orava String Quartet showed through stylish performances of Haydn's Seven Last Words and Mendelssohn's last String Quartet the hardening mettle of a coming generation.
Performances from some of the 'impromptu' ensembles, thrown together during the Festival, indeed crackled with excitement, perhaps because of their greater anxiety. This year's bumper crop of viola players led to some fascinating once-off combinations, performing Frank Bridge's Lament for two violas, then Joaquin Turina's Sextet for viola, piano and string quartet, and culminating on closing night with York Bowen's Fantasia for four violas, a surprisingly effective blend of the pastoral, scholastic and nostalgic traditions in British music.
'With chamber music at its best, the listening of the audience can become so palpable that it is almost loud'
The mysteries of music-making render all such views provisional, however, for it was ultimately a performance of Sergei Taneyev's underexposed Piano Quintet in G minor (1912–13) by the Goldner Quartet and Piers Lane, that was, for me, the stand-out performance of this 'heartland' section of the Festival. Such a massive, iconoclastic, and full-blooded piece made most of the Austro-Germanic repertory sound effete, even dainty. The five players not just performed the work with total fidelity to the score; they provided exactly the right hypertensive interpretation for this end-of-an-era composition.
For its twenty-fifth anniversary the Festival commissioned three works: Music for John Bell, by Townsville-born Robert Keane; Memories to Keep Awhile, by the Charlottesville-born American David Sampson; and The Three Dancers, by Tashkent-born Australian Elena Kats-Chernin. All filled their commissions appropriately, but Kats-Chernin's twenty-five-minute work is a spectacular creation. It is already booked up for half a dozen other festival performances in the coming year, as well as a touring circuit of Britain.
Composed equally as a ballet and a concert piece, her work takes its inspiration from Picasso's Three Dancers (1925), and the sad love-triangle behind that painting. Townsville's concert performance by seven of the Festival's leading players powerfully emphasized the unrelieved tension within Kats-Chernin's work. As she explained to her Festival audience, this tension arises from the tragic cocktail of 'idealized love, unrequited passion, and violent desire' portrayed in Picasso's masterpiece. The Three Dancers demands a strongly 'corporate' ensemble, with each of the players gripped by the same artistic agenda.
With over thirty performances and dozens of associated events, a Festival of this size does not pass without some misadventures. One repeated fault was in the programming of several of the evening concerts. They often included three major works, and then something substantial in addition, thereby risking audience overload. What's more, on opening, closing, and 'Governor's Gala' nights, the last works on the program – Walton's Façade, Tippett's Fantasia Concertante, Rainer Hersch's 'All Stars' romp – were the weakest in composition and performance. In each case this led to a real sense of anticlimax after superb earlier performances. The audience collectively searched for their car keys when the Festival needed them on their feet, cheering for more.
Better planned were the daily sunset series, in memory of Festival's founder, Ray Golding, and the progressive Concert Crawls, with short snatches of music being performed simultaneously in several venues across inner Townsville. Lane's signature 'Concert Conversations' have also been a big success, regularly drawing large audiences for a ten o'clock start every morning. Their purpose is to give a human face to the Festival's players and programme. This year they worked best when the conversation illuminated something then played in the second, musical part of the morning. Trumpeter Tristram Williams, for instance, engagingly demonstrated various techniques later heard in Liza Lim's Wild Winged-One. Sometimes, however, these Conversations could be tedious: with the need for all that practice, musicians seem to me to have pretty boring private lives. In the age of social media, rather than interviewing one guest after another, Lane could well spark critical debates between his guests, and spilling over to an audience keen to ask its own questions.
Sandra Yates, the Festival's Board Chair, believes that the greatest task for the Festival now is to gain a purpose-built venue. It still relies upon the acoustically indifferent Civic Theatre, a multi-purpose hall from the besser-block era. But the Festival's success now raises a dilemma. Do you design an ideal chamber hall, of – say – 400–500 seats, but sacrifice some hard-won Festival box office? Or do you opt for a customised performing-arts hall, of more year-round use to Townsville, but still lacking that intimacy that chamber music craves? These are hard questions. Fortunately, through its artistic success and strong local support, many are now searching for the answers.
Australian Festival of Chamber Music, Townsville, ran from 31 July to 8 August, 2015.