Music
David Bowie Is (Australian Centre for the Moving Image)
You don't have to be an avid David Bowie fan to be impressed by the breadth and detail of David Bowie Is, currently showing at the Australian Centre for the Moving Image (ACMI) in Melbourne. Imported from London's Victoria and Albert Museum (V&A), where it was their most successful show to date, it examines the fifty-year career of one of the most successful solo performers in rock history and his influence on music, film, fashion, and sexuality.
The exhibition contains three hundred items, drawn from the estimated 75,000 objects in the official David Bowie Archive. It includes everything from original lyric sheets, rare photographs, storyboards, sketches, and costumes, to the keys of the West Berlin flat Bowie briefly shared with Iggy Pop in the late 1970s and his collection of J.G. Ballard paperback novels, an influence in the creation of his most famous character, Ziggy Stardust.
'None of this would have happened if Bowie had not been such a hoarder,' V&A's Assistant Curator, Dr Kathryn Johnson, said at the Melbourne launch. Even at the most surreal and difficult point in his career, the mid-1970s, when his drug use was spiralling out of control and his alternative personas threatened to blur into reality, Bowie never stopped collecting. Whether this speaks to a monstrous ego, a sense of historical destiny, or an unstoppable hoarding instinct, we can be thankful, for it allows a vivid examination of Bowie.
Was Bowie an originator who helped shape culture, or a style magpie that picked up on and amplified trends and developments already underway? This unanswered question is central to the exhibition. It examines the broad contours of the singer's career, starting with his early influences and the better part of a decade he spent playing in various London bands before his first hit, Space Oddity, in 1969. He became an overnight sensation after performing 'Starman', from his album Ziggy Stardust and the Spiders From Mars (1972), live on the UK television show Top of the Pops. A fictional rock star that communicates with aliens, Stardust was a progenitor of the glam subculture that would soon sweep Britain, and it introduced an ongoing aspect of Bowie's appeal, his androgynous sexuality.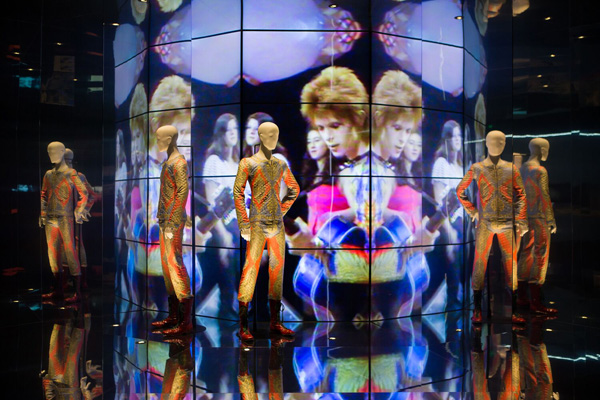 (photograph by Mark Gambino)
'Was Bowie an originator who helped shape culture, or a style magpie that picked up on and amplified trends and developments already underway?'
Bowie ditched Stardust and his aesthete, just as glam was entering Britain's cultural mainstream. He moved to America and embraced 'plastic soul', the term given to white musicians playing black music, with albums such as Young Americans (1975) and Station to Station (1976). In the late 1970s he relocated to Berlin, where, in collaboration with Brian Eno, his music took on a moodier, more electronic feel.
His 1980 album, Scary Monsters (and Super Creeps) fed into the New Romantic movement that burst onto the UK (and Australian) club scene in the 1980s. Let's Dance (1983) introduced his next manifestation: Bowie the commercial pop star. He toured sixteen countries with the album and achieved mainstream success. Although Let's Dance is the point at which much positive critical analysis of Bowie's work ends, he went on to release a further eleven albums, most recently The Next Day (2013).
David Bowie Is contains numerous entry points to examine the performer's career. Considerable attention is paid to Bowie's creative processes, including his song writing methods, concert stage plans, and concept to final realisation album cover designs.
'David Bowie Is contains numerous entry points to examine the performer's career'
His film output is also given prominence, an impressive canon stretching from Nicolas Roeg's The Man Who Fell to Earth (1976), in which Bowie played a stranded alien, to Christopher Nolan's 2006 film about rival magicians, The Prestige. Bowie's sartorial influences, as well as many of his most iconic costumes, are featured.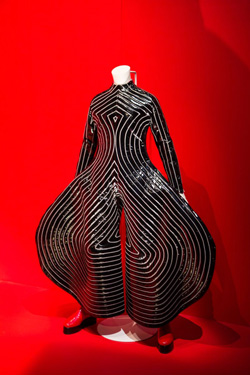 (photograph by Mark Gambino)
Book lovers are also in for a treat, as the exhibition touches on Bowie's literary influences, such as the Colin MacInnes novel about youth subculture in 1950s London, Absolute Beginners (1959), William Burroughs's The Wild Boys: A Book of the Dead (1969), and Christopher Isherwood's semi-autobiographical Goodbye to Berlin (1939).
Key to the immersive experience is the headphone kit issued to each visitor. The technology, developed by German audio company Sennheiser, broadcasts different music, voice clips and other sounds, automatically adjusting as you stop at particular exhibits. The kit delivers an experience that is rich and intimate. It enables the visitor to simultaneously experience sound, vision, and physical artefacts from key moments in the singer's career, such as his seminal Starman performance.
David Bowie Is delivers a fascinating overview of Bowie's career. It is also a whirlwind tour of post-World War II youth culture, encompassing everything from surrealism and avant-garde mime to science fiction, the Beats, and alternative sexualities.
Coinciding with the exhibition, ACMI is hosting a range of side events, talks, film screenings and performances.
David Bowie Is runs until November 1. For program and ticketing information visit the ACMI website.