Theatre
Hamlet
Bell Shakespeare
Hamlet belongs to the final years of Elizabeth's reign, when the system of espionage the old queen had created through her spymaster-general, Francis Walsingham – the network of 'watchers', as Stephen Alford calls them in a recent brilliant study of this phenomenon – had become an acknowledged part of everyday life in England. In the theatre, these modern spooks competed with the more traditional kind that stalked through the earlier drama, such as the Ur-Hamlet on which Shakespeare drew while writing his own version of this ancient plot. In Ben Jonson's Sejanus, written at much the same moment as Hamlet and equally reflecting the English scene, spies lie concealed in the ceiling of Agrippina's house in Rome, listening to the conversations below, waiting for the moment to burst from their holes and descend to make their arrests.
In Hamlet, espionage has become an even more intimate art, practised within the very bosom of the family. Polonius briefs his servant Reynaldo how to shadow his own son Laertes as he travels to Paris, while Claudius hires Rosencrantz and Guildenstern with even more sinister intent, to dispose of his stepson and nephew, Hamlet, on his journey from Denmark into England.
In his current Bell Shakespeare production of Hamlet director Damien Ryan focuses on this aspect of the play, which he presents as 'a cold war political thriller'. In the opening scenes we glimpse intermittently through the scrim the illuminated figure of a watcher, busying himself – in much the same fashion as his counterpart in Florian Henkel von Donnersmarck's chilling 2006 movie of Stasi surveillance in East Berlin, The Lives of Others – replaying on tape the conversations just heard on the castle ramparts. Polonius (Philip Dodd) bustles about the castle with recording gear secreted in his shiny briefcase, and provides his daughter Ophelia (Matilda Ridgway) with a bugged prayer book to hold piously before her as she meets with Hamlet (Josh McConville). ('How now Ophelia?' Polonius says on emerging later from cover, 'You need not tell us what Lord Hamlet said, / We heard it all' – words drawn exactly from the Folio Text.) Lurking too close to the conversation in the queen's bedchamber, Polonius is finally stabbed through the arras, slain in the service of the country's intelligence forces.
Ryan's production is designed for small-scale performance by a cast of no more than eleven players, working within a restricted stage area, thriftily doubling roles and playing across gender. Under these pressures the play takes shape as a drama of domestic life, its Freudian potential intensified at moments through happy coincidences of casting (with the roles of Claudius and the Ghost of old Hamlet being played by the same actor, Sean O'Shea: Gertrude thus effectively marrying the same man twice). You dress in this Danish court as you would at home. T-shirts, jerseys, and jeans are evidently okay in the presence of this king, who throws off his jacket to watch The Mousetrap, as if settling down with the family to enjoy the evening's television. The Ghost prowls the battlements barefooted in his dressing gown, not in 'complete steel' or other warlike gear.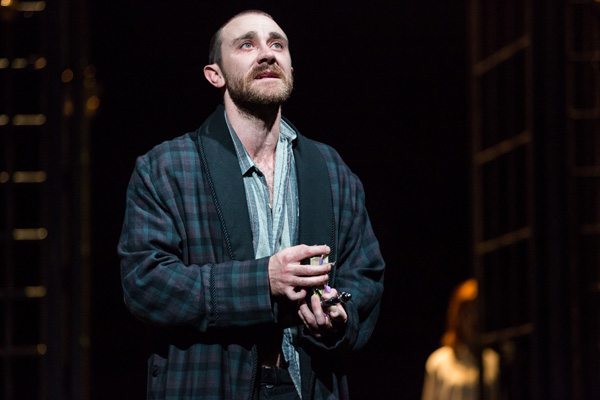 Josh McConville as Hamlet (photograph by Daniel Boud)
All of these touches no doubt serve in some way to familiarise the play to modern audiences, bringing the action close to everyday life. Yet their cumulative effect is to diminish a vital aspect of the piece: the pomp and power of court ritual, against which Hamlet's increasingly deviant conduct might otherwise be measured, and by which he will ultimately be destroyed. In Peter Hall's celebrated Royal Shakespeare Company production of the play at Stratford in 1965, David Warner's Hamlet was cast as a rebellious student fresh from Wittenberg, his red scarf and jeans marking him instantly out from the ranks of formally dressed courtiers. Josh McConville as Hamlet in the present production dresses much like everyone else – until (that is) the graveyard scene, when he appears somewhat startlingly in his underpants, clutching a blanket like Poor Tom in Lear.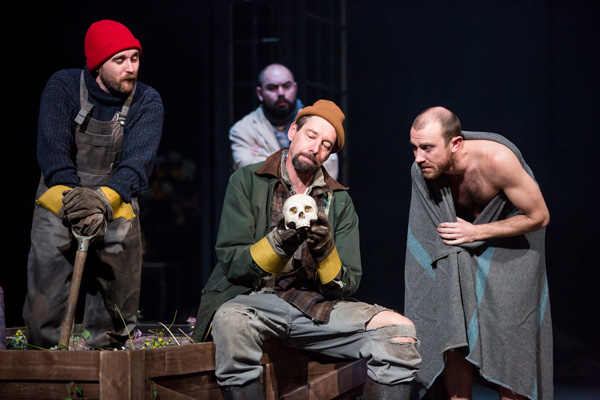 Robin Goldsworthy as Gravedigger, Ivan Donato as Horatio, Philip Dodd as Gravedigger, and Josh McConville as Hamlet (photograph by Daniel Boud)
'In Hamlet, espionage has become an even more intimate art, practised within the very bosom of the family'
Given this general approach, McConville has little scope to depict the prince either as a noble presence – 'The glass of fashion and the mould of form', as Ophelia has it – or a real outsider to the Danish court. Yet he invests the role with surprising power and presence, picking his way through the famous meditations of the play with a fine and at times quite passionate intelligence. This is a performance that is already in itself well worth the price of admission, and will no doubt grow further in depth and subtlety as the season progresses. The cast as a whole deliver the play with clarity and efficiency, but have not, as a troupe, yet fully caught its poetic heartbeat, the iambic pentameter line which carries the narrative so thrillingly forward. Philip Dodd pulls off an enjoyable double act as Polonius and later as the Gravedigger. Sean O'Shea as Claudius and Doris Younane as Gertrude make an unexpectedly sympathetic pair; and Catherine Terracini and Julia Ohannessian surprise the audience both onstage and offstage by presenting The Mousetrap with great vivacity in Italian.
---
Hamlet by William Shakespeare, directed by Damien Ryan. Bell Shakespeare, touring nationally. Performance attended: Arts Centre Melbourne, Fairfax Studio, 16 July 2015.
References:
Stephen Alford, The Watchers: A Secret History of the Reign of Elizabeth I (Allen Lane, 2012).