Theatre
Dead Centre and Sea Wall (Red Stitch)
When Red Stitch premièred Tom Holloway's Red Sky Morning a few years ago, it was clear that Australian theatre was witnessing the birth of a significant dramatic voice. Here were a series of interlinked monologues rich in poetic intensity, mixing Aussie vernacular with a haunting lyricism that sung of the earth and was rooted in a tangible sense of place.
Holloway has gone on to a stellar career both in Australia and internationally. He has also studied at The Royal Court under the British playwright Simon Stephens. So it made perfect sense for Red Stitch to commission Holloway to write a companion piece to Stephens's tense, taut one-hander, Sea Wall. This densely packed thirty-minute monologue premièred in London in 2008 and has been frequently revived, often as part of a double bill. This is its Australian première.
The plays are set at opposite ends of the world – one in the United Kingdom, the other, Australia. Each features a character of the opposite sex grappling to survive extreme loss. Dead Centre, Holloway's monologue, imagines the flip side to Sea Wall's dark core, and focuses on Helen, the unseen woman described in Stephens's play. Wisely, Dead Centre is positioned as the introduction to Stephens's more harrowing narrative. The effect is to tantalise the audience with a set of half-revealed truths and flashes of possibility, before Sea Wall comes crashing in like a tsunami to reveal the answers to unvoiced questions.
Sea Wall is by far the stronger play. Alex, played with admirable restraint by Ben Prendergast, is a grief-stricken man whose life has unravelled. 'I have a hole, here,' he says, pointing to his stomach, 'you can see it, can't you?' Honestly, layer by layer, he recounts his marriage to Helen and the birth of their daughter, Lucy; their holidays to France, where Lucy's grandfather lives and happy family games on the beach; finally, the sudden horror of a tragedy unfurling, witnessed only by Alex.
Ben Prendergast and Rosie Lockhart (photograph by Jodie Hutchinson)
'When Red Stitch premièred Tom Holloway's Red Sky Morning a few years ago, it was clear that Australian theatre was witnessing the birth of a significant dramatic voice'
Alex is a photographer, and Stephens creates a montage of verbal stills that form a complete picture of broken lives. The metaphor of the sea wall, the undercurrent that tugs downwards and destroys, is well chosen, for the piece flows like water, with anecdotes that slap with the force of waves and build to the final, tidal crescendo. The piece is also intensely musical; Ian Moorhead has composed an affecting score of waves and a sombre, sinister drone, interspersed by childish laughter and a French nursery rhyme. Prendergast performs on a set completely bare apart from Matthew Adey's backdrop of a slow lapping sea, ripples ebbing and swelling with the cadence of Alex's speech. Only towards the end of Sea Wall, when Alex shares his final, heart-breaking reveal, do the waves begin to broil and smash on the surrounding rocks. Too obvious? Perhaps, but effective nonetheless. In this play, Julian Meyrick's direction is quietly unobtrusive, letting the power of the script and Prendergast's superlative acting do the work.
Holloway's Dead Centre is less convincing and best considered retrospectively. Unlike Sea Wall, it could not stand alone, and as a companion piece is dependent on the second play providing a resolution to clues that Holloway places like markers along the way. When Helen, a middle-class Englishwoman takes to the stage, her motives for coming to Australia are puzzling. We know she has, inexplicably, left everything behind: her father and Alex, her ex-husband. She settles in Frankston and takes a job in a childcare centre; she decides to travel to the Red Centre and on witnessing the sun rise over Uluru, the spiritual grandeur of the place induces a mental and physical collapse.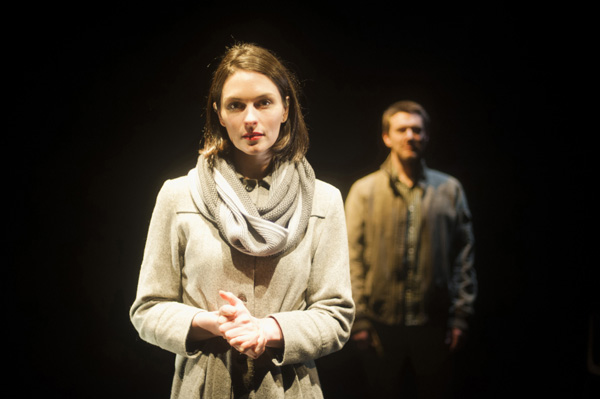 Rosie Lockhart and Ben Prendergast (photograph by Jodie Hutchinson)
'Holloway's Dead Centre is less convincing and best considered retrospectively'
Holloway takes images from Sea Wall – Alex's now hollow heart, his verbal jousts with his father-in-law on the unlikely existence of God, the looming cliffs, and transposes them into this work, setting up the premise for the second existential drama, upon which this riffs. Helen explains she has come to Australia to escape, and fleeing to the ends of the earth is about as far as she can run. But she cannot escape her past. Her revelations proceed slowly, elliptically, through flashes of remembrance. She is a woman in shock, deliberately vague, forgetful, uncertain. The audience tries to keep up, to decipher the silence between words, the unspoken subtext, but is kept at arms distance by a frustrating lack of detail. Helen's father goes missing and is finally found by Alex, roaming near the cliffs at Dover. At the end of the play, Helen, like Lear, murmurs, 'Oh let me not be mad.'
Part of the problem with this play is the character of Helen herself, who seems to have been written as a jolly hockey sticks, Enid Blyton-inspired Sloane Ranger – a stereotype of Englishness coming to terms with the wildness of the outback. This may have worked if Rosie Lockhart had brought out the full emotional range of Helen's anguish, but she appeared, on opening night at least, to be concentrating so hard on getting her prunes and prisms accent right that embodying Helen's essence was forgotten. There were only odd flashes suggesting the powerful writing we know Holloway to be capable of, conveying undertones of racism and Aboriginal exploitation that, had they been developed, would have rounded out this monologue into a more fulfilling play.
Meyrick links the narratives by adding cameos of Helen appearing behind a voile curtain during Alex's monologue, and Alex during Helen's. This ties the double bill together neatly. Ultimately, it is Stephens's play that lingers in the memory.
Dead Centre by Tom Holloway and Sea Wall by Simon Stephens, directed by Julian Meyrick, Red Stitch Actors Theatre. Season runs until 15 August and tours to Darwin, Brisbane and Sydney. Performance attended 17 July 2015.