Theatre
The Rivers of China (Don't Look Away)
Australian plays good or simply fortunate enough to make it from page to stage have historically tended to meet one of two fates: canonisation or, much more likely, limited production when still new and utter neglect thereafter. Independent Melbourne theatre company Don't Look Away, established in 2013 under the artistic direction of Phil Rouse, specialises in exhuming the dead plays with which Australian theatrical history is littered. It's a risky strategy that invites blanket criticisms – that plays are not revived for sound reasons, that new work should take precedence – but the company's previous productions, such as its first, Alex Buzo's satirical New Wave romp Rooted, have been generally well received.
The company has now turned its attention to Alma De Groen's feminist, time-hopping The Rivers of China, premièred by the Sydney Theatre Company to warm reviews in 1987. Productions in Melbourne and Adelaide followed in 1988 and 1989, but there has been no revival since; Rouse, who directs here, discovered the play while studying at NIDA where, he notes in the program, it 'buried itself deep in [his] psyche'.
It's not hard to imagine why – few Australian plays exhibit the same memorable combination of complexity, lyricism, and cruelty – or why, for that matter, only the universities have touched it in nearly three decades. It's dense and self-consciously literary in a way that has fallen out of fashion, and it feels somewhat dated in its affinity with the genre of pre-third-wave-feminist fiction that conjures futures in which women have achieved full equality with, or total dominance over, men.
In De Groen's ustopia (a term usefully borrowed from Margaret Atwood combining utopia and dystopia, and derived from her belief that each contains an underlying version of the other) men are oppressed, by means of a sort of anti-predator adaptation called the Medusa Look, in much the same way women had been under patriarchy. Additionally, writing by men has been banned, its reciting or reproduction outlawed by the state.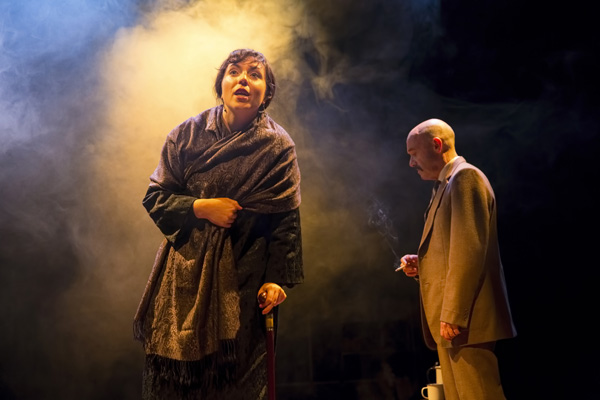 Alexandra Aldrich as Katherine Mansfield and Rob Meldrum as Georgei Gurdjieff in The Rivers of China (photograph by George Darsas)
In a hospital staffed entirely by female doctors, the nameless Man (James Cook) awakens from a coma following a suicide attempt. He doesn't recognise his surgically reconstructed face, and has, through the illicit application of hypnosis, been imbued with a new identity: that of Katherine Mansfield, the modernist New Zealand short story writer who died in 1923. This male-bodied Mansfield befriends an orderly, the normatively feminised Wayne (Oliver Coleman), who, in between his menial tasks, scribbles poetry furtively in a notebook.
'Independent Melbourne theatre company Don't Look Away ... specialises in exhuming the dead plays with which Australian theatrical history is littered'
The play's second, more conventional narrative strand follows Mansfield (Alexandra Aldrich) in the last few months of her life, during which she moved from London to Fontainebleau in France where, under the darkly mesmeric influence of Georgei Gurdjieff (Rob Meldrum) at the Institute for the Harmonious Development of Man, she hoped to 'cure her soul' (Mansfield was suffering from extrapulmonary tuberculosis, a periodically debilitating condition that she had been diagnosed with in 1917 and that would eventually claim her life). Gurdjieff – an archetypal guru figure with his entrancing gaze, inscrutable methodology, and bullying lasciviousness – personifies what, in De Groen's future, has been glared out of existence. 'I was warned in London to stay away from you,' Katherine informs him, to which, without missing a beat, Gurdjieff purrs: 'Good advice.' He later tells her, this time with no trace of irony, that women would be nothing without men.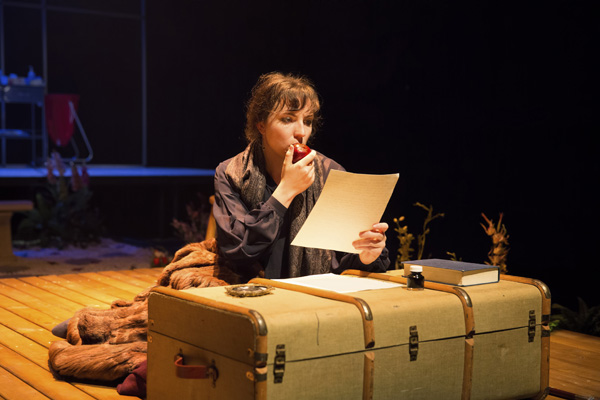 Alexandra Aldrich as Katherine Mansfield (photograph by George Darsas)
'No other New Zealand figure,' wrote Roger Robinson in his entry on Mansfield in The Oxford Companion to New Zealand Literature (1998), 'has troubled or challenged so many writers to irreverent, defiant or merely exploitative responses'. De Groen's play, though it could be said to be all of these things, is something else again: an ambitious, multilayered fantasia that, to paraphrase journalist H.G. Kippax, uses Mansfield's dilemma rather than her uniqueness as the pivot for a monumental power shift between the sexes that remains as unthinkable as ever. It is not (or at least not only) De Groen's intention to point up the undesirability of a simple reversal of the sexist power structures that inhere in our reality. Rather, the parallel narratives feed into, and subtly comment upon, each other. The play, at least outside of the somewhat heavy-handed naturalism of the historical scenes, is too discombobulating to be didactic. This is no accident – De Groen has built into the form of the play her conviction 'that all women go on from the time they are born, never quite being at home in the universe'. Wayne is drawn to the Man because he sees him – as he sees himself, and, it is also suggested, as the historical Mansfield sees herself – as a sort of terrestrial alien: never quite at home, never quite themself in a ruthlessly binary and patriarchal world.
'De Groen's play ... is something else again: an ambitious, multilayered fantasia'
In both form and content, De Groen's play presents deep challenges (presumably another reason it is rarely produced) and this production is only partially successful in meeting them. The short scenes that open each half of the play – in which our expectations of conventionally gendered behavior are flipped on their head by, firstly, a love scene between a man and a woman in which the woman is seen to orgasm, and the man to recite poetry and otherwise behave in a 'feminine' way, and, secondly, two men who are shooting a snuff film are turned to stone by the Medusa Look – feel like impositions, and are dramatically awkward in a way that, at best, the actors can't compensate for, and, at worst, makes them look a little silly.
The play's crisscrossing realities, meanwhile, demand a supple design scheme that, unfortunately, is absent here. Martelle Hunt's set is wrongheadedly dualistic and literal, combining – or, rather, demarcating – a highly detailed Japanese garden-like courtyard (replete with crunching gravel and ornate vegetation) for Gurdjieff's institute, and an unnecessarily cluttered hospital ward that is raised, and has been banished to the back of the playing space. The actors, already tested by De Groen's stiffly literary dialogue, look positively overwhelmed at times by the amount of work they have to do simply to navigate the set's crudities. The performances, nevertheless, are on the whole very fine – especially those of Aldrich and Meldrum, who expertly illuminate the text and in doing so develop an engrossing chemistry – but Rouse's rather quaint decision to insist on arch British or, in the case of Gurdjieff and his assorted followers, Russian accents, is mystifying.
That this production is not the success it might otherwise have been – with, perhaps, freer, more figurative approaches to script, design and direction – is no reason to think the idea itself a misguided one. De Groen's play, distinguished by a formal and thematic boldness that seems increasingly rare in Australian drama, is eminently worthy of revival. Don't Look Away's reach has, this time, exceeded their grasp but, as the play itself reminds us, there remains something necessary and profoundly human about reaching for the seemingly unachievable.
The Rivers of China, written by Alma De Groen, directed by Phil Rouse and presented by Don't Look Away and Theatre Works. Performance attended 26 May 2015.