Opera
The Damnation of Faust (Melbourne Symphony Orchestra)
Hamer Hall seemed close to full for the first of two performances of Hector Berlioz's The Damnation of Faust by Melbourne Symphony Orchestra. It was the first time in twenty years that the orchestra has performed the work. As is often the case, this was a concert version. Full productions are not unknown, but they are scarce.
In 1845 Berlioz had orchestrated a famous Hungarian national tune. In his Memoirs, Berlioz describes the tumultuous première of the rousing Rákóczi March:
... when a long crescendo ensued, with fragments of the theme reintroduced fugally, broken by the dull strokes of the bass drum, like the thud of distant cannon, the whole place began to stir and hum with excitement; and the orchestra unleashed its full fury and the long-delayed fortissimo burst forth, a tumult of shouting and stamping shook the theatre; the accumulated pressure of all that seething mass of emotion exploded with a violence that sent a thrill of fear right through me; I felt as though my hair were standing on end.
The success of the Rákóczi March seeded the ultimate, oratorio-like Damnation, which premièred at the Opéra-Comique in Paris on 6 December 1846. It also accounts for the opening on the plains of Hungary. Set in four parts, the work is based on Gérard de Nerval's version of Goethe's play. Leopold Damrosch's 1880 concert version in New York caused a sensation, but the work is something of a rarity.
Concert versions of certain operas have many advantages: concision, poised soloists and undistracted audiences, no directorial excesses, symphony orchestras instead of smaller bands. To be successful, though, a concert version must attain similar dramatic heights to those of a good staged performance. On this occasion, notwithstanding the quality of the singing, there was a seeming lack of rapport between the principals. This felt like three separate performances, not an ensemble. The situation was not helped by the fact that Bryn Terfel (Méphistophélès) and Andrew Staples (Faust) rarely looked up from their thumping scores while the others were singing. Only Renata Pokupić remained fully in character throughout. She had even dressed for the occasion, a brilliant red 1840s revival gown covered in ominous stars.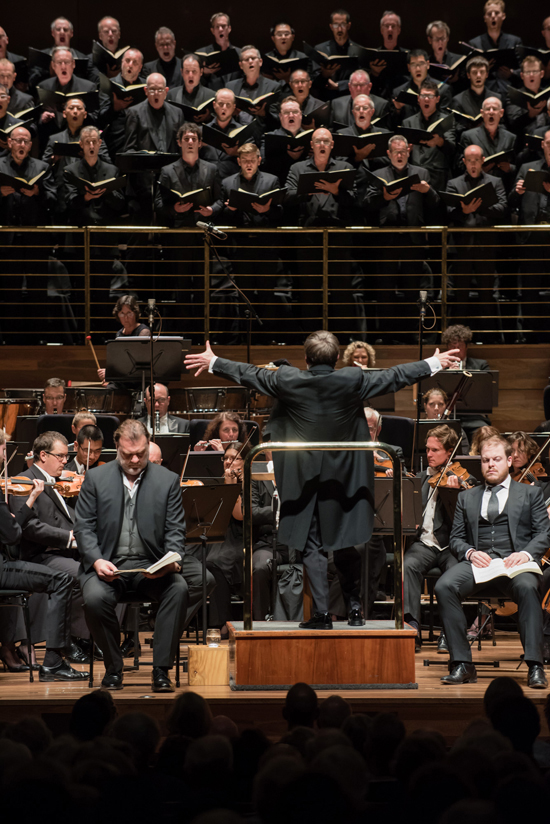 The Damnation of Faust (MSO)Concert versions don't have to be undramatic. I once saw a memorable Damnation in Dresden (the 2002 La Monnaie production conducted by Antonio Pappano in the Semperoper), with Susan Graham, José van Dam, and a young Jonas Kaufmann in riveting form fully engaged, fully responsive, not slaves to their scores. Oleg Caetani's concert versions with the MSO were memorable, none more so than a Flying Dutchman in 2008, with John Wegner, Stuart Skelton, and Gabriele Maria Ronge, the latter (though suffering from a heavy cold) absolutely riveting as Senta.
A few additions might have helped: not just music stands. Lighting does wonders for concert versions: the odd red globe would have diabolised things. The decision not to provide surtitles or a printed translation was an unwise economy. The effect was to distance the audience, especially during the ecstatic, erotic writing for Marguerite during her final aria:
My weak heart stops
Then ices over immediately.
I admire his strong gait,
Its carriage so graceful,
His mouth's sweet smile
The charm of his eyes,
His enchanting voice,
He sets me ablaze,
His hand, caress
Alas! His kiss …
This is not a sufficiently Berlozian or francophone town to leave members of the audience to their own resources with such a text.
The singing itself was superb. Many people were there to hear Bryn Terfel, one of the two or three outstanding bass-baritones of our day. After entering from the stalls, Terfel never disappointed, the strong, supple voice able to respond to all the vocal challenges Berlioz throws down for Méphistophélès. This agility was demonstrated in the fiendish, mocking 'Devant la maison' and Méphistophélès' brilliant interjections with the chorus and orchestra. Earlier, the sheer beauty and nobility of Terfel's voice was evident during 'Voici des roses', the exquisite aria that opens Part II.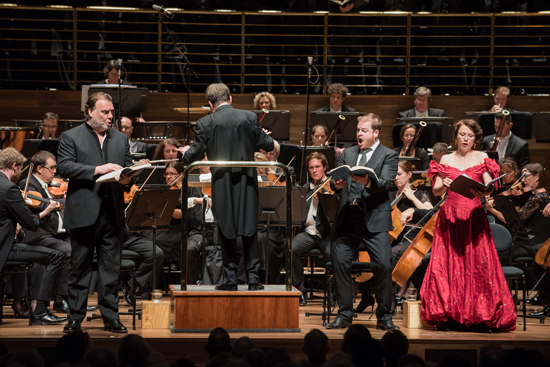 The Damnation of Faust (MSO)
Our Faust was the English tenor Andrew Staples, who often sings at the Royal Opera House, where his roles have included Tamino and Flamand. It is a light, high, accurate voice, beautifully enunciated (everyone's French was impeccable). Staples, like the audience, seemed galvanised by Marguerite. Some of his best singing came in the duet 'Ange adoré' (so reminiscent of 'Par une telle nuit' from Berlioz's masterpiece, the much later Les Troyens, 1863). Faust's music here rises to a high F sharp. Discretion being the better part of valour, Staples employed a head note. Faust's most beautiful music occurs in Part IV: the aria 'Nature immense, impénétrable'; Staples here was elegant and assured.
The role of Marguerite, with its two monumental and moody arias, has attracted some of the finest singers, from Melba in 1902 at Monte Carlo (opposite Jean de Reszke) to Janet Baker, Marilyn Horne, Susan Graham, and the great Australian mezzo Yvonne Minton, who recorded it with Domingo and Fischer-Dieskau. Young Croation mezzo-soprano Renata Pokupić was making her Melbourne début. It can only be hoped that she returns soon, for this was an exceptional performance. The ballad of the King of Thule ('Autrefois un roi du Thulé') was beautifully sung, as was 'D'amour, l'ardente flamme', one of the greatest arias in French opera.
Shane Lorencev, in the small role of Brander, bounded onto stage and survived the considerable vocal demands of his 'Song of the Rat' aria, with its fearsome tessitura.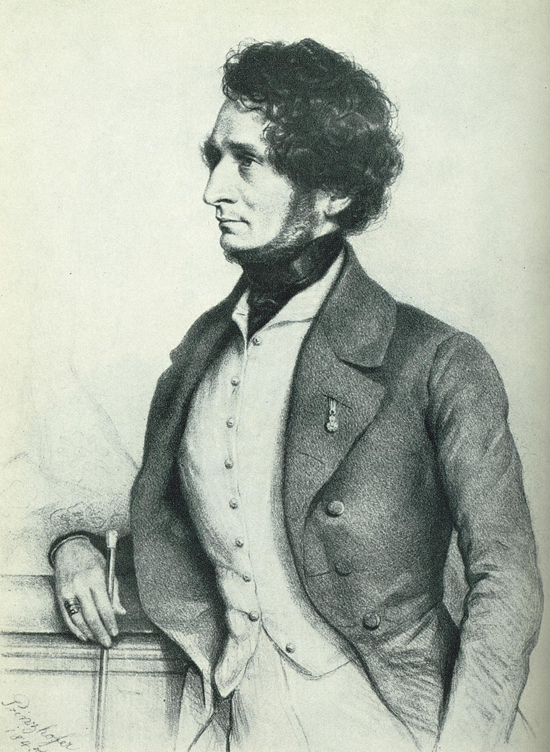 Berlioz by Prinzhofer (1845)
The orchestra, conducted by Andrew Davis, was on excellent form all night, from the famous March to 'Dance of the Sylphs' to 'The Ride to the Abyss'. There was some notable individual work, especially the haunting cor anglais accompaniment from Michael Pisani in 'D'amour, l'ardente flamme', and the horn playing during 'Voici des roses'. The sonorous, almost Brucknerian orchestral passage that precedes this aria was memorably played. The MSO Chorus was again joined by the reliably fine Men of the Sydney Philharmonia Choirs.
Hector Berlioz – when he was not indulging his flamboyant orchestral technique – was once again revealed as the great composer of inwardness or interiority. It is an operatic sound-world like no one else's, and it was a tonic to hear this impressive and stirring concert.
The Damnation of Faust, a concert version performed by the Melbourne Symphony Orchestra and conducted by Andrew Davis. Two performances at Hamer Hall, Melbourne Arts Centre. Performance attended 20 March 215.