Opera
Faust (Opera Australia)
Scottish director David McVicar's importance to Opera Australia – after his acclaimed Don Giovanni in 2014 – grows with this new production of his Covent Garden Faust, which is currently being seen in Sydney. The production dates back to 2004. The London opening night, which I attended, was a starry occasion, with Antonio Pappano in the pit and five internationally renowned principals: Roberto Alagna, Angela Gheorghiu, Bryn Terfel, Simon Keenlyside, and Sophie Koch. The Sydney production, much anticipated, was every bit as good.
McVicar shifts the opera from Goethe's sixteenth-century Germany to nineteenth-century France. The new conception is fluent, coherent, and sympathetic. Charles Edwards's stylish sets look inevitably cramped on the Sydney stage, but this never becomes disruptive.
Much had been written about our new Faust. Michael Fabiano, though only thirty, has excelled in roles such as Alfredo, Edgardo, and Gennaro. Last year he received the Richard Tucker Award and the Beverley Sills Artist Award. Little wonder: this is a rousing tenor voice. Fabiano's diction is impeccable; and he is an instinctive actor, always alert, human, responsive. The high notes have clarion power. At first the voice reminded me of Franco Corelli; then Fabiano gave us an exquisite 'Salut! Demeure chaste et pure' sung in the authentic French style, elegant and light, with a floated top C that characterises the true Gallic style (not a feature of the uninhibited Corelli's singing).
Nicole Car, singing Marguerite for the first time, was as impressive as past Australian Marguerites such as Deborah Ridel, Marilyn Richardson, and (most affectingly when I saw her in 1980) Joan Carden. Car looked the part: lissome, modest, splendidly dressed (all the costumes were superb, thanks to Brigitte Reiffenstuel); then, as the diabolical night wore on, by turns ardent and possessed, humiliated and uncomprehending. After 'Il était un roi de Thulé' and an assured, unmannered Jewel Song, Car got even better, especially in the duets and ensembles, with some thrilling, sustained high notes along the way. Her duets with Fabiano, especially the famous Act III one, were exceptional: it was such a tonic to see two youthful principals in these great dramatic roles. By the soaring Trio that ends the opera, Car was utterly fearless in attack – just what this extravagant music demands. If anyone deserved to be assumed into heaven after this performance it was Nicole Car. It will be excellent to see Car in Melbourne this year, repeating her Sydney Donna Elvira from last year and singing her second Countess in David McVicar's new productions of Le nozze di Figaro.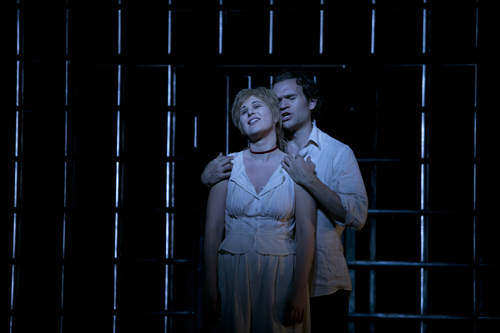 Nicole Car as Marguerite and Michael Fabiano as Faust
(photograph by Lisa Tomasetti)
Complementing these memorable performances, the smaller roles were well sung with fine contributions from Giorgio Caoduro as Valentin and Anna Dowsley as Siébel. The chorus – so important in Faust – was on excellent form. Two highlights were the men's wounded and ironic rendition of the triumphal Soldier's Chorus; and the brief, pianissimo singing that follows Valentin's death.
Faust can be a long night in the theatre, especially during the Walpurgis Night scene that opens Act V, with its several ballets, which Gounod was obliged to add for the Paris Opéra: 'The Nubian Women', 'Cleopatra and the Goblet of Gold', 'The Trojan Women', 'Variation', and 'Phryne's Dance'. For once there was nothing leaden about these allegorical interjections. Sprightly and engaging, they suited the macabre action, as Méphistophélès (in black sequined drag no less) prepared for Faust and Marguerite's duet in the final scene.
Guillaume Tourniaire – fast become such an asset to the company – led the orchestra in a zesty performance. The energy never flagged, and Tourniaire eschewed any hint of the ponderous or grandiloquent, quite a feat in this grandest of operas. The five acts (interrupted by a single interval, after Act III) seemed to be over in a couple of hours, such was the musical brio and the audience's engagement.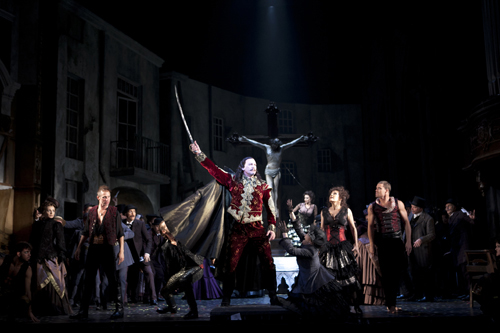 Teddy Tahu Rhodes as Mephistopheles (photograph by Lisa Tomasetti)
First nights can be edgy affairs, but on this occasion there was no sign of nervousness or unreadiness. Opera Australia can't have staged many more successful opening nights than this one. It was a sensational occasion, and the house will doubtless be full until the season ends in mid-March.
Faust, directed by David McVicar, for Opera Australia. Performances continue at the Joan Sutherland Theatre, Sydney Opera House until 13 March 2015. Performance attended 17 February.