Opera
Der Freischütz (Melbourne Opera)
In these straitened economic times, it is rare for opera companies to stray far from the standard, well-known repertoire. But there are only so many Toscas, Traviatas, and Butterflys one needs to see in a lifetime. So it is pleasing that Melbourne Opera was prepared to stage an opera once so famous it was parodied by Gilbert and Sullivan but is nowadays sadly neglected. The last time this writer saw Der Freischütz was at Southampton in 1975 (Glyndebourne Touring Company). It has not been done in Melbourne since 1969. Performances in other parts of the world are infrequent – a pity, since Carl Maria von Weber's opera is a true ensemble piece that can be staged to great effect.
First performed in 1821, Der Freischütz is the forerunner of a native, German opera school, a major influence on Wagner, Marschner, Kreutzer, Lortzing, Nicolai, and Cornelius. Weber's librettist, Friedrich Kind, combined scenes of everyday rural German life with folk tales and the supernatural; in other words, a Germanic opera school as opposed to the prevailing Italian.
Weber's innovatory musical gifts extended not only to melody, orchestration, and stagecraft: he was also one of the earliest modern-style conductors – the first to use a baton and to stand in front of the orchestra with his back to the audience. Still, his ground-breaking gem of the early Romantic movement has fallen out of favour in recent times, dismissed as having a narrative freighted with naive clichés and melodramatic religiosity.
Melbourne Opera's director, Suzanne Chaundy, has updated Der Freischütz, with a new English translation by Geoffrey Harris. The geometric designs and limited palette of German Expressionism of the early twentieth century have been used to highlight the psychological inner turmoil of the 'Marksman', Max, and his inamorata, the maiden Agathe. This worked well in the set designs but was less successful in the somewhat dull costuming for the men and the muddled choices for the female chorus members.
The first act, though well sung, seemed subdued possibly due to first-night nerves and the limitations of the Athenaeum stage. Some of the chorus work was static with some fumbling and confusion on stage. A more naturalistic approach might have been of benefit here.
Jason Wasley was impressive as the Marksman. Max's whining makes him one of the least likeable characters in German opera, but Wasley's range met the requirements of this taxing and ungrateful role with ease. Steven Gallop as Caspar created a sardonic and credible Faustian villain. Gallop dominated the stage whenever he appeared, and thrilled and chilled with his powerful voice and dynamic acting.
The opera's unrelenting mood of gloom and menace is relieved by the lightness and charm of the scenes involving the female characters. Sally Wilson as Agathe began tentatively but soon produced some beautiful tones in her Act II aria. In Act III, Wilson sang the cavatina sensitively and with great confidence.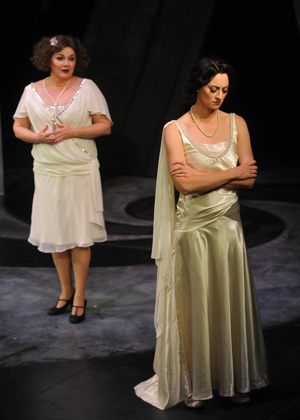 Andrea Creighton as Annchen and Sally Wilson as Agathe (photograph by Jodie Hutchinson)One of the highlights of the performance was Andrea Creighton as Agathe's cousin, Ännchen. Creighton lit up the stage. Her singing was accurate, her acting lively and convincing. Her dialogue provided a leavening of comedy and, incidentally, a further vehicle of German Expressionism's themes of angst by referencing Freud's Interpretation of Dreams.
The other male roles – Manfred Pohlenz as the chief forester, Cuno; Adrian McEniery as Ottakar; Roger Howell in the dual roles of the devil Samiel and the Hermit – were sung with force and effect. Special mention must be made of Michael Lampard as Kilian, the Marksman's shooting rival. Lampard's vocal and acting skills gave great impetus to Act I.
Strong chorus work is essential in Der Freischütz; there are so many scenes in which the chorus advances the drama, notably the Bridesmaids and Huntsmen's choruses. These are among the most popular in the whole operatic repertoire. The Bridesmaids chorus in Act III was charming and beautifully sung while the Huntsmen brought the house down.
The Melbourne Opera Orchestra under David Kram provided sterling support for the singers and allowed Weber's startling orchestration to emerge. This was especially effective in the Wolf's Glen scene where one can trace Weber's influence on Wagner in Das Rheingold and Siegfried. An argument could be made that the opera – music and drama – gather force and interest from this point on. Brilliant lighting effects from designer Scott Allan in this pivotal scene lifted the whole production. Indeed, the stagecraft of the Wolf's Glen is one of the most impressive this writer has seen in many years of attending opera performances. A tour de force!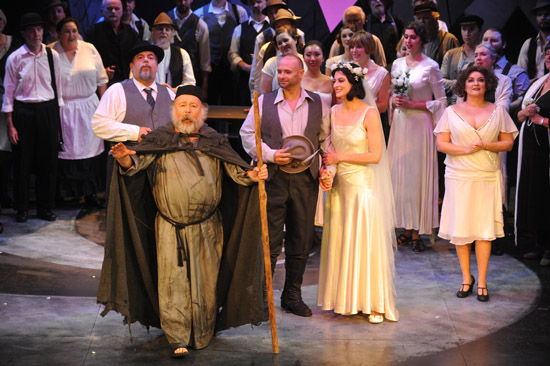 Melbourne Opera's Der Freischütz
(photograph by Jodie Hutchinson)
Over the last thirteen years Melbourne Opera has staged neglected gems such as I Puritani and Rienzi to considerable acclaim. I look forward to seeing more novelties from this exciting company. This was a most enjoyable night at the opera.
Der Freischütz, directed by Suzanne Chaundy for Melbourne Opera, performed at the Athenaeum Theatre. Season continues until 14 February 2015, then at Alexander Theatre, Monash University, on 13 March. Performance attended 31 January.