Enterprisingly, Opera Australia has enticed Scottish director David McVicar to create new productions of three Mozart operas, beginning with Don Giovanni, currently playing in Sydney (Figaro and Così will follow in 2015 and 2016, respectively). We saw the fifth of thirteen performances scheduled in this long opening season, and already the production was in superb shape – one of the finest Mozarts we have seen from this company in years.
For once, Sydney's stage seems fitting in scale, almost ample. Robert Jones's design is monochrome and crepuscular. We think of Kiefer's ruined cities as the curtain rises after the bracing overture. Rarely has this small stage felt so deep, so ominous. There is a graveyard in the distance, but death is ubiquitous, with skulls and debris lining the blasted walls and alcoves.
The costumes – handsome, in the Regency style – are perfect, though Donna Anna, not for the first time in the history of this opera, adds some bling before the masquerade. McVicar's vast experience in the world's great opera houses is evident; the principals are well drawn, and the drama of Mozart's opera buffa never flags. McVicar deploys fourteen actors, who observe the ceaseless tumult with a range of quiet disdain or private grief that never becomes de trop – too often the way with supernumeraries in a crisis. Very formal, moving gracefully, judging in silence, they give the production moral gravity and perspective, never more so than after the murder of the Commendatore or during the masterfully directed funeral procession. At times these stately, intelligent formations are the most watchable things on stage.
Mozart and Lorenzo Da Ponte's second collaboration – despite the champagne-like quality of the arias and serenades – is a pert study in falsity, with constantly changing and challenged values and positionings. Dissimulation, in this subfusc world of masks and feints, is all. As they prepare to enter Don Giovanni's ball in Act One, Donna Elvira and Don Ottavio, aware of the risks, implore the stricken Donna Anna: 'Simulate!' and 'Fingete per pietà' ('Pretend, for pity's sake'). Donna Anna (sung expressively by Elvira Fatykhova) is one of the few characters capable of a consistent moral line, but what does this portend if not a kind of lifelong frigidity and regret?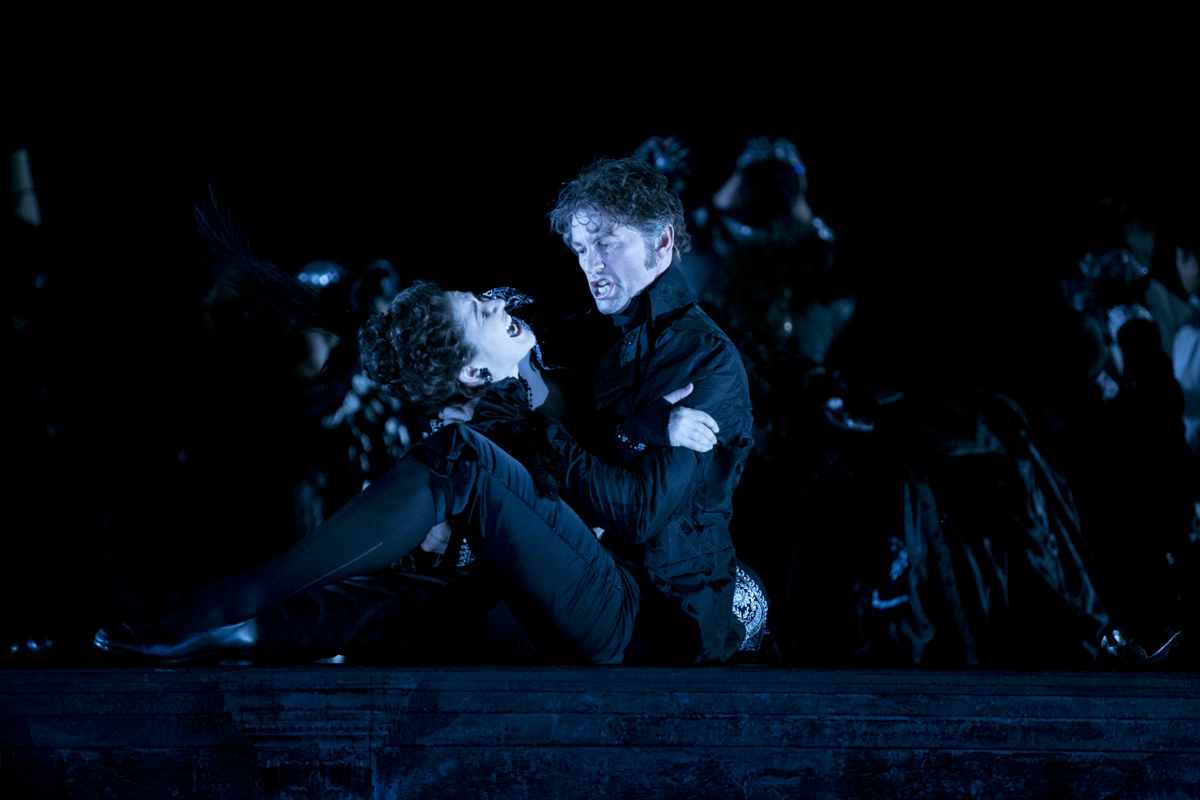 Nicole Car as Donna Elvira and Teddy Tahu Rhodes as Don Giovanni
(credit Lisa Tomasetti)
McVicar's sure touch with his singers is welcome after OA's last Don, a boisterous affair which elicited lubricious rompings in the stalls. There is quite enough dark humour in Don Giovanni without reducing it to a hen's night. This time Teddy Tahu Rhodes keeps his clothes on, and is all the better for it. Rhodes by now is a seasoned Don. A huge, athletic man, he dominates the stage, intimidating the other characters, male or female. The menace is real; the sadistic potential always keen, as when he flings Elvira against a table, grasps Zerlina by the throat at her own wedding party, or merely sprays his despised footman with water after a quick wash. There is nothing to like about this Don – opera's great amoralist, vicious at twenty-two. Sentimentalists might not appreciate this new interpretation, for Rhodes's Don – this travesty of an aristocrat – is a slave to violent and rapacious longings, a kind of vicious sociopath throughout 'the dead-long night'. But then, as Kierkegaard reminds us, Don Giovanni is not an individual but an impulse.
Shane Lowrencev – tall as Rhodes and an equally willing actor – brings suitable swagger and bewilderment to the role of Leporello, with an intriguing note of voyeurism in the Catalogue aria. 'Thus he has consoled eighteen hundred,' he says elsewhere of his libidinous master (1003 conquests in Spain). But who has counted them all up, we wonder, and who is keeper of the catalogue?
The other men are equally good. Jud Arthur, familiar in this role, is a superb Commendatore. Not all basses can cope with the fearsome music at the end, when the fresh corpse duly punishes the libertine, but Arthur's vocal assurance – and his accomplished stagecraft – made this particular clash of wills thrilling and climactic. John Longmuir, as Don Ottavio – thankless role, incomparable music – was impressive in 'Dalla sua pace' and 'Il mio tesoro'.
Donna Elvira – Don Giovanni's hounder and inamorata – is often played with a kind of exhausting freneticism, always in top hysterical gear. Nicole Car's Elvira is much less motorised. Her trousered entrance, long hair down, more youthful than most Donna Elviras, is arresting. Car (so impressive earlier this year as Tatiana, in Sydney and Melbourne, and clearly the audience favourite here) remains compelling all night but scales new vocal and dramatic heights in the thrilling Act Two aria ('Mi tradì quell'alma ingrata').
Of the smaller roles, Taryn Fiebig (such a fine Woodbird last year in Melbourne) stood out as Zerlina. Often this role is assigned to older, heavier voices, but Fiebig brought lightness, feeling, and real shockability to the constantly molested Zerlina, the highlight being her amiably masochistic aria, 'Batti, batti'.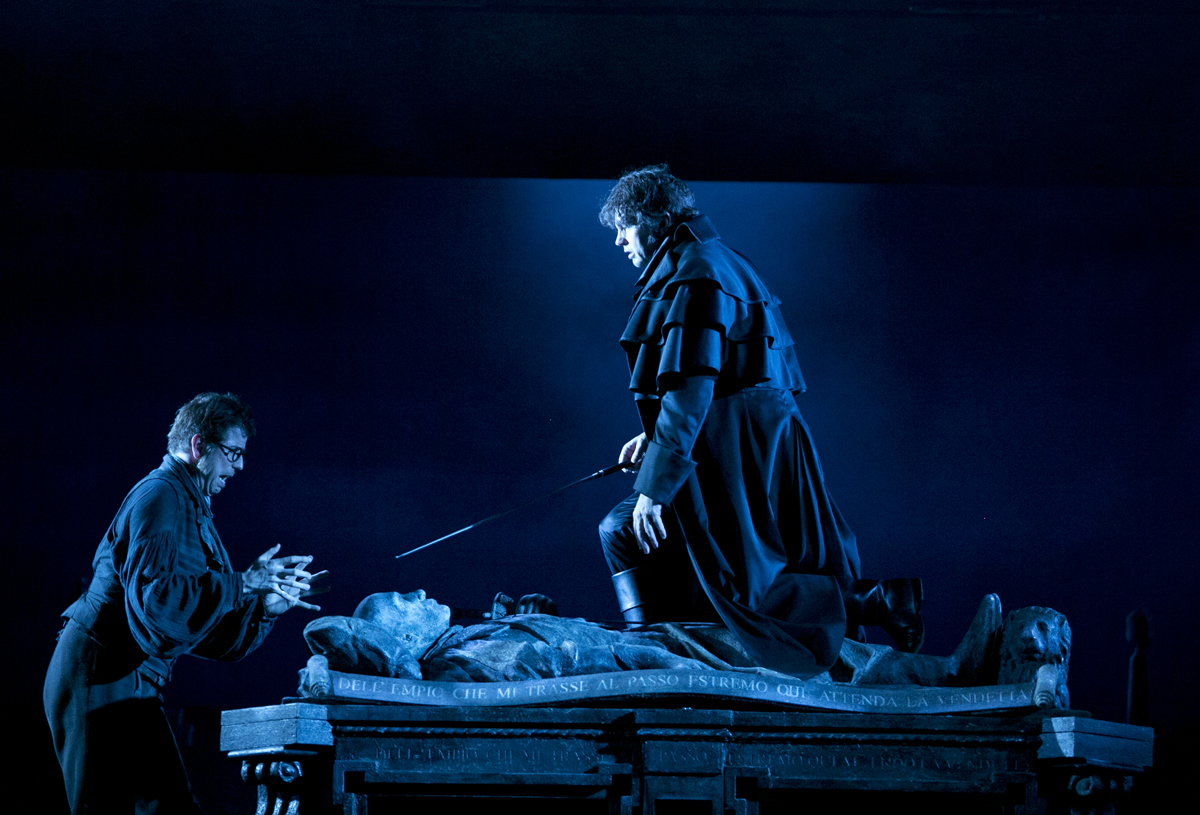 Shane Lowrencev as Leporello and Teddy Tahu Rhodes as Don Giovanni
(photograph by Lisa Tomasetti)
Then of course there is the immortal score, finely played here by the Australian Opera and Ballet Orchestra. Conductor Jonathan Darlington, whose fourth Mozart this is for OA, gives a scrupulous and sympathetic reading, always attentive to his singers, notably in the subtle accompaniment to the ladies' big Act Two arias.
More than two centuries after its swift creation, the opera retains the quicksilver quality of a newly minted work, befitting an opera produced at such speed, the ink on the orchestral score of the overture still wet, according to legend, at the première in Prague on 29 October 1787. It is the most restless and protean of operas, and it never flags. As Konrad Küster said of it, 'One must always expect the unexpected.'
Ensembles drive the opera – unlike opera seria with its slowing and virtuosic arias. All evening we were treated to fine ensemble singing – duets, trios, sextets, on they came, as if freshly written. The trio with Donna Anna, Don Ottavio, and Donna Elvira before they enter the ball – two limpid and heavenised minutes – was beautifully sung, and the sometimes gratuitous-seeming envoi, when the survivors generally sum things up and move on (to their taverns or convents), gained real bite as the seven of them moved to the front of the stage, pointed their fingers at us, and sent us home with a nasty sense of being liars and scoundrels.
Don Giovanni, directed by David McVicar for Opera Australia. Performances continue at the Sydney Opera House (Joan Sutherland Theatre) until 30 August. Performance attended 7 August.