Art
Stephen Benwell: 'Virtuoso in Clay'
Entering the current Heide exhibition Stephen Benwell: Beauty, Anarchy, Desire – A Retrospective for the first time is quite an experience. Dispersed left and right on two enormous rectangular tables is a chronological survey of the work of one of Australia's finest ceramic artists. The overview of a remarkable career can be examined in detail as the viewer moves from work to work up and down the tables and back again. Further rooms in the exhibition enrich and amplify the experience, with the presentation of a wider range of the artist's oeuvre, arranged to make connections between works rather than to show the strict ceramic timeline in the first room. For once, most works are on open display; there is no glass or Perspex, normally de rigueur in such exhibitions, to hinder the viewer.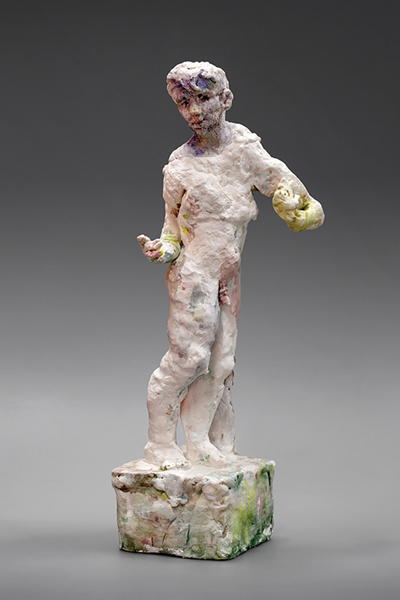 Statue, Athlete (2011). Earthenware. Courtesy the artist and Niagara Galleries, Melbourne © the artist.
Benwell's sculptural ceramics involve vessels and figures. He delights in the expressive possibilities of clay and creates highly original forms for vases, bowls, and containers, often richly decorated in a painterly manner. He uses pure design motifs combined with the expressive qualities of line and colour, as well as figurative imagery to create what almost become three-dimensional sculptural paintings in a perfect marriage of form and decoration. His small and surprisingly exposed, expressive figurative sculptures – or 'statues', as they are titled – build on his interest in anthropomorphic figuration, which is evident in his earliest work from the 1970s. However, these derive more directly from ancient Mediterranean and European traditions of depicting the male nude in sculpture and painting. In them he also shows more than a passing knowledge of the delightful porcelain figures made in European during the eighteenth century.
The first pots in the exhibition are from 1971, when Benwell was an art student; the most recent is from earlier this year. They range from small boxes and miniatures to large vases over half a metre tall. Despite the changes in scale, the effect is surprisingly harmonious. Viewing the work en masse demonstrates the consistent quality of Benwell's work over four decades and his virtuosic ability to find new forms in clay and to reinvigorate modes of decoration.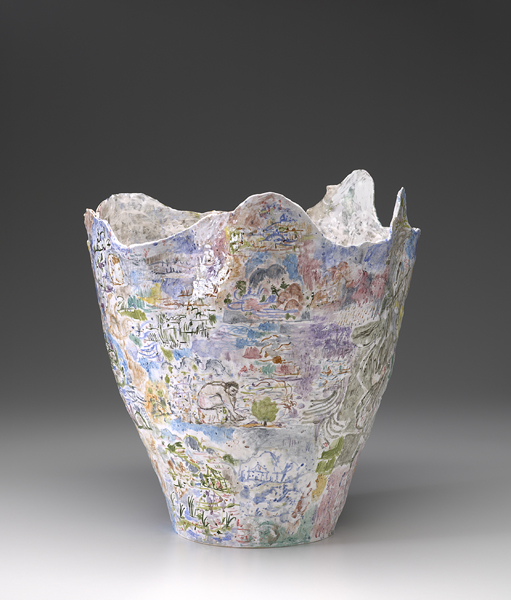 Large Vase I (2004). Earthenware. National Gallery of Victoria, Melbourne Kenneth Hood Bequest Fund, 2007 © the artist
Benwell's ceramics are represented in all the major public collections in Australia, many of which have lent to the show. His work is is avidly sought by private collectors, many of whom are lenders. Benwell's work has been included in numerous major exhibitions, both in Australia and overseas. It is to Heide's credit that it – not a state or national gallery – has staged this important retrospective. This large exhibition – there are 132 works – is supported by a handsome, informative, and well-illustrated catalogue.
Stephen Benwell is well worth the trip to Heide.
Stephen Benwell: Beauty, Anarchy, Desire – A Retrospective. Heide Museum of Modern Art, Melbourne. The exhibition closes on 10 November 2013.