Theatre
The Cherry Orchard
Writing to his brother in 1889, Anton Chekhov advised: 'Try to be original and as clever as possible in your play, but do not be afraid of appearing stupid. Freethinking is essential, but to be a freethinker one must not be afraid to write nonsense.'
I thought a lot about nonsense during the Melbourne Theatre Company's new production of Chekhov's The Cherry Orchard (1904). In this often tedious, sometimes cringe-making, but mostly tolerable production, it's actually the few moments of utter nonsense – the odd touches that properly baffle – that stay in the mind and retain their fascination, even as the rest of the evening rapidly recedes.
Director Simon Stone has always has been obsessed by a kind of anti-theatrical theatre, a mood of televisual flatness, thin chatter, and evenly modulated melodrama climaxing in discrete hysterics. It's no surprise, then, that he presents Chekhov's great tragicomedy, which Stone sets in the late 1970s, as a kind of light comedy–drama about a family of melancholy oddballs. They can't help but get on one another's nerves, but, gosh, at the end of the day they love each other all the same.
The costumes – in palette and cut – recall Wes Anderson's The Royal Tenenbaums (2001), another family extravaganza of eccentrics. There is something Andersonish, too, in Stone's approach – with his designer Alice Babidge – to the question of nostalgia. It's that cool, affectless hunger for the look and fashion of your parents' childhood, rather than your own. In a move reminiscent of Anderson's idiosyncratic portrait style, Stone – here as elsewhere – spreads his cast horizontally across the stage, and sometimes right around the theatre, hanging them like so many pictures on a wall, the better to show their particular quirks. Even the set, a large, featureless white room, looks like an empty gallery.
Like every Wes Anderson film, this production does provide some funny, intermittent slapstick. Gareth Davies, in particular, as the buffoonish Yepihodov, dubbed 'the Disaster Zone', comes like 'the catastrophe of the old comedy'. In the opening scene, there is some wonderful business where Davies falls up and down the stairs, and his catchphrase, 'Classic me', suits him perfectly. Katherine Tonkin as Charlotta, less governess and more fortune-teller, is also dippy good fun, while Ronald Falk as the aged Firs, with his deaf-old-man gags, is on the money.
But these are, except perhaps for Firs, all incidental characters. At the heart of this production, where Chekov's tragic seriousness should lie, there is no density of feeling at all. More dramatic energy is spent giving comic texture to the winking affair between the maid and the valet – Nikki Shiels and David Paterson – than to the complicated play of power and affection between Ranevskaya and Lopakhin – Pamela Rabe and Steve Mouzakis – the lady of the manor and the self-made man. In theory, this could be interesting. It suggests an equality of significance that chimes with the social revolution that the play is describing. But in practice it cripples the story. As characters, the maid and the valet aren't very deep, and they don't give us much in return for the attention we're compelled to lavish on their busyness. Meanwhile, we've been so convinced that Ranevskaya is just one more comic variation that the play inevitably crumples when we have to turn to her for our dramatic catharsis. The finale to Act Three, where Ranevskaya is left weeping for her lost orchard in the arms of her daughter, is an excruciating moment of bathos, culminating in Eloise Mignon – as the daughter – mechanically repeating the line 'Be happy' over and over, like a grinning pull-string doll at the broken end of her dramatic range.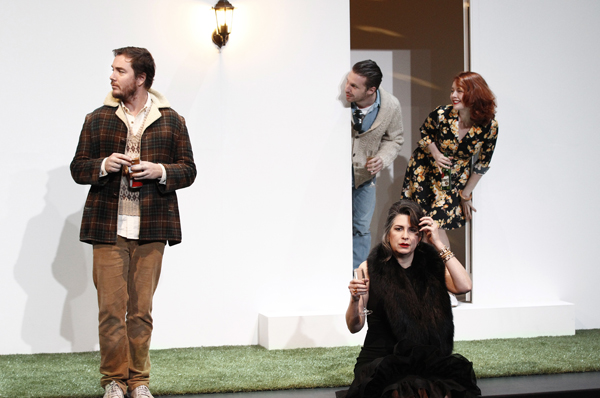 The Cherry Orchard, Melbourne Theatre Company (photo: Jeff Busby)
In this production, where, as the aged Firs would say, remembering a simpler time, 'everything's all anyhow and you can't understand anything', only Steve Mouzakis as the entrepreneurial Lopakhin and Zahra Newman as Varya, Ranevskaya's adopted daughter, manage to suggest something of the play's complex emotional substructure. Mouzakis because he sees the limits to his character and backs away, terrified; Newman because she sees those limits and has the courage to throw herself against them. Their final, heartbreaking encounter in the nursery, with neither able to transcend circumstance and make a declaration of love, is our only glimpse in this production of Chekhov's tragic depths.
And what of the public clamour that preceded this production – the phoney debate about whether adaptations are killing our theatre? It amounts to very little in the end. The version we get is not an adaptation at all, and the only outrageous thing about it is that it is being passed off – and paid for – as the work of a 'playwright under commission' by the MTC. In fact, this is a very straight, scene-for-scene, speech-for-speech, often line-for-line translation.
'...what of the public clamour that preceded this production – the phoney debate about whether adaptations are killing our theatre?'
A few fringe characters have been cut. There are more tears, more kisses, more drugs – characteristic 'classic' Stone – but nothing that distorts the original text. Most of the changes are to the dramatic furnishings: cupboards for bookcases, model trains instead of billiards, Vodka for Kvass. It's only that it all lacks a certain dramatic weight. It seems thinner. It's like Chekhov limited to his topical or conversational surface, without the underlying reality it symbolises. A character such as Trofimov, for example, the eternal student with utopian ideals, offers plenty of room for contemporary reinvention. Here, though, he is flattened and reduced rather than given new life. Toby Truslove plays the revolutionary as a bit of a clown, stammering vaguely about the emergence of 'a new kind of tyrant ... greedy and uncouth', but without any particularity, vehemence, or drama: it's all generalised cliché.
The textual conservatism may be a relief to many people. Yes, Chekhov comes through without either gaping wounds or a single drop of fake blood – but it's nothing to rejoice at. Stone is always at his best as a 'theatre maker', when he is elbow deep in the gore of original creation, birthing something new and monstrous from his ancient originals. As a straight 'theatre director', in the presence of a classic text, perfectly preserved, he's a much less interesting proposition, and a much less expert hand. He shows a bit of a talent for comedy, and a feeling for ensemble transitions. But his laborious individuation of character doesn't allow a coherent picture of the household to emerge, so that the upshot is an inhibited Cherry Orchard, one that highlights Stone's essential mistrust of any theatre he is not remaking in his own image.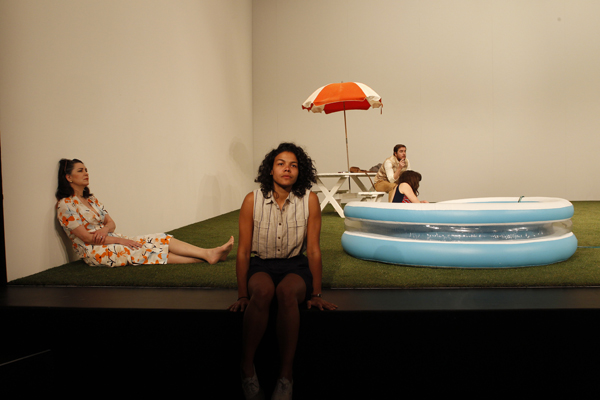 The Cherry Orchard, Melbourne Theatre Company (photo: Jeff Busby)
There are moments, though, which indicate that with Stone the magic is in the madness. As the curtain comes up on the first scene, we see Mouzakis, stripped to the waist, shooting hoops while waiting for the landowner and her family to arrive. The basketball ring is a mystery. Who would put a full-size basketball ring in a nursery, in a playroom? It's mysterious, it makes absolutely no sense, but it's irresistible. It has an evanescent suggestion of absurdism, evasive but unmistakable. And we could do with more of that sort of weirdness in this production. There aren't enough gestures toward what is eternally fascinating in the master dramatist. Chekhov's 'breaking string' at the end of Act Two, the strange sound the group hears while picnicking, has always been an opportunity for directors to show their stuff. What we get with Stone, however, is nothing that might signify the mystery of the world, just a not-so-mysterious thundersheet rumble, and the moment is passed over with only a garbled pointless reference to World War II.
'...we should be troubled that this is the kind of middling mediocrity passes for success when our major theatre companies do the classics, as though not ruining the play completely were some kind of achievement in itself.'
For all that, something of Chekhov stays and glows. You can't go completely wrong with The Cherry Orchard. Stone's production is indeed tolerable. But there's not much soul in it, no real agony underneath the farce. It's all as plain as the ugly white walls behind it. And we should be troubled that this is the kind of middling mediocrity passes for success when our major theatre companies do the classics, as though not ruining the play completely were some kind of achievement in itself. It would have been better if Stone or someone had rewritten Chekhov, torn it to shreds, and made a complete mess. The couple sitting next to me, visibly squirming through the first two acts, didn't return after interval. At the time it seemed an overreaction. Surely it wasn't that bad. And yet, to use an old Russian cry to arms, 'Something should be done.' Ranevskaya, in a mood of despondency that mirrors my own, says, at one point, 'People shouldn't go to the theatre. The theatre should be banned. They should spend more time taking a good hard look at themselves.' If we can't ban banality as blatant as this, we should at least be able to turn our backs on it, refusing to tolerate the merely tolerable and not simply applaud it for trying.
The Melbourne Theatre Company's Production of The Cherry Orchard runs until 25 September at the Southbank Theatre, the Sumner. Performance attended, 15 August.