Film
Much Ado About Nothing
There have been more than 900 Shakespearean film adaptations of one kind or other, for screens large and small, dating back to scenes from Macbeth in 1898. The Stratford playwright would have become rich beyond the dreams of avarice from film rights alone; equally, though, I think he would have acknowledged that film-makers have notched up a pretty honourable record in bringing his plays to the cinema. Certainly, such screen versions have been essentially aimed at arthouse audiences, but he might well have been pleased at some of his successes among the groundlings. Think of Zeffirelli's Romeo and Juliet and how well it chimed with the youthful Zeitgeist in 1968.
The most notable films have tended to be British in origin, though there are potent exceptions such as Kurosawa's Ran (ex-King Lear, 1985) and Grigori Kozintsev's Hamlet (1964) – or the all-star Hollywood Midsummer Night's Dream of 1935. This last date is significant here. There has been nothing so like Hollywood, and in some ways so like the Hollywood of the 1930s, as Joss Whedon's Much Ado About Nothing. For my money, there has been nothing so exhilarating in the filmed Shakespeare canon for a very long time (I nearly said 'ever').
The mention of Hollywood needs some gloss. First, the film is set in California, Santa Monica to be exact, and largely in the director's own house and grounds. This spacious setting has a kitchen with guests pottering about, bedrooms with children's toys, and so on; in other words, it's a place where life is going on. Second, Whedon clearly sees it as a sparkling romantic comedy, with screwball affiliations, making me think of, say, Katharine Hepburn and Cary Grant striking sparks from each other, as if the final clinch weren't inevitable, in the great Philadelphia Story (1940). And third, it is shot in lustrous black and white, so that it seems almost like a throwback to the great days of Hollywood in these genres – during the 1930s above all. The choice of monochrome (maybe cheaper, and I hear the film was made fast and economically) seems to insist on placing it in such a context.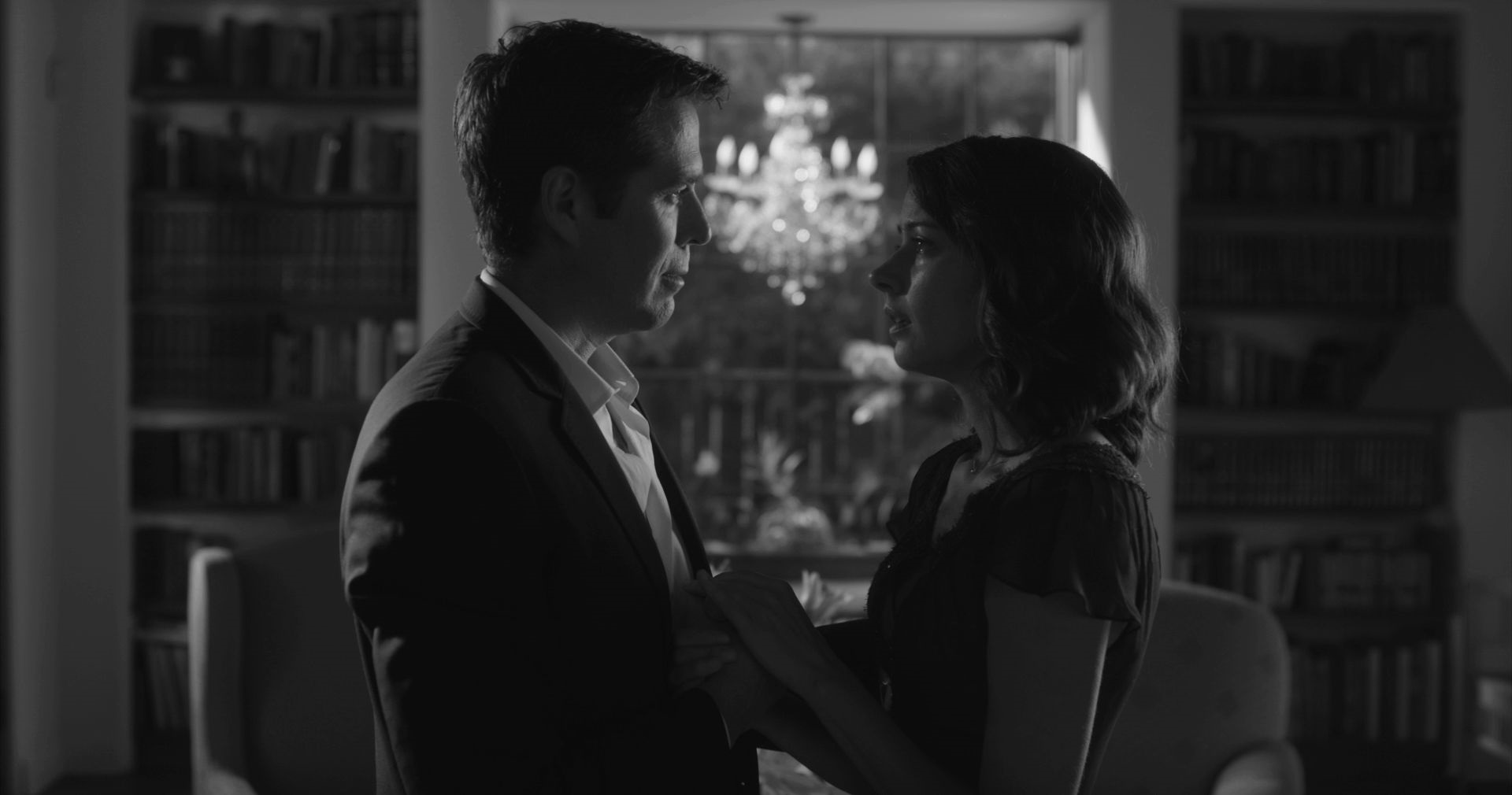 A still from Much Ado About Nothing
What is most wonderful is the apparently seamless wedding of the Shakespearean verse drama with the conventions of film. It simply doesn't feel like a play, unless the several white-outs are intended to stand for the conclusions of individual acts. It moves fluidly around the large house, into the neighbouring gardens and roads, so that there is no sense of actors and action behaving in any sort of constrained, stagy way. Shakespeare's language is preserved with immaculate precision and conversational ease. The cast manages that feat of making us feel they are thinking about the matter of their dialogue as they speak, as if they are making the words up as they go along, but without any diminution of the original's wit and rhythms. We seem to be hearing conversation; it just happens to be sharper and more literate than we are often used to.
The drama of the plot relating to Claudio's wooing then public humiliation of Hero is there intact, as is the perfidy of Don John and his followers, both strands given their narrative weight. The comedy involving the dim-witted constable Dogberry and his offsiders, now cast as guards on the estate, is very funny in the performances of Nathan Fillion and Tom Lenk, as they muddle their way through CCTV findings and a very elusive grasp of grammar and vocabulary.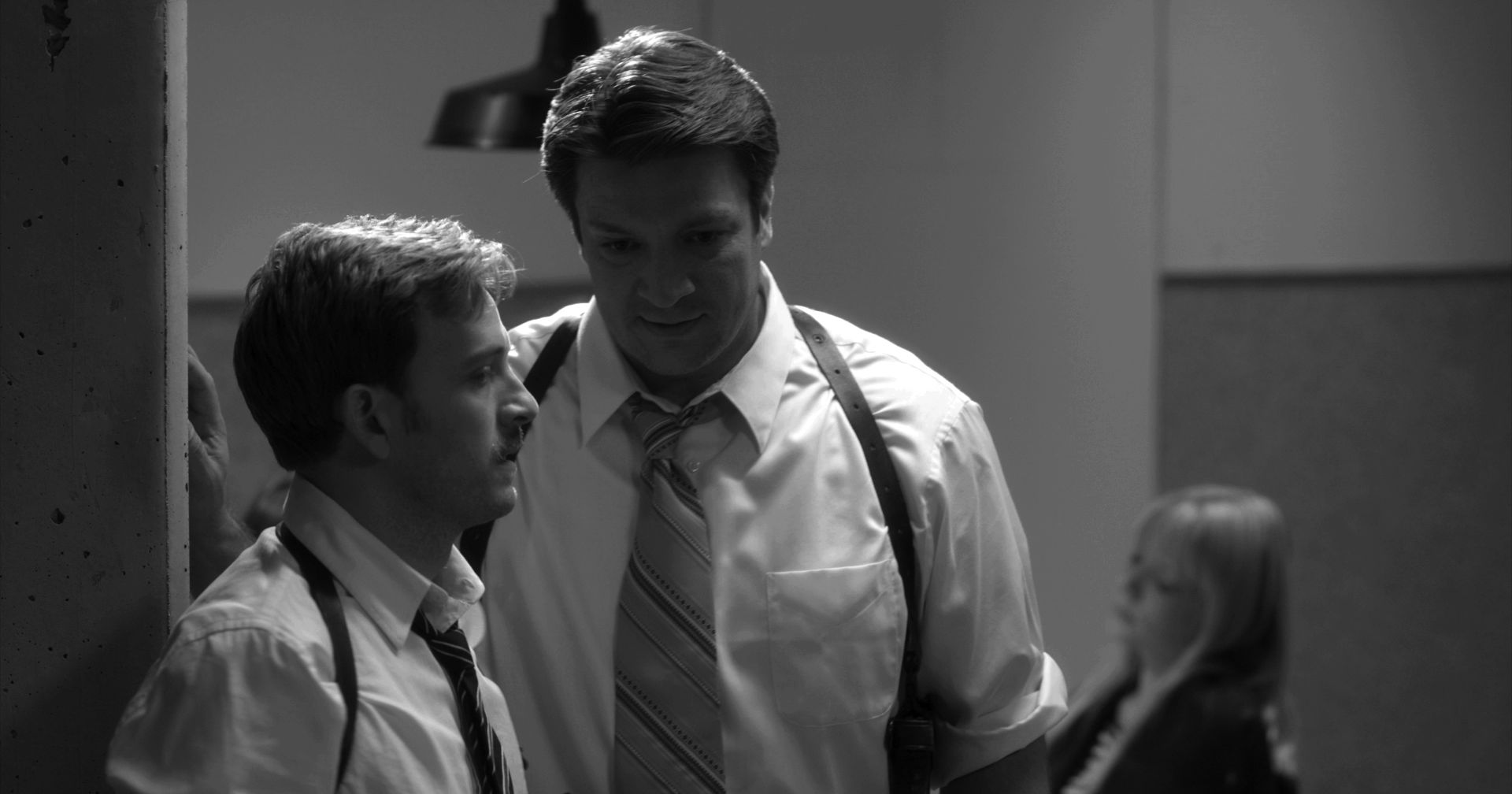 A still from Much Ado About Nothing
But at the core is the comedy of 'the merry war' between Beatrice and Benedick. This is the reason we love this play. It is they who create the emotional trajectory of what may be the greatest romantic comedy in the language, and Amy Acker and Alexis Denisof make their Beatrice and Benedick seem like descendants of that previously named film pair, who, of course, in their turn could claim Beatrice and Benedick as their ancestry. When Acker tells us, 'I'd rather hear a dog bark at a crow / Than hear a man tell me I love you', you know she's due to have her mind changed, and when she says 'Then a star danced and under that I was born', you believe her absolutely. And when it comes to what may be the play's climactic line – Beatrice ordering Benedick as a test of the love he has just been declaring – 'Kill Claudio', she almost whispers it in his ear as he is embracing her. On stage, it is often spoken as a show-stopping line and that works well on stage. Here, it belongs utterly to that point in the relationship between the sparring, bantering pair whose realisation that each is what the other needs is at the heart of the play – and of this glorious film.
Much Ado is on limited release: it deserves huge commercial success as well as critical plaudits. Shakespeare and Joss Whedon seem made for each other.
Much Ado About Nothing, (M), directed by Joss Whedon, written by William Shakespeare. 109 minutes. Released in Australia on 11 July 2013.