Opera
The Perfect American (English National Opera)
English National Opera audiences are notable for their complete lack of bling. On opening nights they ostentatiously dress down, in opposition to their social butterfly Covent Garden counterparts, as if to state that they are there for the opera alone. The London opening of The Perfect American, Philip Glass's opera based on the life of Walt Disney, was no exception. At openings of Wagner's Ring, one can see horned, helmeted, and even fully costumed figures in the audience. I was rather hoping that, on this occasion, Mickey or Donald might have put in an appearance, but it was not to be. If there were no iconic Disney characters off stage, there was no chance that any would make it onstage. The Perfect American is based on a novel of the same name by the American–German author Peter Stephan Jungk, in which Uncle Walt is portrayed as a grumpy, racist adulterer. The Disney Corporation resolutely refused to allow any of the hallowed figures stage time. Whether their appearance could have saved this turgid mess is a very moot point.
The Perfect American takes place in the last months of Disney's life (1901–66) as he is forced to come to terms with his own mortality. Rudy Wurlitzer's ham-fisted libretto has extracted scenes from the novel and strung them together somewhat haphazardly. The novel is seen through the eyes of William Dantine, an illustrator Disney has hired and fired, who has become completely obsessed by him; in other words, as unreliable a narrator as one could have. In the opera, Dantine's portrait of Disney is presented straight and Dantine becomes just one of many subsidiary characters. Walt is shown to be a selfish control freak who steals other people's ideas and passes them off as his own – a white twentieth-century midwesterner with all the prejudices and bigotry of his type. That may well be an accurate picture of the man, but it doesn't make for a very interesting operatic protagonist. Walt romanticises the town in which he grew up, Marcelline, Missouri, is haunted by an owl child – a harbinger of death; has an extraordinary encounter with his animatronic version of Abraham Lincoln, meets and befriends a sick child while he is in hospital, and finally dies; but at no point do we feel that we are getting to know the man in the way that we get to know the innermost thoughts of the historic figures in John Adams's Nixon in China (1987).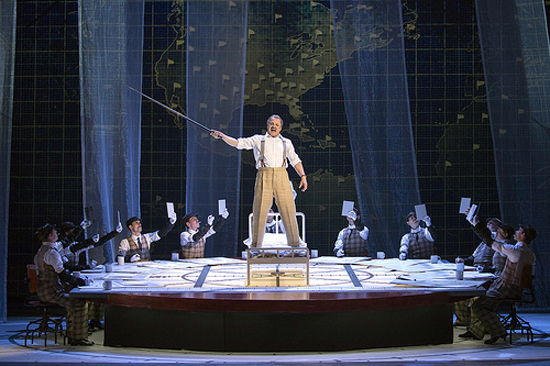 Christopher Purves in ENO's production of The Perfect American
(photograph by Richard Hubert Smith)
All of which is a shame as the elements other than the libretto are so promising. Glass's score is richer and more colourful than usual, and though the solo vocal lines are his usual parlando, there are some splendid choral moments. The production by the theatre company Improbable, designed by NIDA-trained Dan Potra, is inventive and fluid. Movie screens revolve and project animations, and dancers portray Disney illustrators gradually turning into the creatures they are creating.
English National Opera could hardly have fielded a stronger team of singers. Christopher Purves, a magnetic performer, does his best with unpromising material as Walt. Donald Kaasch's looming presence and splendid tenor are wasted on the unhappy Dantine. The two soloists who come out best are Zachary James as the malfunctioning animatronic Abraham Lincoln and John Easterlin, who turns up out of the blue as an uncharacteristically stentorian Andy Warhol. But no amount of talent can disguise the fact that at heart this is a hollow spectacle.
The Perfect American, directed by Phelim McDermott for the English National Opera, London. Performance attended 1 June.