Music
All Rise
A euphoric evening led by Wynton Masalis
Lincoln Center Orchestra with Melbourne Symphony Orchestra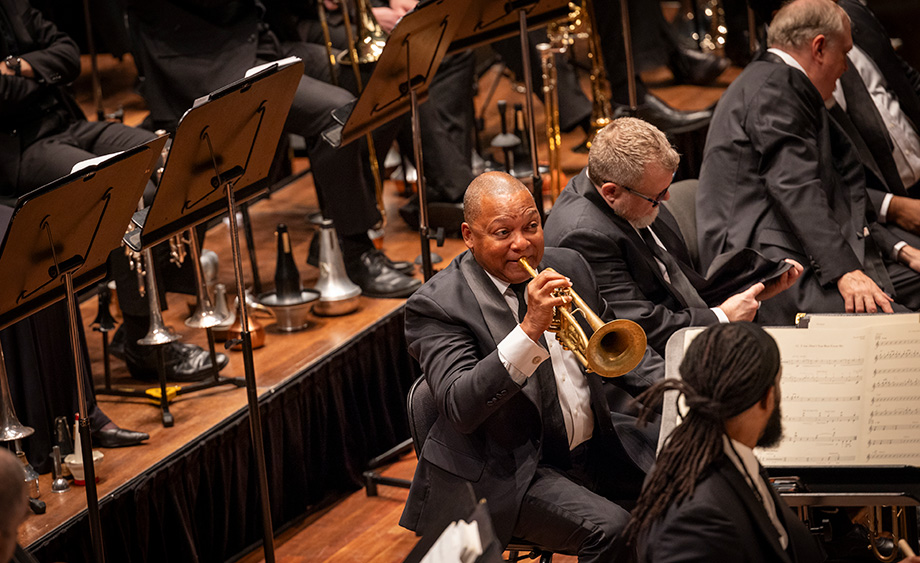 When Wynton Marsalis's début album appeared on CBS Records in 1982, with its moody, pensive black and white cover portrait of the then twenty-year-old trumpeter, few could have predicted where his career was headed. Sure, he had performed Haydn's Trumpet Concerto with the New Orleans Philharmonic at fourteen, and further honed his craft in the trumpet chair of Art Blakey's Jazz Messengers. But his early albums, as good as they were – and some, like Black Codes (From the Underground), were very good – proved far from ground-breaking affairs, exploring as they did the small group sound of Miles Davis's classic quintet of the 1960s.
If Marsalis's early music failed to break new ground, he certainly proved the right stuff for the CBS marketing department. With his good looks, trumpet virtuosity, leadership qualities, and a genre-jumping capacity for switching effortlessly between jazz and classical, he was promptly elevated to the next big thing, the leader of a pack of 'young lions' – a group that included Terence Blanchard, Christian McBride, Wallace Roney, Marcus Roberts, Roy Hargrove, and brother Branford – spearheading a return to acoustic jazz after a decade of fusion and funk experiments. For the first time in a while, swing was back on the menu.
Continue reading for only $10 per month. Subscribe and gain full access to Australian Book Review. Already a subscriber? Sign in. If you need assistance, feel free to contact us.