Mykaela Saunders
The ABR Podcast
Wednesday, 19 August 2020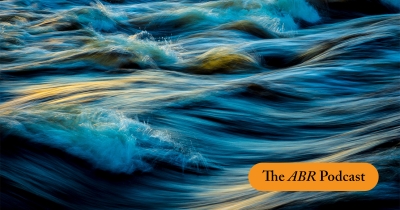 In today's episode, listen to Mykaela Saunders read the entirety of her remarkable 'River Story', which won this year's ABR Elizabeth Jolley Short Story Prize. Mykaela is a Koori writer, teacher, and community researcher. Of Dharug and Lebanese ancestry, she's working-class and queer, and belongs to the Tweed Aboriginal community. Mykaela has worked in Aboriginal education since 2003, and her research explores trans-generational trauma and healing in her community.
...
(read more)
Australian Book Review
Thursday, 13 August 2020
Mykaela Saunders
Friday, 24 July 2020
A crow-shaped shadow flies across the river. Juna knows that her daughter is coming, so the right thing to do is make her favourite feed. Juna casts a fishing net over the river with her mind. The net drifts onto the surface, slips under the skin, and is swallowed by the water. The net descends through the deep water slowly, resting on the bed. River grass unflattens and pokes up between the spaces. Juna sings a song to attract fish to the area.
...
(read more)