Open Page
An interview with Michael Winkler
by Australian Book Review
•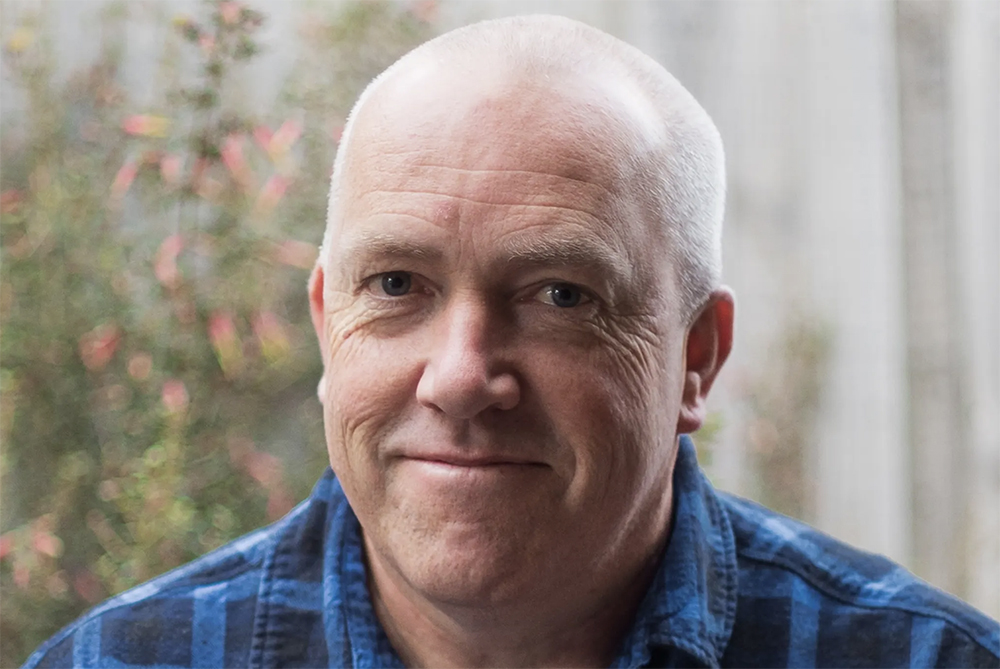 Michael Winkler lives in Melbourne. His most recent book is Grimmish (Puncher & Wattmann), which was shortlisted for the 2022 Miles Franklin Literary Award. He was the winner of the 2016 Calibre Essay Prize for his essay 'The Great Red Whale'.
---
If you could go anywhere tomorrow, where would it be, and why?
My sister died seventeen years ago and there aren't many days I don't miss her. I'd like us to be walking together beside the Murray River near our place in Merbein, hearing her laugh, and being renewed by the sunshine through the river red gums.
What's your idea of hell?
Being trapped. Physically, mentally, emotionally, financially, morally.
What do you consider the most specious virtue?
Temperance.
What's your favourite film?
A tie. Sunset Boulevard (1950): glorious. Man of Flowers (1983): flawed but mesmerising.
And your favourite book?
Moby-Dick (1851) contains multitudes.
Name the three people with whom you would most like to dine.
Anne Bonny, Judas Iscariot, Paul Robeson. Some good stories there.
Which word do you most dislike, and which one would you like to see back in public usage?
Dislike: Woke (pejorative). Bring back: fair dinkum. Its prominence has been washed away by waves of cultural cringe, but in a time when spin doctors, spivs, and speculators are in the ascendant, I'm cheering for its return.
Who is your favourite author?
As a long-time fan of this column, my nomination is the one most regularly cited: prolific and prodigious Toomany Toname. Beyond that, how fortunate to be a reader in this country when Alexis Wright, Helen Garner, Michelle de Kretser, Evelyn Araluen, and Maria Tumarkin are at their zenith.
And your favourite literary hero or heroine?
Thomas McNulty and John Cole and their fierce simple love in Sebastian Barry's Days Without End (2016). I always envied the brio of Huckleberry Finn. And, apologies to Lucy-lovers, but I'm most fond of Olive.
Which quality do you most admire in a writer?
The combination of hard work, talent, and a great ear producing prose that makes you gasp with surprise and pleasure. Not just sentence-level brilliance, but stunning paragraphs and extraordinary pages. Plot, character, and theme are subordinate, for me, to strings of sentences that make my heart race. Luminescent pearls rolling one after another.
Which book influenced you most in your youth?
My early reading was heavily dependent on what I could find in small-town libraries. Mainly Australian authors: Ruth Park, May Gibbs, Ivan Southall, Colin Thiele as a kid; Arthur Upfield and Xavier Herbert in mid-teens. I read what was around. When I was about fifteen, a woodwork teacher lent me Patrick White's The Vivisector (1970), and a window opened.
Name an early literary idol or influence whom you no longer admire – or vice versa.
My teenage passion for Jack Kerouac was slavish and predictable. I'm glad to have moved on.
Do you have a favourite podcast, apart from ABR's one of course?
Beyond the Zero. The host, Ben, interviews contemporary authors and fosters discursiveness and excellent reading suggestions.
What, if anything, impedes your writing?
Fear and laziness.
What qualities do you look for in critics, and which ones do you enjoy reading?
Ones who have no fear and no laziness. I like some evaluation, not just explication. I enjoy the way occasional wild reviews shake things up – Joshua Cohen on Gordon Lish, Kevin Power on Megan Nolan, Andrea Long Chu on anyone at all. I admire the grace and depth of music critic Ian Penman. The first time I read Beejay Silcox in ABR I became a fan. She is formidable and fabulous.
How do you find working with editors?
I'm guessing this question was written by an editor, and is thus a trap.
What do you think of writers' festivals?
Grateful for the opportunities I've been given, and occasionally euphoric after a successful session. My admiration for skilful panel hosts is unbounded. However, I'm cautious about the idea of writer as performer. I care about the writing, not about whether the author is a raconteur who can tongue-and-groove road-tested anecdotes into glib opinions without a stumble.
Are artists valued in our society?
Serious artists, in Australia? No. Is that a problem? I'm not sure. There is some value in being undervalued; it can be liberating, and might lead to better art – but it doesn't pay the rent.
What are you working on now?
I have dreamed up a strange little story, and I'm trying to devise a novel structure to best suit its telling. It should be complete in less than twenty years' time.