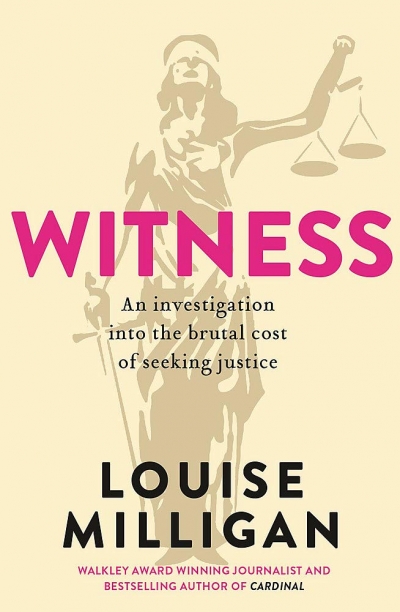 Witness: An investigation into the brutal cost of seeking justice
by Louise Milligan
Hachette, $34.99 pb, 374 pp
Law
Bearing witness
The monstrous cost of seeking justice
'If victims don't come forward, what then?'

Louise Milligan, Witness
The street entrance to the Melbourne Magistrates' Court is a scoop-hungry gauntlet of journos who spend the day jostling for soundbites, ever ready to give chase. As a rookie reporter, Louise Milligan used to be part of the Sydney court scrum, but when she arrived to give evidence in Australia's 'Trial of the Decade', she had become the story. In her investigative work for ABC's Four Corners – which begat the Walkley Book Award-winning volume Cardinal: The rise and fall of George Pell (2017) – Milligan had been the first person to hear one of the criminal accusations against the Vatican's disgraced treasurer. If Pell's defence team could discredit her, they could discredit what she'd heard. 'As journalists, it's always drummed into us that you are not the story. Never become the story,' Milligan writes in her follow-up, Witness. 'It's the weirdest thing, when you have no interest in becoming the story, but you have no choice.'
The photographs from that morning show a woman at ease: calm eyes, a quietly confident smile, a news anchor's polish – a portrait of self-possession. The photographs lie: 'She was a woman who hadn't slept a wink, nor eaten a morsel,' Milligan recalls more than two years later with still-tangible dread. 'Who had spent the entire night before vomiting.' It's a terrifying responsibility, keeping the flame of others' hopes alive.
A full day of cross-examination would leave the veteran journalist so wrecked she could not drag herself from bed the next morning – the kind of tired that frightens the kids. 'You wake to feel like a Mack Truck has powered through the walls of the room and flattened you,' she explains. It is this 'strange, invisible trauma' – the trauma of being so ferociously and publicly dismantled – that Milligan writes about with knowing fury in Witness.
For the presumption of innocence to be upheld, it is imperative that we scrutinise and stress-test the testimony of witnesses. It is a queasy bargain that sits at the heart of our criminal justice system: to establish guilt beyond reasonable doubt, we have no choice but to interrogate our most vulnerable. For victims of sexual assault and abuse – furtive crimes, with so little scope for external corroboration (and often dogged with the evidentiary conundrum of consent) – the pathway to reasonable doubt is a notoriously vicious character assassination.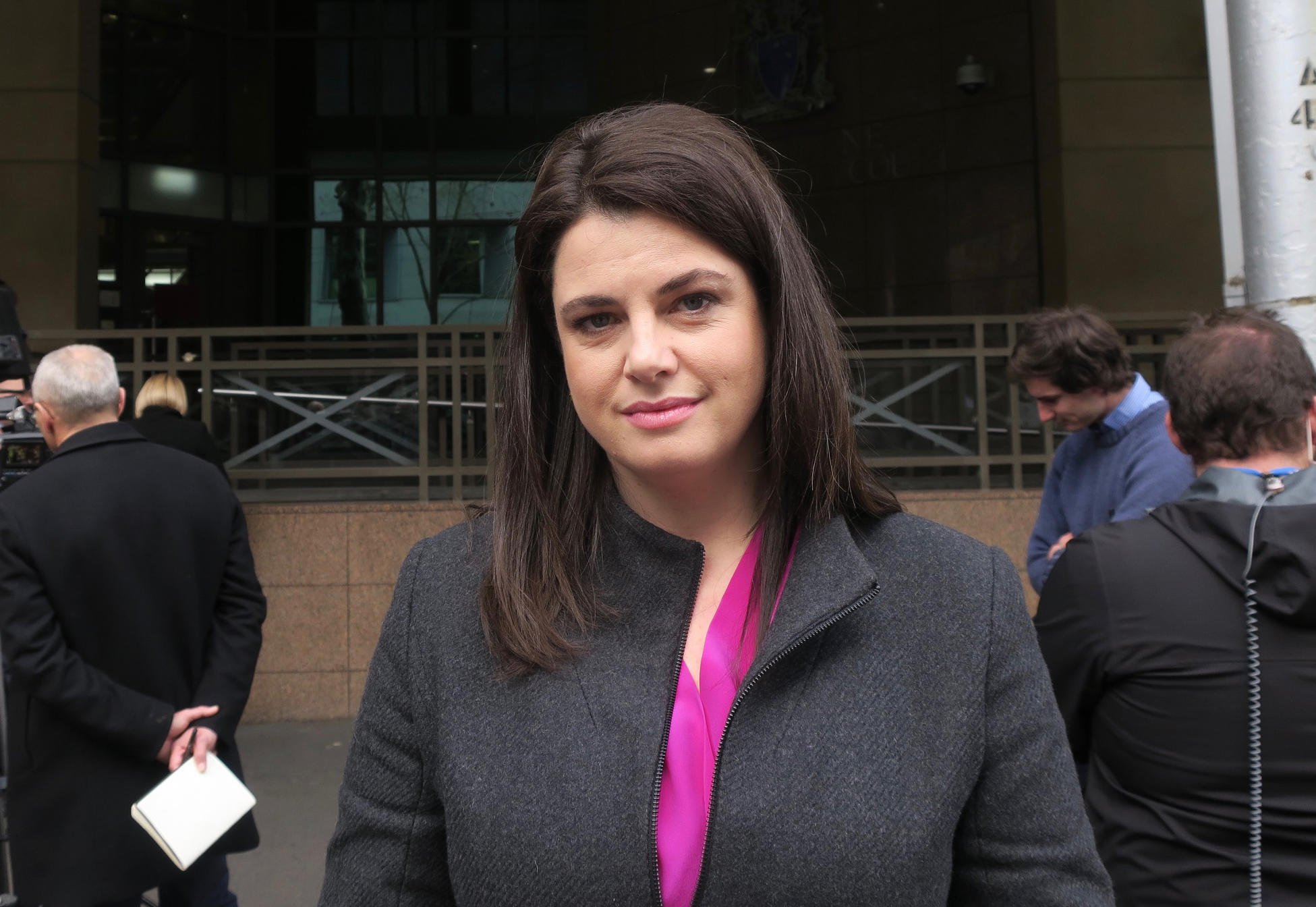 Louise Milligan in front of the Magistrates' Court, 2017 (Subel Bhandari/dpa/Alamy Live News)
After half a decade of interviews and research, Milligan knows too well that discussions of sexual trauma are ill-served by euphemism and require no embroidery. And so she tells it to us straight: there's the young woman, raped in her bed by a trespassing stranger, who is relentlessly questioned about the 'skimpiness' of the underwear she chose to wear under her own bed covers; the schoolboy, groomed by his athletics coach – months of ratcheting sexual messages – who is chastised for ruining a good man's reputation; and the remarkable Saxon Mullins, who relinquished her legal anonymity to fight for sexual consent law reform. 'My experience of the criminal justice system from the view of the survivor was so awful,' Saxon explains. 'People have asked me if I'd recommend going to trial or not, and I don't know the answer. I have no idea of the answer. Because it's such a horrible event.'
Why is the cost of seeking justice so monstrously high? Milligan asks in this bruised and bruising book. So many of the formal protections witnesses deserve already exist: judicial intervention powers; legislative protections against demeaning and misleading questioning; complaints mechanisms. But as Milligan shows: 'all of the reforms in the world ... don't mean anything if the prosecutor doesn't intervene, or the judge or magistrate isn't in control of the courtroom.' She delves into the 'emotional architecture' of Australia's criminal courts, in particular, the trial culture of élite defence barristers, which one source memorably describes as 'a very lucrative psycho-politics of humiliation'.
What Milligan unearths feels so wearily familiar, so hideously predictable: a smoke-hazy world of legal dinosaurs and their pernicious rape myths, who sit back in their 'scratched chesterfields' after a day of table-thumping and salve their consciences with lashings of scotch: 'an inner circle of older blokes that prompt the more reasonable barristers to roll their eyes'. Indisposed to change, this fraternity still believes that 'having a Bible thrown at them by a witness is a badge of honour'. But that's a glib synthesis, much in need of Milligan's subtleties. It is not easy to spend your days steeped in sexual violence and then go home and face your children. Milligan treats her subjects as she would have the criminal justice system treat its victims: with respect and grace. Her book is unfailingly humane.
The frenetic centrepiece of Witness is a blow-by-blow account, much of it taken directly from transcripts, of Milligan's experience under cross-examination – every inglorious, hectoring detail. This 'curial bollocking' makes for riveting, rage-making reading: the laborious quibbling over 'scarifying anatomical details'; the near-constant interruption; the venomous sexism. Through it all, Milligan can't shake the thought that she is as well prepared as it's possible for a witness to be: 'I just kept imagining all the vulnerable, traumatised victims of all sexual crimes ... who were not legally advised by a top QC as I had been, who did not have a team of lawyers at the ABC to fall back on, who did not have the support of producers and publishing staff cheering them on and helping them prepare. How utterly, utterly alone they must have felt.'
Ever wary of becoming the story, yet again, Milligan is adamant that Witness is not about her, but rather those 'utterly alone' souls. But this book is stronger because of her experience; her arguments are fire-hardened. Almost without fail, Milligan's interviewees describe their time in the criminal justice system – cross-examination in particular – as worse than the initial trauma, a 'second rape'. 'Your cross examination of me was a cognitive annihilation of my fifteen year old brain,' wrote one survivor in a letter to the QC who interrogated him (the same man who represented Pell). What Witness makes inexorably clear is that the trauma comparison is not hyperbole. When Milligan searches her past for an anguish that feels equivalent to the Pell trial, the event she seizes on – hers alone to disclose – is harrowing.
There are adjectives I could heap upon this book: exigent, excoriating; a call to arms, an almighty wallop. But I've used them all before. In these post-#MeToo years, I have read and reviewed dozens of books about sexual violence, and they just keep coming. Book after book after book. And they're all necessary. And they all hurt. I read them and I shake, and I can't tell if it is fury, grief, fear, or impotence. Or perhaps it is a fierce catharsis – relief at seeing the unsayable truth in print. For I have my own stories. So do most women I know, most women you know. I struggle to find the language to untangle the knot of it all. It sits in my chest like a cruel extra heart. A dark fist of gristle.
The myths our criminal justice system clings to about what sexual trauma should look like, and how survivors should behave and remember, are long and thoroughly debunked. As is that pestilent notion that false complaints are rife. They persist because they are powerful, because we continue to believe and perpetuate them. As with so many books about sexual abuse and violence, Witness is less about trauma than it is about power (and the lack of it). And what Milligan does not say outright, but what her book so emphatically shows, is that our legal system is a funhouse mirror. The patterns of power we see – or ignore – outside the courtroom are recreated grotesquely within it.