Religion
Cardinal: The rise and fall of George Pell
by Louise Milligan
George Pell is the most polarising religious leader Australia has had in recent decades, certainly since Daniel Mannix – perhaps since Samuel Marsden. For most of his career he has been loathed or adored for his sternly inflexible defence of a Catholic orthodoxy predating the second Vatican Council, his robust and sometimes courageous interaction with opponents inside and outside the church, his relentless determination to crush dissent and doubt, often felt as bullying by those responsible to him, and his fierce ambition.
Enjoying the good fortune (or political wisdom) to be a traditionalist and clerical authoritarian under two like-minded popes in John Paul II (1978–2005) and Benedict XVI (2005–13), with whose theology and ecclesiology he was strongly aligned, Pell was promoted rapidly. He was given his highest Vatican post under Pope Francis, who enlisted him to reform the Vatican's murky finances and help tackle an obstructive Curia. Amusingly, when Francis was elected in 2013 and took everyone by surprise by repudiating the privileges of office and encouraging prelates to live more simply, Pell (whose wine cellar is rumoured to be remarkable) was swift to tell a journalist in Rome that, unlike the Jesuit Francis, he had not taken vows of poverty.
One might feel that Louise Milligan has rather prejudged Pell's trajectory in her subtitle, 'The Rise and Fall of George Pell', as he still formally has a strategic role at the Vatican, but his reputation in Australia has been trashed irretrievably. Milligan, an ABC journalist who broke important allegations against Pell, followed the Royal Commission into Institutional Responses to Child Sexual Abuse in detail and had unparalleled access to survivors of abuse by Catholic clergy, mounts a strong case for the prosecution. And it is a prosecution: though she works hard to be fair, she is guiding us to a verdict.
Milligan starts with Pell the highly gifted schoolboy and footballer who was fast-tracked for senior roles, and quickly emerged as a fine administrator, wheeler- dealer, and problem fixer. She describes in considerable detail his time in the then paedophile cesspit of Ballarat: how could Pell not have known what was going on? As one of the survivors says, such an ambitious man who was so critical in running the diocese would surely have made sure he was always in the loop.
Much of the book recycles material already well known, particularly the cardinal's testimony to the Victorian Parliamentary Inquiry and the Royal Commission, but it is well told and important in building to the key allegations that are the reason for her writing.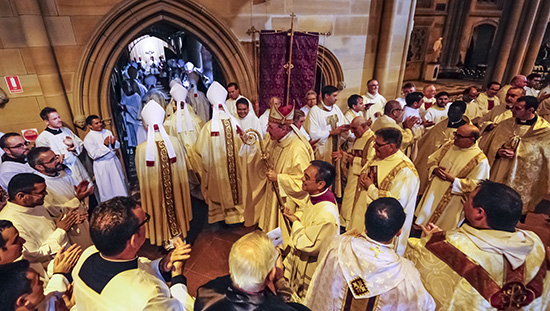 Cardinal Pell's Farewell Mass, St. Mary's Cathedral, Sydney, 2014 (photograph by Giovanni Portelli, Flickr)
Because the case is now before the courts – where Cardinal Pell, through his barrister, has announced he will deny each charge – no more can be said of this. At time of writing, the charges have not been made public, so we cannot know whether they relate to the alleged victims whom Milligan has interviewed.
Rumours of some of Milligan's claims were floating around survivor circles many years ago, but she has tracked them down exhaustively. What are we to make of all this? The cardinal himself has conceded to the Victorian Parliamentary Inquiry and the Royal Commission that his treatment of abuse-survivors often put perceived Catholic Church interests first. But he has always denied in vehement language that he himself is an abuser.
Pell's supporters claim he has been victim of a media witch-hunt and of knee-jerk Catholic-bashing, and sometimes surely that is so, but such is not the case with Milligan.
In any event, Pell has hardly been defenceless. Milligan notes his predilection for legal letters, 'inevitably followed by outraged columns or poisonous tweets from his supporters'. In my twelve years as religion editor for The Age, I can vouch for all of this.
But leaving aside the ever-ready and active church solicitors and the huge resources at his disposal, Pell has always had a stalwart media supporter at The Australian. Its columnists have nearly always bought the Pell line uncritically, even when it defied the facts, such as Pell's oft-expressed claim that Justice Alec Southwell's 2002 investigation into alleged abuse in 1961 'completely exonerated' him, when in fact the verdict was closer to the Scottish 'not proven'. Southwell found both the alleged victim and alleged abuser truthful, and that the complaint could not be established. They parrot Pell's line that he was the first bishop anywhere to introduce protocols for victims of abuse (the Melbourne Response, heavily criticised by the Royal Commission), ignoring the manifestly mixed motives about protecting church coffers and the fact that his unilateral action undermined the national response that had been in preparation for three years and was about to be launched.
The Herald Sun's Andrew Bolt has been just as staunch, apart from one highly entertaining lapse when he criticised Pell's evidence from Rome to the Royal Commission last year about paedophile priest Gerald Ridsdale that 'it's a sad story and it wasn't of much interest to me'. But Bolt recanted the very next day: apparently, for the first time in forty years, he had 'surrendered to the mob' and 'for one giddy day, I felt the joy of being a David Marr or a Robert Manne, praised for the fury of my sanctimonious denunciation of a man I had reduced to the crudest caricature'. Ah, the power of self-delusion: in fact there is no better exponent of injured sanctimony in Australia than Andrew Bolt, or one with a wider platform to expound it. Bolt is the ultimate culture warrior, and sometimes it seems Pell has been caught up unwittingly in the culture wars as a chosen symbol for both sides. But it is hard to have much sympathy here when the cardinal has been such an aggressive combatant himself over the years, especially before the abuse scandal weakened the moral authority of the Catholic Church.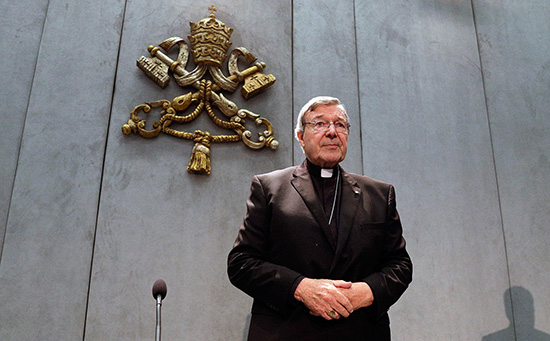 George Pell (Conecta Abogados via Flickr)
Nor can one have any sympathy for the way the church 'strenuously' defended cases that went to court, denying admissions they had previously made, and often spending larger sums than compensation would have cost. Milligan colourfully notes the church's insurer ran out of patience in the notorious Ellis case. The insurer 'was not so much upset about what Pell's people were doing to Ellis, but about the hundreds of thousands of dollars they were shovelling off a cliff. Standing at the bottom of that cliff, catching the cash as it fell, were Corrs Chambers Westgarth (Pell's solicitors) and the pricy barristers they had taken on to fight the case'.
Cardinal Pell is going to have his day in court, which he welcomes. He probably won't relish the sort of media frenzy he endured at the first hearing at the Melbourne Magistrates' Court in July, the sight of which surely induced sympathy in more hearts than just mine But it must be in the best interests of the survivors, of the cardinal, of the Roman Catholic Church, and of wider Australian society that this saga is finally laid to rest.