China's Grand Strategy and Australia's Future in the New Global Order by Geoff Raby
Melbourne University Press, $34.99 pb, 240 pp
China
Evasive manoeuvres
Fudging the complexities of our relations with China
Scott Morrison does not like to explain the decisions he makes on our behalf. Sometimes he just refuses to discuss them, as he did when, as immigration minister, he simply rejected any questions about how his boat-turnback policy was being implemented at sea. At other times he is a little subtler, as he has been this year while presiding over what will probably prove to be the most consequential shift in Australia's foreign relations in decades. The collapse in relations with our most powerful Asian neighbour and most important trading partner is not just Canberra's doing, of course; it has resulted from decisions made in Beijing too. But Australia's recent and current choices have certainly contributed to the chill, and our future choices will do much to determine where things go from here.
Our prime minister evades any serious discussion of these choices with a simple but powerful rhetorical manoeuvre. He denies that he is making any choices, because the issues at stake mean that he, and we, have no real alternatives to the policy he is adopting. He justifies this by claiming that those issues engage our interests, our values, and our sovereignty, and as such are non-negotiable. Any course of action other than the one he has chosen would fatally compromise this inviolable trinity, and would be an unthinkable betrayal of our country. Thus, he implies, there really is no choice for any decent patriotic Australian but to accept what he has done.
Continue reading for only $2.50 per week. Subscribe and gain full access to Australian Book Review. Already a subscriber? Sign in. If you need assistance, feel free to contact us.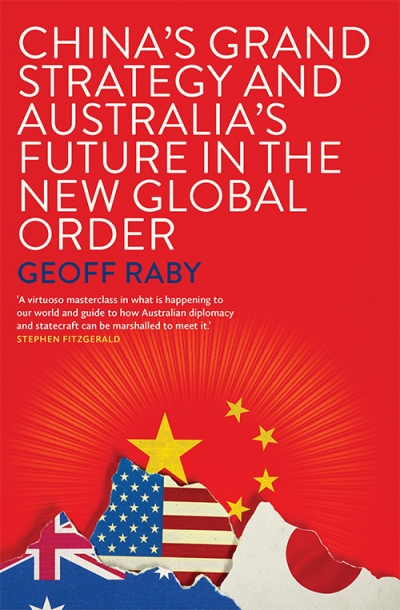 China's Grand Strategy and Australia's Future in the New Global Order
by Geoff Raby
Melbourne University Press, $34.99 pb, 240 pp