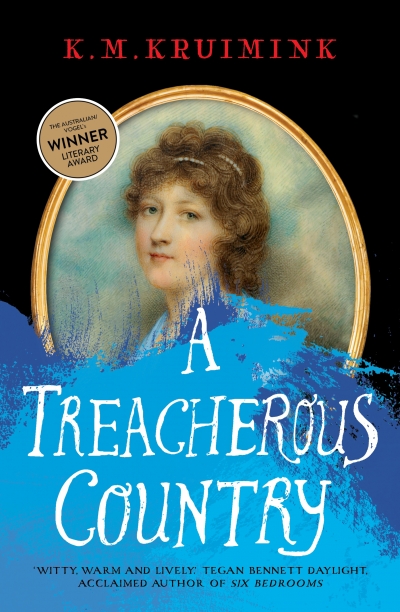 A Treacherous Country
by K.M. Kruimink
Allen & Unwin, $29.99 pb, 256 pp
Fiction
A Treacherous Country
by K.M. Kruimink
Tasmanian writer K.M. Kruimink's first novel, A Treacherous Country, a witty, cracking tale set in Van Diemen's Land in the 1840s, has more than a hint of Dickens and Moby-Dick about it. It won The Australian/Vogel's Literary award, established in 1980 for an unpublished manuscript by an author under thirty-five, which has launched the career of Kate Grenville and Tim Winton, among others. The award sets high standards – it was not awarded in 2019 due to a 'lack of quality'. Kruimink, who described it as an 'absolute life-changer', is a worthy recipient.
The narrator is Gabriel Fox, aged twenty-five, from Norfolk, who is the third son ('he who does not matter') of a baronet and gentleman farmer, Sir Alfred Fox and his wife, Apphia Fox. Gabriel has made the long, arduous journey by sea from England to the colonies on a mission, which he describes variously as 'an Odyssey', 'a Grave Mission', and 'my great Purpose'. The said mission is to find Maryanne Maginn, who was transported from England as a convict more than thirty years ago, when she was fifteen. He has been set that task by Maryanne's great-aunt, the formidable Mrs Prendergast, with whose great-grand-daughter, Susannah, Gabriel is love. He believes that if he returns to England with Maryanne, Mrs Prendergast will consent to the marriage.

Subscribe to ABR
for as little as
$10 a month
to read the rest of this article.If you are already a subscriber, click 'Sign In' in the top left-hand corner of the screen. If you require assistance,
contact us
or consult the
Frequently Asked Questions
page.