Politics
How to Defend Australia
by Hugh White
Barely a decade ago, Australia was in the middle of much excitement about the Asian Century. Today, those heady days seem a distant memory. A growing number of pundits see the north as troubled by dangerous flashpoints and great power rivalries. On top of that is an America apparently in strategic retreat from the region, further aggravating Canberra's long-held fear of abandonment by its great and powerful friends.
No wonder debating Australia's defence has lately become a booming cottage industry. The 2018 issue of Australian Foreign Affairs on 'Defending Australia' warns of the 'collapse of Australia's defences in a contested Asia'. At home, we are told that China, the fast-expanding Asian power, is busy engaging in a 'silent invasion'.
Hugh White's book How to Defend Australia is the latest and so far the most substantial entry to the popular 'defending Australia' genre. There has never been a shortage of opinions on Australia's security challenges and their defence implications, but White takes one step further by methodically mapping out the country's strategic options and by boldly asserting the need for strategic independence without the United States as its dependable ally.
Australians have long lived by two cherished assumptions about defence: no country in Asia can threaten Australia because of US deterrence; and even if there were a threat, the United States would come to its rescue. Sensible as these assumptions were in the past, White argues that they no longer apply in light of a tectonic power shift from the United States to China. As Beijing's influence grows, it is seen as determined to replace the United States as Asia's dominant player, though not to the point of making an existential threat to US security. Against this backdrop, White believes that Washington has little to gain and much to lose in any war with China on behalf of its allies, especially if such a war were to spiral into nuclear conflict.
For White, this poses an acute problem for Australia. It will be left alone, exposed to heightened strategic risks in Asia. No longer able to count on Washington, Canberra's only viable alternative, argues White, is to build up its own armed forces to the point where they are capable of defeating a direct major-power attack on its territory. He takes it upon himself to develop a list of concentrically arranged strategic interests and corresponding strategic objectives and operational priorities for Australia. To meet those objectives, White calls for 'a new Australian way of war': focusing on maritime denial instead of expeditionary operations.
This new strategy requires a much larger fleet of submarines and a force of 200 F-35 fighters, among other types of hardware (nuclear weapons are discussed at some length, though White takes pains to add that he is not advocating for them). He insists that Australia can both do it and afford the higher costs.
White's valuable intervention in the debate brings the focus of Australian defence back to its original goal: defending Australia. This is no mean feat, given that Australian defence policy has long revolved around the oxymoronic euphemism of 'Forward Defence' in the service of US global power projection. He is onto something when questioning the often taken for granted reliability of US protection and when arguing that Australia can defend itself independently. Indeed, if you accept White's basic assumptions about the growing strategic risks and America's waning influence and commitment in Asia, it is hard to find fault with his book. It is lucidly written, logically unfolded, and dispassionately argued, something of a hallmark in White's work.
Still, some of his own assumptions invite scrutiny. His thesis is based on a future attack by a major Asian power on Australian soil. True, many Asian countries now seem materially capable of committing such a 'sin', but why they would choose to do so remains seriously underexplored. While it is a strategist's job to prepare for worst-case scenarios, it is also their responsibility to canvass a wider array of scenarios and to weigh up the probabilities of various contingencies. If White believes that Australia should commit tens of billions of dollars (three and half per cent of GDP) to thwart a major-power attack, he owes it to the reader to explain how such a threat might realistically happen and why on balance it alone – not other types of risks and threats such as a chronic shortage of investment in human capital and climate change – warrants the 'big investments'. Also, given that China is repeatedly mentioned as the chief suspect, the mere three-page space given to China is nowhere near enough to enlighten this reader as to how and why Beijing would want to attack Australia militarily.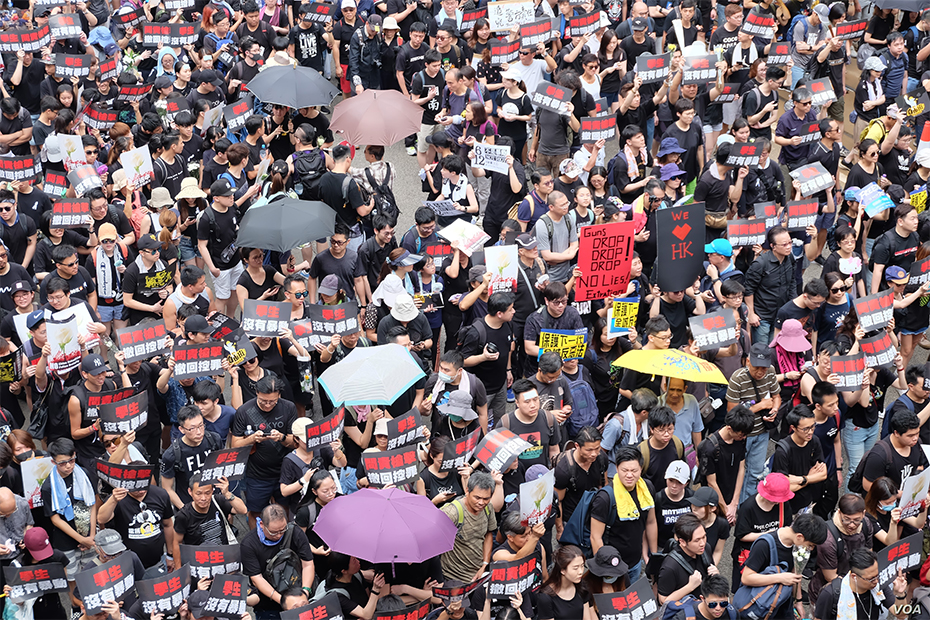 Protesters call on Hong Kong's leaders to step down in Hong Kong, China, 16 June 2019 (photograph by VOA/Wikimedia Commons)
As it turns out, the book has let history do much of the explaining. The 1942 Japanese attack on Australia is taken as sufficient evidence that a future major Asian power would likely do the same. Indeed, for White, the tragic history of power politics, best exemplified by European experiences of the two world wars, never changes, except its specific balance-of-power formations. His notion of defence remains an exclusively conventional military affair, where hardware capabilities equate power and security, never mind the more recent history in Iraq and Afghanistan.
Meanwhile, White's Asia – no longer subject to 'Anglo-Saxon primacy' – is little more than a Hobbesian jungle. One gets a feeling that his otherwise cool-headed analysis is nevertheless grounded, perhaps subconsciously, in some lingering colonial anxiety about Asian invasion. Nowhere to be seen is any sensitivity about diverse cultures, different but coexisting aspirations, or contemporary dynamic socio-economic linkages across the region. One might be forgiven for thinking that, apart from the international struggle for power and dominance, nothing else happens or matters as far as defence is concerned.
White's untainted realist lens might obscure more than it clarifies even when it comes to the United States. While Donald Trump's 'America First' slogan signals a more Jacksonian and isolationist turn in American world view, one cannot underestimate the enduring influence of the values-based neoconservative strategic thinking in the United States or its continued appeal to many opinion leaders here. Consequently, White's proclamation of the effective end of the US alliance seems premature. Besides invoking Lord Palmerston's famous aphorism, White has not elaborated on how exactly the alliance would unravel or how Washington could execute a strategic volte-face and stay home quietly ever after.
None of this is to belittle the merit of White's strategic independence push. Rather, true independence might lie in some genuinely independent and open-minded ways of imagining Australia's relations with Asia and its security challenges in a broader and forward-looking fashion. Much of the trepidation in Australia's defence circles has stemmed from the unquestioned belief that Australia is geographically close to, but fundamentally different from, Asia (China in particular) – hence the ever-present need to find security from Asia, now apparently on its own. So long as this mindset continues to set the parameters for defence thinking, even White's provocative thesis might not take us very far.