Advances
Advances - April 2023
by Australian Book Review
•
New board members at ABR
At its recent Annual General Meeting, ABR welcomed two new board members, both of them long associated with the magazine.
Professor Lynette Russell is a pre-eminent anthropological historian whose distinguished contributions to her field have been recognised with an ARC Professorial Fellowship (2011–16) and a current ARC Laureate Professorship (2020–25). Among the many leadership roles she holds, Professor Russell is presently Director of Monash University's Indigenous Studies Centre. Lynette Russell guest-edited ABR's Indigenous issue in 2019 and will do so again in November 2023.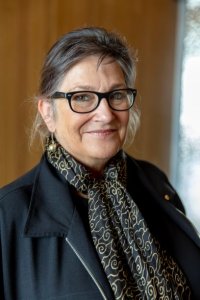 Geordie Williamson is a Pascall Prize-winning literary critic and publisher, and the author of The Burning Library. Geordie has been The Australian's longstanding chief literary critic, and is presently Publisher at Large at Picador. He has been a prolific ABR contributor since 2001.
In welcoming our new board members, Sarah Holland-Batt (Chair of ABR), remarked:
Over the past several years we have continued to renew and refresh our Board, and I am so pleased to be welcoming two new Board members to our ranks as a part of this ongoing process. We are immensely fortunate to welcome Professor Lynette Russell AM and Geordie Williamson to our Board, both frequent contributors to the magazine whose writing and contributions to our broader culture are well known. I know we will benefit enormously from their experience and expertise.
Literary festivals galore
Australians' public romance with writers' festivals shows no sign of souring. Is there a hamlet in our equivalent of Hertfordshire that doesn't platform writers in congenial settings?
Now we have a new one on the tony Mornington Peninsula. Corrie Perkin – former journalist and bookseller – is Director of the Sorrento Writers Festival, which will run from April 27 to 30. Perkin has recruited a stellar line-up for her first festival. Speakers include Marcia Langton on the Voice, Janes Harper, Larissa Behrendt, Kerry O'Brien, and Peter Doherty. Bizarre as it seems, Peter Rose (beanie and all?) will be 'Talking Footy' (28 April) with Eddie McGuire, Mike Sheahan, and Caroline Wilson.
Meanwhile, ABR regular and board member Beejay Silcox has taken over the reins as Artistic Director at the Canberra Writers Festival. Beejay brings verve, polish, and flair to everything she undertakes. Her first festival will run from 16 to 20 August.
Adelaide Tour
ABR's recent Adelaide Festival tour, conducted in association with Academy Travel, was a big hit. This sold-out tour, led by Peter Rose and Christopher Menz, took in some remarkable theatre, notably the searing, confronting A Little Life, Internationaal Theater Amsterdam's adaptation of Hanya Yanagihara's novel of the same name, directed by Ivo van Hove, a veteran of the Adelaide Festival. For many, Ramsey Nasr's performance as Jude (a role soon to be played by James Norton in the new English-language version, in London) was unforgettable. Equally memorable was the Belarus Free Theatre's Dogs of Europe, based on the novel by Alhierd Bacharevič. This was inspired, timely, biting, hilarious theatre.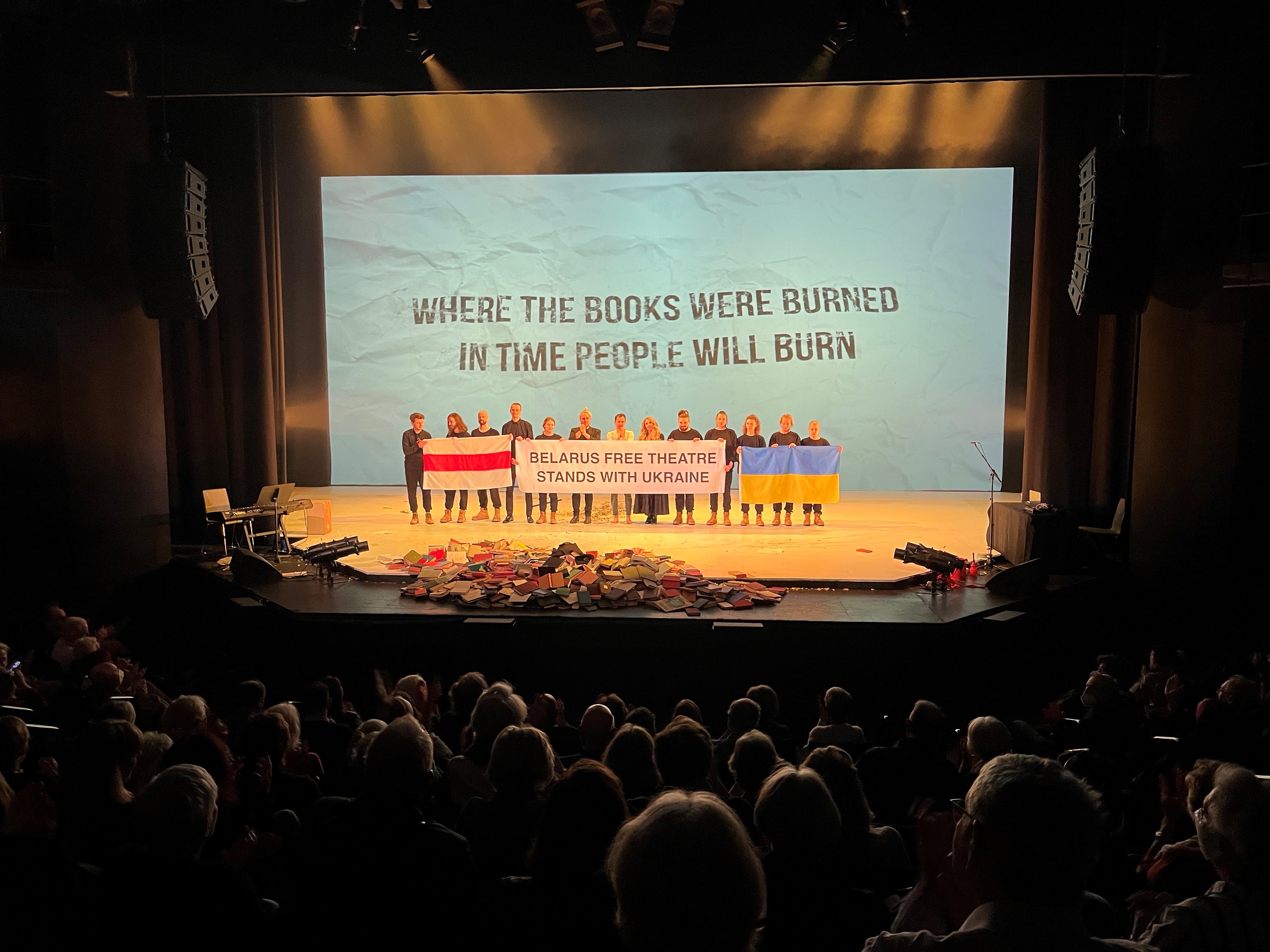 Members of the Belarus Free Theatre unfurl an anti-Putin banner after Dogs of Europe.
The tour took us to Ukaria, that oasis of chamber music in the Adelaide Hills. The occasion was the world première of Ngapa William Cooper, written and composed by Lior, Nigel Westlake, Lou Bennett, and Sarah Gory. This beautiful, anthemic new song cycle commemorates the life and activism of Yorta Yorta elder William Cooper, who in 1938 led members of the Australian Aborigines League on an eight-mile walk to the German Consulate in Melbourne after Kristallnacht, perhaps the sole non-Jewish protest anywhere in the world after that horrific event in Germany. Graham Strahle reviews the second performance, which took place at the Adelaide Town Hall in ABR Arts.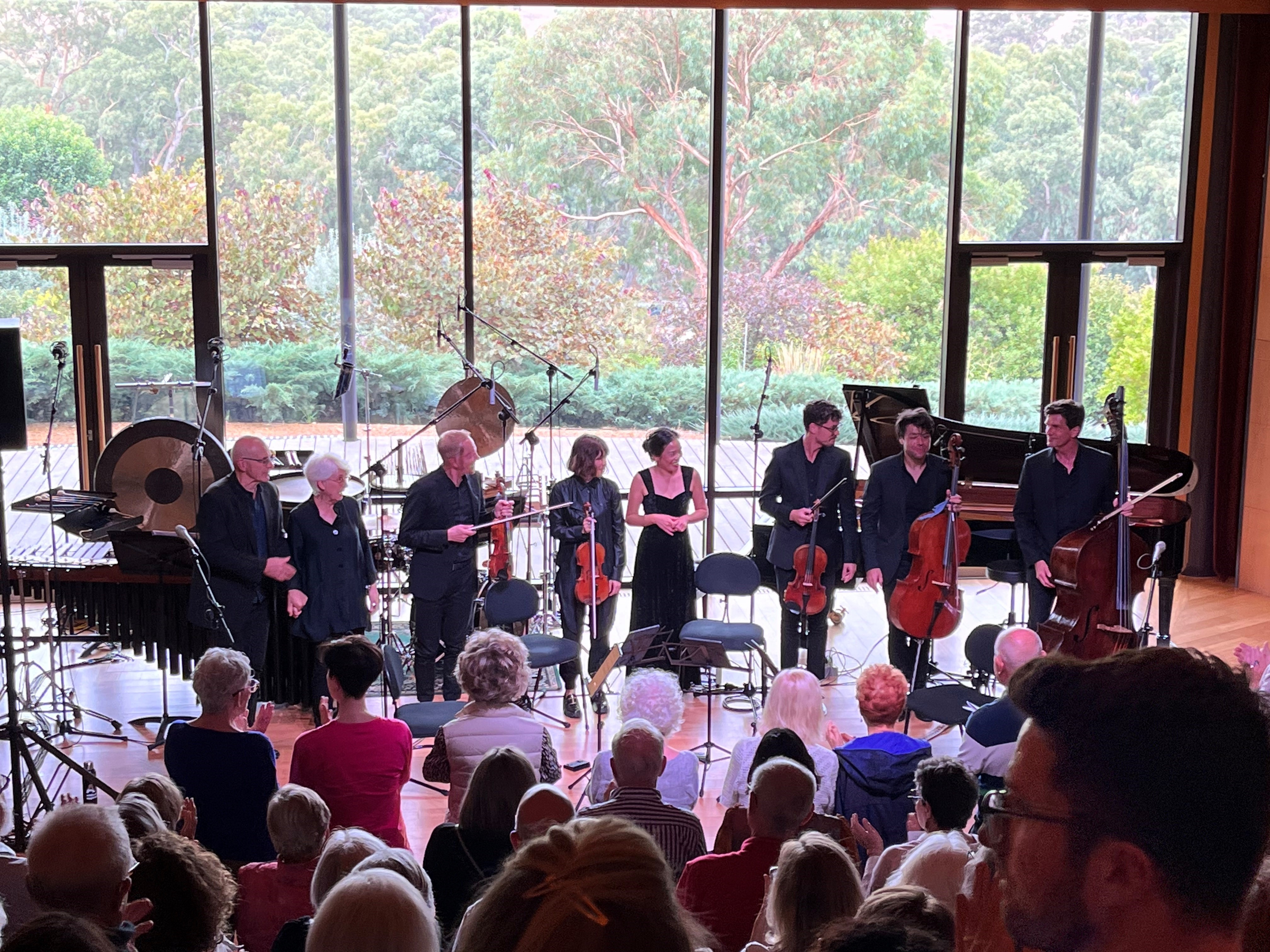 The curtain call after Ngapa William Cooper at Ukaria.
At a private reception with the tour party, Ruth McKenzie, the new artistic director of the Adelaide Festival, impressed us with her genuine interest in people's responses to the program (which she inherited from departing directors Rachel Healy and Neil Armfield), and dropped hints about a major opera component in her next few festivals. This gladdened the heart of operamanes in the party, including our Editor.
The impressive box-office result indicates that the Adelaide Festival has well and truly regained its mantle as Australia's premier arts festival.
During Writers' Week, ABR co-hosted its annual party with the Australian Society of Authors, which is celebrating its sixtieth birthday this year (ours was in 2021). Despite the unwontedly cool weather which drove us into the tent, this was a rousing success. Visiting UK Poet Laureate Simon Armitage joined us and was promptly surrounded by young local poets. Advances forbore to ask the amiable Yorkshireman what he had made of one of his early sessions, 'Simon Armitage and Friends', haphazardly chaired by Sarah Ferguson, who was one of many ABC personalities featured in the program.
The Jaguar
What a time Sarah Holland-Batt is having on the prize front, as in many other spheres. Within a week, her third collection, The Jaguar, was shortlisted for the Kenneth Slessor Prize for Poetry (NSW) and longlisted for the Griffin Poetry Prize, one of the world's most lucrative prizes for a single book of poetry (it is currently worth C$130,000).
The Jaguar also appears on the 2023 Stella Prize longlist, along with eleven other books, including works by Fiona Kelly McGregor, Tracey Lien, and Louisa Lim. (One remarkable omission from the longlist was Fiona McFarlane's luminous novel The Sun Walks Down, an early favourite for the Miles Franklin Literary Award.)
The Stella shortlist is due on 30 March, after we go to press, and the winner (who receives $50,000) will be named in April.
Prize entrants
In recent years, thousands of writers have entered our three literary prizes: the Peter Porter Poetry Prize (first offered in 2005), the Calibre Essay Prize (2007), and the Jolley (2010).
Recently, we polled entrants to find out what drew them to the prizes, how they found the process, what they thought of the present division of prize moneys between shortlisted authors, and how we might improve the prizes. Hundreds of entrants completed the survey, and we thank them all.
The feedback was instructive – very supportive too. We were pleased to learn, for instance, that ninety-six per cent of respondents rate our online entry process as good or excellent. Remarkably, almost seventy per cent of respondents told us that they create new works for the prizes rather than disinterring old ones. That's thousands of new literary works being created because of Jolley, Calibre, and the Porter.
As to people's primary motivation for entering an ABR prize, sixty per cent do so because of the prestige of that award. The second highest factor was the possibility of publication in ABR.
Last call for Jolley
Thanks to all those authors who have entered the 2023 ABR Elizabeth Jolley Short Story Prize. Entries are pouring in, half of them from abroad (to date we have entries from eighteen different countries, but this will grow; we ended up with thirty-eight countries in 2020). This says much for the international allure of the Jolley, now considered one of the major prizes for a new short story in English.
Entries close on April 24, so you have three weeks to compose an exquisite masterpiece ranging from 2,000 to 5,000 words. Prize money totals $12,500.
Fellowship in Tasmania
On offer at present in Tasmania is an enlightened new fellowship named after one of Tasmania's most distinguished poets: James McAuley (1917–76). The University of Tasmania, where McAuley was Professor of English from 1961 until his death, is offering the inaugural James McAuley Creative Fellowship, which will support an established poet residing in Australia to work with students and the Tasmanian community. The successful applicant will have a strong track record of professional publication. The Fellowship is worth $10,000, with a residency of two to four weeks.
Applications close on 15 April. See the website for full details.