The Road to Woop Woop and other stories by Eugen Bacon
Meerkat Press, $16.95 pb, 192 pp
Fiction
Playing with genre
An inventive collection by Eugen Bacon
Eugen Bacon's début short story collection, The Road to Woop Woop, plays with the genres of speculative fiction and magic realism. Using familiar tropes such as time travel, shapeshifting, and prescient characters, the stories typically refuse formulaic outcomes. The title story, for example, confounds expectations about the horror of bodily disintegration. The ominous angel of death in the story 'Dying' turns out to be a true wit. The surreal is transformed by the blessing of love in the heart-warming story 'He Refused to Name It'.
Bacon experiments with other genres. The story 'A Good Ball' uses the drama competitions of ancient Greece to obliquely warn about the contemporary crises of climate change and the inhumane treatment of refugees. The crime fiction story 'A Case of Seeing' uses stock characters and whip-smart dialogue to complicate our understanding of heightened intuition. The meta-fictive 'Scars of Grief' is both a clever story about the uses of narrative and a moving expression of parental grief.
Other stories reflect Bacon's African heritage. Characters are endowed with animal spirits, including snakes and toads, even a quokka. The story 'A Maji Maji Chronicle' charts the invasion of an East African village by 'the Whiteman' and the shocking process by which the victim becomes the brutal oppressor. 'Swimming with Daddy' deals with the village–city divide in a black culture but is fundamentally an exploration of a father–daughter relationship. Indeed, while the collection as a whole is focused on cultural specifics as well as bizarre experiences, it is ultimately concerned with the transcultural and 'ordinary' human need for connection and love.
The collection is also stylistically inventive, like the description of a 'billow of cloud' as 'a white ghoul, dark-eyed and yawning into a scream'. The writing is often rhythmically energetic and metaphorically extravagant, but there is also space for eloquent simplicity, such as a daughter's realisation that her father's work 'took him to everywhere but you', or the tender description of tears as '[t]endrils of grief [that] bud and burrow'.
As the book's title suggests, with a nod to the Australian vernacular, the stories can be read as road trips leading to the wildly improbable or to the absence of definitive meaning. Either way, The Road to Woop Woop is a highly entertaining and thought-provoking ride.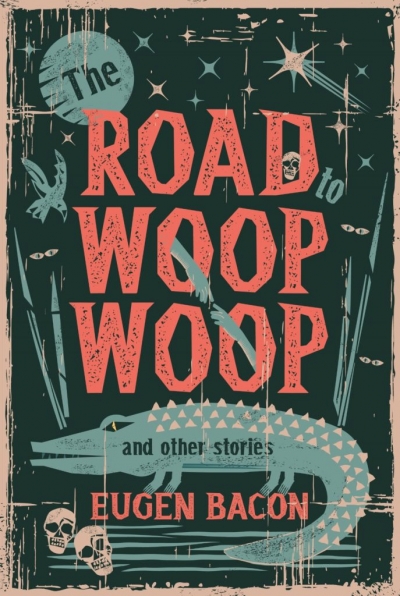 The Road to Woop Woop and other stories
by Eugen Bacon
Meerkat Press, $16.95 pb, 192 pp