Black and Blue: A memoir of racism and survival by Veronica Gorrie
Scribe, $32.99 pb, 243 pp
Memoir
Truth-telling
Veronica Gorrie's memoir of family and survival
Aunty Ronnie is a Kurnai and Gunditjmara woman. She is also a mother of three, a grandmother of two, and one of Australia's most underrated comedians. Black and Blue, her autobiography, is an enthralling book set primarily in three places: Bung Yarnda, Morwell (Black), and the Queensland Police Service (Blue), where Aunty Ronnie served as a member for ten years. The title is a play on the old saying 'black and blue', which commonly refers to someone covered in bruises.
Black and Blue is a story about family and the struggles of a single parent, survival, and colonialism, as well as the process of truth-telling from a survivor of family violence who is also an undercover hero on the frontier of modern-day colonial brutality in Queensland.
In the sections set in Bung Yarnda, the book focuses on Aunty Ronnie's father, Uncle John. The depiction of the love and support between these two is one of the most endearing parts of this story. Bung Yarnda means 'Camp fresh water' in GunnaiKurnai. It is a place known to many as Lake Tyers Aboriginal Trust, formerly a mission where extreme ethnic cleansing occurred through assimilation. Our people weren't allowed to speak our language and had to live on mission rations. Today, some have described Bung Yarnda as one the poorest postcodes in Victoria. However, it is also my home, as I am a GunnaiKurnai and Gunditjmara woman from the same place as Aunty Ronnie. An outsider (a white mission manager) once described Bung Yarnda to me as a 'ghetto', but it is one of the most beautiful places on earth. Despite the violent colonial history that Aunty Ronnie describes in Black and Blue, we were raised with a strong sense of belonging and culture.
Morwell is a town nestled in the smoky and polluted Latrobe Valley, at the heart of the vast open-cut brown coal mines and power stations. It is the central part of GunnaiKurnai country, 150 kilometres east of Melbourne and about 100 kilometres from the site of the notorious Warrigal Creek Massacre. It is also home to a tight-knit Aboriginal community. Many of the families in Morwell have connections with the mob on Bung Yarnda. Aside from those that take place in the sections on the police force, some of the book's darkest moments occur in Morwell.
Throughout Black and Blue, Aunty Ronnie takes us into the inner workings of the Queensland Police Service (QPS). Most Indigenous people are aware of the QPS's treatment of Aboriginal and Torres Strait Islander peoples. Their history speaks for itself with incidents such as the Pinkenba six, the 2004 Palm Island death in custody, the death of a dancer, and many more.
Aunty Ronnie shares parts of our history via the act of truth-telling, which is particularly important in a time of truth and reconciliation. This book unveils the hidden and often silenced forms of colonial violence inflicted on many living in Australia. We are given firsthand insight into how police reinforce surveillance of the Aboriginal community – even rewarding the off-duty policing of civilians. This is why many Indigenous peoples have a fear and distrust of police officers, off or on duty. We also get an insight into 'ethical standards', with Ronnie outlining how internal investigations into misconduct are conducted by fellow law enforcement, even friends within the police force. Here she describes how such processes are mismanaged:
These occurrences were common, but no complaints were ever made. White cops know they can pretty much get by with anything and they do ... I often hated being a cop and I hated them even more.
While reading Black and Blue, I was taken aback by how casually disengaged the police force were from things like surveillance, addiction, and police misconduct. Aunty Ronnie touches on the infamous 2004 Palm Island case, where an Aboriginal man died in custody; a police officer was subsequently acquitted of his manslaughter. Mr Doomadgee was picked up by police for being drunk in a public place and died in police custody shortly after. His injuries were said to be akin to those found in plane crashes. During this time, QPS members sold wrist bands to raise funds for the accused, which they wore openly.
These white cops made it unbearable for me when the Palm Island riots were happening … they made racist comments about Aboriginal people in earshot of me and wore wrist bands in support of the police officer who'd been charged with the death in custody.
Aunty Ronnie tells her tale of how, during her time in Queensland as a battling mum in a single-income family, she had to lean on the community around her for support. There were many occasions when Aunty Ronnie had to borrow money to get by, and Christmas was a particularly difficult time for her.
As I made my way through, I found myself laughing and crying on almost every page. Aunty Ronnie gives her readers permission to release their emotions with laughter, and it is a healing experience: a little saving grace, at times like an awkward laugh at a funeral. However, Ronnie's comic tone dips in 'Blue', the second part of the book. Perhaps this is because this part of her life was particularly traumatic, or because it is difficult to laugh at policing.
Black and Blue is a beautiful story of survival and family, and the everyday moments feel familiar. The writer reveals the often untold truths of today's Australia. The book confronts the actions of the Queensland Police Service, and is a whirlwind ride from country Victoria to Far North Queensland, as we bear witness to Aunty Ronnie's story. It left me wondering what accountability looks like for Australia in these modern times.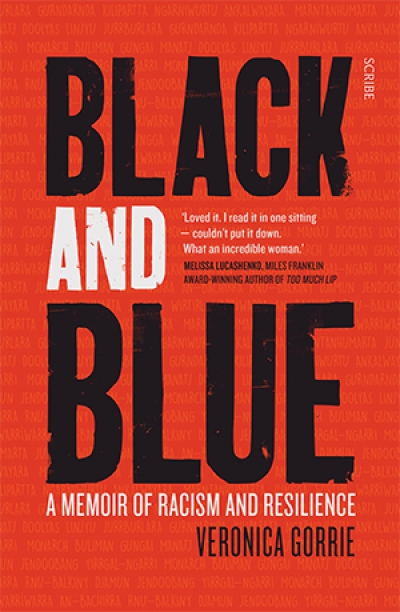 Black and Blue: A memoir of racism and survival
by Veronica Gorrie
Scribe, $32.99 pb, 243 pp