Chicken: A history from farmyard to factory by Paul R. Josephson
Polity, $41.95 hb, 252 pp
History
Chicken: A history from farmyard to factory
by Paul R. Josephson
Borrowing a term coined by the late Jewish Nobel Laureate and vegetarian Isaac Bashevis Singer, Charles Patterson (in)famously likened humanity's treatment of animals to an 'eternal Treblinka'. In his 2001 book of the same name, Patterson set the mass murder of Europe's Jews and industrialised animal slaughter side by side, drawing a line between the production methods of Chicago's early twentieth-century slaughterhouses, the assembly-line technology pioneered by Henry Ford – an avowed anti-Semite and Hitler supporter – and the death camps of Nazi Germany. Another Jewish writer, the German philosopher Theodor Adorno, is said to have observed that 'Auschwitz begins whenever someone looks at a slaughterhouse and thinks: they're only animals'.
In his timely, important, and forensically researched Chicken: A history from farmyard to factory, Paul R. Josephson invokes two similarly grim historical spectres in his discussion of the industrial slaughter of chickens, ones befitting his specialism in Soviet history: the gulags, and the 1986 nuclear disaster at Chernobyl. In the book's final chapter, titled 'Broiler Chernobyl' after the name given to chickens raised for meat, Josephson writes: 'The chicken you eat is almost certainly not a chicken in the traditional sense. It is a genetically formed meat machine, likely one of three models distributed by a bird genetics company, then produced in massive sheds by a large corporation.' He goes on to describe the nasty, brutish, and short lives of such 'technobirds': raised for six or seven weeks in an area the size of a piece of A4 paper, fattened on specially constituted feeds and growth-promoting additives, and finally shovelled into a processing facility to be 'hung upside down by the legs, strung to a conveyor, stunned in a variety of ways, their necks slit to bleed out'.
Continue reading for only $2.50 per week. Subscribe and gain full access to Australian Book Review. Already a subscriber? Sign in. If you need assistance, feel free to contact us.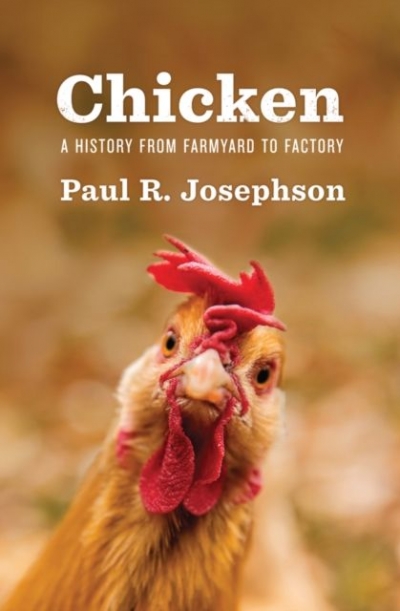 Chicken: A history from farmyard to factory
by Paul R. Josephson
Polity, $41.95 hb, 252 pp