Clive James to the end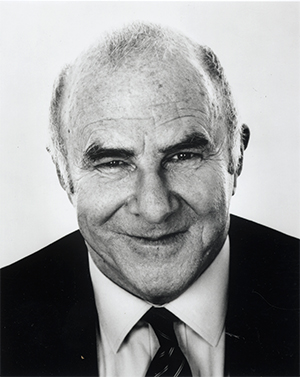 Clive JamesABR was surprised when Geoffrey Lehmann – in introducing his contribution to one of our 'Poetry for Troubled Times' podcasts – said that he'd chosen Emily Dickinson's poem 'At Half Past Three, A Single Bird' partly because it was the only poem he knew off by heart. And there we were, naïvely imagining that poets had reams of the stuff by heart and that as they pounded the beaches or, in the Victorian context, trudged around their local ovals they chanted Shakespeare sonnets to the indifferent seagulls. Not so, apparently.
Most welcome then is a posthumous collection by Clive James, who proves prolific even in death. James, who died in November 2019 after a final decade of amazing fecundity despite immense health problems, had compiled a volume of some of the most memorable poems in the English language, his aim being 'to provide ammunition that will satisfy the reader's urge to get on his or her feet and declaim'. The Fire of Joy (Picador, $34.99 pb) contains 'roughly 80 poems to get by heart and say aloud'.
Certain poems select themselves: ones like John Donne's 'The Sun Rising', George Herbert's 'Love III', a famous oneiric gift by Coleridge, Emily Dickinson herself of course ('There's a certain Slant of light'), and 'An Arundel Tomb' by Philip Larkin (whom James rates 'the greatest English poet since Marvell'). We also have Thomas Wyatt's 'They Flee From Me', most beauteous of them all perhaps.
Happily, a quarter of the poems don't seem automatic, and here Clive James's wide reading and sentimental leanings introduce some novelties, poems by Brian Howard, Edmund Wilson, and Dorothy Parker among them.
It's good, in her centenary year, to meet Gwen Harwood, to whose inimitable gifts James was rightly alert: 'She had the invaluable gift of musicality … [and] was theatrical to her roots'.
James was always a champion of Stephen Edgar, and the Sydney poet closes the anthology. 'When I look through the splendor of Edgar's work,' he notes, 'I often wish I were [Edgar], but you can't have everything.'
Quite! He was only and ever Clive James, abidingly so. At the end of his postscript ('Growing up in poetical Australia'), he writes, 'I chose the right spot to be born, just as I chose the right profession – poetry – and followed it to the end.'
All about Yves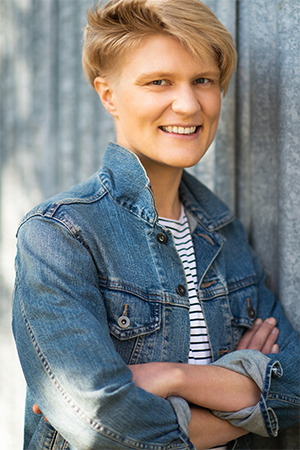 Yves ReesABR prizes have over the years attracted much interest from local publishers, with a number of prize-winning or shortlisted essays and short stories leading to book contracts.
ABR is delighted that Yves Rees, winner of the 2020 Calibre Essay Prize, will publish a memoir with Allen & Unwin. The book, titled All About Yves: Notes from a transition, will expand on Yves's gender transition and 'journey of re-becoming' as explored in 'Reading the Mess Backwards', which appeared in our June–July issue. Jane Palfreyman, a publisher at Allen & Unwin, commented, 'Yves Rees already has a stunning reputation as a writer, historian, commentator and public intellectual, and my colleagues and I are hugely proud to be bringing their personal story to Australian readers.'
Yves Rees also read the winning essay for a recent episode of the ABR Podcast, available on our website.
All About Yves will be published in early 2022.
Podcast chat
How timely it was for us to revive the ABR Podcast at the beginning of 2020 – this year of contemplative isolation. In recent weeks, aficionados will have noticed a more interlocutory bent in the podcast. Felicity Plunkett and Jack Callil were in conversation about Ali Smith's seasonal quartet (Felicity reviews Summer, the final volume), and Jack also interviewed James Bradley about his review of David Mitchell's Utopia Avenue (published in the September issue).
Apropos of other content in this issue, stay tuned for Peter Rose's interviews with Johanna Leggatt about Twitter and 'cancel culture', and with Michael L. Ondaatje on the subject of black Americans' attitudes towards the Republican Party.
'Radical, inclusive, rebellious'
Allen & Unwin has a new imprint, Joan, to be curated by writer, actor, and director Nakkiah Lui, a Gamillaroi and Torres Strait Islander woman. Joan, named after Lui's grandmother, bears the motto 'Radical, inclusive, rebellious' and will commission books across all genres. 'I want Joan to help create space for the voices that get pushed to the fringes,' said Lui, 'because when our most vulnerable follow their dreams, they create limitless dreams for the rest of us.'
Ultimo Press
There's another new imprint, this time from Hardie Grant, whose co-founder and CEO Sandy Grant is the subject of this month's Publisher of the Month. Ultimo Press will be based in Sydney and led by former HarperCollins ANZ CEO James Kellow. 'Our ambition is serious,' Kellow said in a statement. 'We want to become home to Australia's most original and creative storytellers, but we also want to be distinctive, a little bit different, to disrupt and to have fun.' Sandy Grant noted that Kellow's aim at Ultimo Press is to 'create a modern, exciting, and global trade publishing list' and said that Hardie Grant sees Ultimo Press as 'distinct, independent and free to pursue its ambitions backed by our broader business'.
Copyright and commentary
The October issue includes three articles in ABR's new series of commentary pieces supported by the Copyright Agency's Cultural Fund. In the first, Michael L. Ondaatje (Professor of History at the Australian Catholic University) reflects on Donald Trump's failed courtship of black American voters, while Paul Muldoon looks at the relationship between freedom and security and the complexities of the Victorian government's response to the coronavirus. Finally, amid growing disquiet about 'cancel culture' and censorious voices on social media, Melbourne journalist Johanna Leggatt explores the threat Twitter poses to the work of writers and journalists.
ABR – and our essayists – are grateful to the Copyright Agency.
Prizes galore
As we went to press, entries were pouring in for the Peter Porter Poetry Prize, now worth a total of $10,000. We seem to be on track for a record field (last year we received about 1,000 entries). The Prize closes on October 1. We look forward to publishing the five shortlisted poems in our January–February issue.
Meanwhile, the Calibre Essay Prize, now in its fifteenth year, will open on October 15, with a closing date of January 15. Once again we are looking for original non-fiction essays ranging from 2,000 to 5,000 words.
Full details about the Calibre Essay Prize will be available on our website from October 15.