The Genes That Make Us: Human stories from a revolution in medicine by Edwin Kirk
Scribe, $32.99 pb, 288 pp
Science and Technology
The Genes That Make Us: Human stories from a revolution in medicine
by Edwin Kirk
The announcement in June 2000 that a first draft of the human genome had been completed was rightly recognised as a landmark in scientific endeavour. Predictions were that the sequencing of the genome would allow for the pinpointing of genes responsible for conditions such as Alzheimer's and heart disease, and lead to finely targeted, even personalised, treatments for a range of disorders. That these ambitions are still some way from being met doesn't make the discovery any less remarkable. The Human Genome Project (HGP) gave us the capacity to read the basic building blocks of life. Research into the human genome is teaching us that the relationship between our approximately 30,000 genes and who we are is enormously complex, the result not merely of the action of individual genes but also of the ways in which those genes interact with each other and with their environment.
In The Genes That Make Us, Edwin Kirk reminds us that virtually everything 'that afflicts human beings, and everything about us that is not an affliction, too, has genetics at its core'. Interpreting genetic sequencing data is at the heart of Kirk's practice. A Sydney-based medical geneticist and genetic pathologist, he works with patients to determine the underlying genetic source of their conditions and to advise them of their treatment options. Both an account of the human stories at the heart of Kirk's practice and a beginner's guide to genetic medicine, The Genes That Make Us tells of the significant progress that has been made in genetics over the past two decades, while also signalling how far there is left to travel.
Continue reading for only $2.50 per week. Subscribe and gain full access to Australian Book Review. Already a subscriber? Sign in. If you need assistance, feel free to contact us.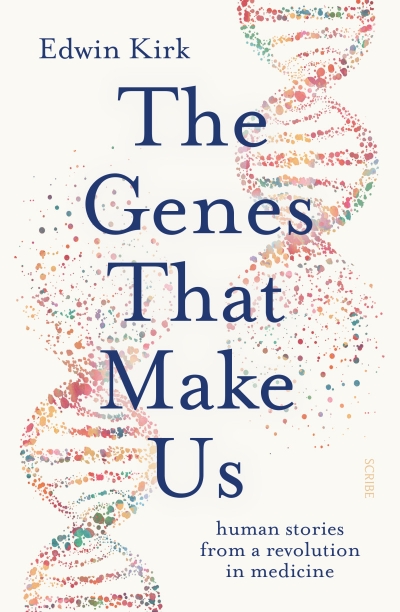 The Genes That Make Us: Human stories from a revolution in medicine
by Edwin Kirk
Scribe, $32.99 pb, 288 pp