Twilight of Democracy: The failure of politics and the parting of friends by Anne Applebaum
Allen Lane, $35 hb, 205 pp
Politics
Twilight of Democracy: The failure of politics and the parting of friends
by Anne Applebaum
'Our age,' begins the epigraph to Anne Applebaum's book Twilight of Democracy, 'is indeed the age of the intellectual organization of political hatreds.' This disarming quote from French writer Julien Benda dates back to 1927; how little has changed in a century. Just one generation after the triumphant 'end of history' – and notwithstanding the impact of Covid-19, fleetingly referenced here – Western democratic societies are prey to institutional decline, increasing distrust, violence, and hatred.
Applebaum's exploration of these changes revolves around two parties she hosted for friends in Poland – one in 1999, the other in 2019. Over two decades the friends change, as do the mood, the technology, the topics of conversation, the future prospects. So too the presence, or absence, of solidarity. This use of personal anecdote to illustrate and measure broad geopolitical and ideological shifts is mostly effective. Her friends are drawn almost exclusively from a cast(e) of diplomats, politicians, intellectuals, and editors: undoubtedly influential people, yet there is scarcely an opinion floated that does not come from this rarefied air. This is a minor flaw in an otherwise succinct analysis.
Continue reading for only $2.50 per week. Subscribe and gain full access to Australian Book Review. Already a subscriber? Sign in. If you need assistance, feel free to contact us.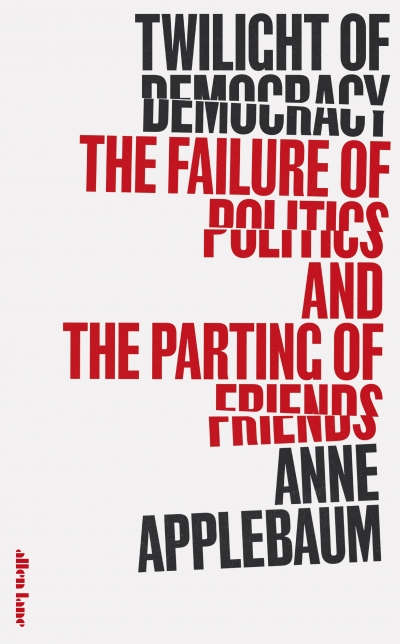 Twilight of Democracy: The failure of politics and the parting of friends
by Anne Applebaum
Allen Lane, $35 hb, 205 pp