Show Me Where It Hurts: Living with invisible illness by Kylie Maslen
Text Publishing, $34.99 pb, 286 pp
Memoir
Living the unspeakable
A new book on communicating pain
Virginia Woolf wrote that when trying to communicate about pain as a sick woman 'language at once runs dry'. How does one talk about wounds without fetishising their workings, and how in a society where pain is taboo does one speak of it authentically? In Show Me Where it Hurts, writer and journalist Kylie Maslen balances the difficulty of this equation: telling the story of her disability and having that story remain fundamentally unspeakable. The act of telling remains for Maslen 'a rejection of language', and yet the thing on the table for those suffering is 'the desire to make ourselves known'.
This is well-trodden terrain in the echelons of theory. There are shades here of Elaine Scarry's contention that pain breaks language, but Maslen's approach is visceral, practical. It has to be. Theory would be a privilege. She navigates the urgent, sublimated world of pain's inexpressibility in ways that are fresh and inventive. More importantly, they are the authenticities of the life she lives.
People ask, 'How are you?'

What I want to say:

I'm running out of words.

What I actually say:

'About the same.'

Doctors: 'Give that to me as a number from one to ten.'
Continue reading for only $2.50 per week. Subscribe and gain full access to Australian Book Review. Already a subscriber? Sign in. If you need assistance, feel free to contact us.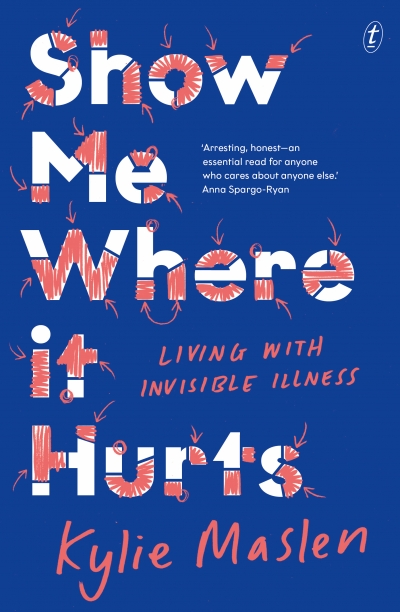 Show Me Where It Hurts: Living with invisible illness
by Kylie Maslen
Text Publishing, $34.99 pb, 286 pp