Man of Contradictions: Joko Widodo and the struggle to remake Indonesia by Ben Bland
Penguin, $12.95 pb, 175 pp
Biography
Indonesia's 'poor custodian'
The search for the real Joko Widodo
Ben Bland, a Financial Times correspondent in Indonesia in 2012–15 and currently director of the Southeast Asia Program at the Lowy Institute, had a ringside seat to watch the rise of Indonesia's President Joko Widodo (also known as Jokowi). By his own account, Bland has met him more than a dozen times. Jokowi was a furniture-maker and -exporter, mayor of Solo, and governor of Jakarta before being elected president in 2014. Bland has written a good introduction to the Jokowi era that will appeal to the general reader but may leave the serious student of Indonesia unsatisfied.
One of Bland's strengths is his gift for capturing Jokowi's stance at various stages. It would be hard to better Bland's pithy depiction of the recent disillusioning years of Jokowi's rule: 'Jokowi has lurched back towards Indonesia's authoritarian roots, eroding free speech and the rights of minorities [and] undermining the all-important fight against corruption'; or, even more succinctly, 'he proved a poor custodian of democratic principles and practice'. Bland also gives the reader a good feel for the election campaigns Jokowi has waged, and he has useful sections or chapters on foreign policy, Islamic politics, the response to Covid-19, the economy, and infrastructure.
Continue reading for only $2.50 per week. Subscribe and gain full access to Australian Book Review. Already a subscriber? Sign in. If you need assistance, feel free to contact us.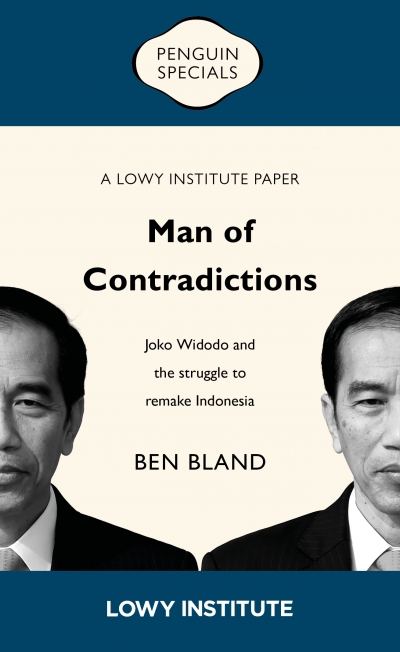 Man of Contradictions: Joko Widodo and the struggle to remake Indonesia
by Ben Bland
Penguin, $12.95 pb, 175 pp