Gulpilil by Derek Rielly
Macmillan, $29.99 hb, 246 pp, 9781760784973
Biography
Gulpilil
by Derek Rielly
Australians have admired distinguished actor David Gulpilil in films like Walkabout (1971), Storm Boy (1976), The Tracker (2002), and Rabbit-Proof Fence (2002). Not so many will be familiar with the details of his recent life, as related by journalist Derek Rielly. We find Gulpilil dying of lung cancer in Murray Bridge, an unprepossessing town on the lower Murray River in South Australia. He is surrounded by friends and cared for by the heroic Mary Hood, a retired nurse who has dedicated much of her life to caring for Aboriginal people in the Top End. This follows several bleak years living as a 'long grasser' on the fringes of Darwin and doing time in Berrimah Prison on charges of serious assault during a drunken fight.
A key philosophical question posed in Rielly's narrative is whether, as Gulpilil's artist friend George Gittoes maintains, Gulpilil should return to die among his own people in Arnhem Land, or whether, as his more pragmatic friend, actor Jack Thompson suggests, he is better off staying where he is 'because in his homeland there is nothing but humbug … And there's not much doubt he would wind up with nothing to his name and he'd die in the long grass. Whereas here, he's looked after, respected and has some mates, he goes down to the pub for lunch and he and the cook are good mates.'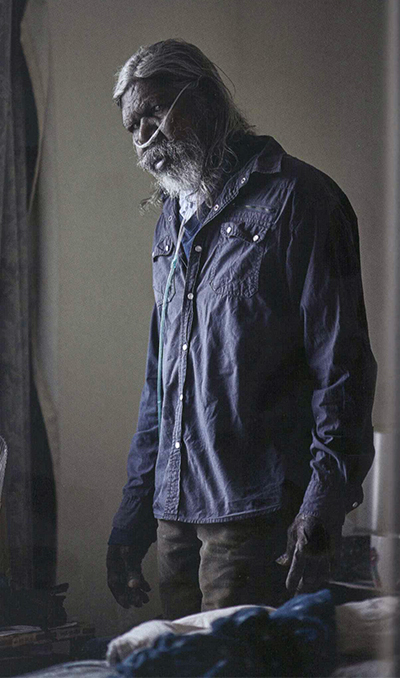 Gulpilil (photograph taken from Gulpilil by Derek Rielly)
Gulpilil has touched many hearts during his long and celebrated career, but the most moving passage of this book was Rabbit-Proof Fence co-star Natasha Wanganeen's account of her first glimpse of him on a television set at South Australia's Point Pearce Aboriginal Mission, where she grew up. Wanganeen describes Gulpilil playing Fingerbone Bill in Storm Boy: 'I looked at him and said, he's like me, I'm like him. And it made me feel good. It made me feel happy and proud. When I looked at him, he let me know I had a place here. That it's a part of us, we're here! It's such a beautiful thing to an Aboriginal child when you grow up on a Christian Mission. Watching him be so happy and free and such a larrikin. That's exactly us!'
This passage represents one of the few Indigenous voices in the book. Gulpilil's life and Indigenous experience generally are mainly filtered through accounts from his many white associates. These include filmmakers Phillip Noyce (director of Rabbit-Proof Fence), Philippe Mora (Mad Dog Morgan), and Rolf de Heer (Charlie's Country, The Tracker, and Ten Canoes); co-stars Jack Thompson, Damon Gameau, Gary Sweet, and Paul Hogan; artists George Gittoes and Craig Ruddy (whose portrait of Gulpilil won the 2004 Archibald Prize); and Richard Trudgen, a forty-year veteran of the Arnhem Land outstation movement and fluent speaker of Yolŋu Matha, whose 2000 book Why Warriors Lie Down and Die offers Rielly an important key to understanding the cultural challenges faced by Gulpilil in negotiating two radically divergent worlds.
Fêted by European society, like Bennelong and Namatjira before him, Gulpilil represents for white Australians the embodiment of traditional Aboriginal culture. Yet Trudgen claims that after being discovered as a young man by British filmmaker Nicolas Roeg for the 1971 film Walkabout, Gulpilil lost connection with his traditional culture 'because it just wasn't part of his practice when he was out with Europeans talking with them all the time. The great disappointment of Gulpilil's parents was his lack of traditional knowledge.'
Charlie's Country (2014) offers a more cogent biography than Rielly's book and is perhaps the most powerful film about Aboriginal Australia I have seen. De Heer probably saved Gulpilil's life by visiting him in Berrimah jail and persuading him to make this semi-autobiographical film, which won him Best Actor in the Cannes Film Festival's Un Certain Regard section.
Gulpilil is rich in hilarious anecdote, but in terms of engagement with blackfellas, Rielly is by his own admission a complete neophyte. The author was also precluded from visiting Gulpilil's homeland because of Gulpilil's declining health. He faced the additional challenge of interviewing a highly laconic biographical subject for whom English is a third or fourth language.
There is a kind of ocker naïveté to Rielly's surf-magazine writing style; we are unnecessarily regaled, for instance, with accounts of certain figures smoking bucket bongs, while in another passage, when the author is sent to recover a painting from Gulpilil's bedroom, the reader becomes an uncomfortable participant in Rielly's voyeuristic invasion of the actor's privacy, as he gives a detailed inventory of every item in his bedroom. Glossing over Paul Hogan's inane dismissal of the Aboriginal land rights movement in the film Crocodile Dundee (1986), the author comments wistfully that 'watching Paul Hogan smoke Winnie Blues and reminisce as he sat on a bench in his daughter's suburban front yard was a reminder of an Australia long gone'. Rielly's previous book, Wednesdays with Bob (2017), showcased another Australian good old boy, the late Bob Hawke.
Rielly's memoir is a modest yet honest attempt to capture something of the significance of this great Australian artist in his final days. The book's real strength is perhaps its depiction of the powerful emotional impact that Gulpilil has had on ordinary white Australians with no direct experience of Aboriginal culture, and of how his performative genius has helped to reshape their understanding of Australia's First Peoples.