More Than Mere Words edited by Paul Monaghan and Michael Walsh
Wakefield Press, $34.95 pb, 309 pp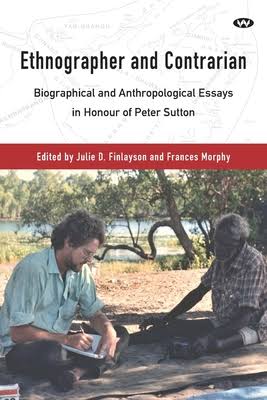 Ethnographer and Contrarian edited by Julie D. Finlayson and Frances Morphy
Wakefield Press, $34.95 pb, 292 pp
Anthropology
Telling it like it is
An influential, controversial anthropologist
Anthropology, in my experience, is commonly confused in the popular imagination with archaeology. 'We study live people, whereas archaeologists study dead people,' I have sometimes explained half-jokingly to the perplexed. Although public understanding of anthropology's engagement with living human societies and cultures is at times sketchy, Australian anthropologists have in fact made significant contributions since the 1970s to the recognition of prior Aboriginal land ownership over vast tracts of the Australian continent. The essays in this two-volume Festschrift celebrate the multifaceted life and legacy of anthropologist and linguist Peter Sutton, perhaps the most significant exemplar of this 'applied' branch of Australian anthropology.
Sutton's historian colleague Philip Jones defines ethnography – the systematic description of a socio-cultural group based on long-term 'participant observation' – in these terms:
Fieldwork was the anthropologist's necessary rite of passage. As a participant in the life of the community, and an observer of it, the trained anthropologist of the late 20th century became skilled at crafting locally specific accounts of a cultural group's language, cosmology, kinship system, mythology, material culture, secular and ritual life, with the collaboration and support of the communities involved. Mastery of that complex of skills and techniques reached its apogee in Australia in the period from the late 1960s to the 1980s. Peter Sutton's anthropological career unfolded within that frame, as an exemplar perhaps of Australian anthropology's 'golden age'.
Continue reading for only $10 per month. Subscribe and gain full access to Australian Book Review. Already a subscriber? Sign in. If you need assistance, feel free to contact us.