On Identity by Stan Grant
Melbourne University Press, $14.99 pb, 95 pp, 9780522875522
Essays
On Identity
by Stan Grant

&

Australia Day

by Stan Grant
It was a great moment in Australian history when William Cooper walked to the Australian parliament to object to the treatment of Jews in Germany during World War II. At the time, the British and Australian parliaments were ambivalent about the atrocities occurring across Europe, and yet an Aboriginal man could not bear to see the government of his country sit on its hands.
Cooper knew a thing or two about oppression, racism, and the way societies allow injustice to cut a swath through an undesired element simply by looking above the heads of brutes enlisted to perpetrate evil until the civilised commercial interests can lower their gaze from their heavens and say, oh, what a shame, they have all disappeared. Every population can find brutes to do the killing, and every population has a vast number who calmly accept the largesse created by such abominable work.
Cooper knew all about how Western civilisations work, and he called it out. While the world stood back and supposedly good men did nothing, Cooper raised his voice against injustice. As a result, there is a museum in Israel with a room dedicated to William Cooper. Australia has hardly dedicated a page.
Australian Aboriginal and Torres Strait Island society has always produced men and women of enormous peace and honour. Fred Maynard, Essie Coffey, Jack Patten, Faith Bandler: you could write their names for an hour and not have exhausted them. I think my parents were the most just people I have ever known, but Dad thought Cooper and Douglas Nicholls were the two best men he had ever met and were the ideal humanity should aspire to. Fortunately, we have wonderful people in their place: Marcia Langton, Rachel Perkins, Tom Calma, the Dodson brothers, Linda Burney, Stan Grant, Gary Foley.
One of those leaders is Stan Grant Jr. When he returned to Australia after a decade working for CNN, he began writing about Australia. His seminal work, Talking to My Country, became a bestseller and won the Walkley Book Award in 2016. Grant came home a seasoned journalist and a beautiful writer, and his words about his country had an immediate impact. Here was a man of the world from humble beginnings who could argue with Australia in a calm, urbane voice. Australia was taken off its guard by Grant's erudition, logic, and rock-solid justice.
I saw it as a turning point. When Michael Mansell, infuriated by Australia's imperviousness to Aboriginal disadvantage, enlisted the financial support of Colonel Gaddafi of Libya, the response was visceral. Mansell was an ungrateful, uppity black: how dare he go offshore for the support of a dictator? Australia's outrage knew no bounds. At the time, Australian university students were campaigning against the South African rugby team because it so clearly reflected the apartheid regime, even though in those university students' own country Aboriginal people were not allowed in the commercial districts of towns like Warrnambool. South Africa learned their apartheid in Australia. Typically, Australians were blind to their own racism. Mansell was pilloried.
When Grant began writing with such mild erudition, Australia was flummoxed. How do you revile civility? Or had we entered a stage of introspection? Redfern Now had been on prime-time TV, there were Aboriginal footy shows, Aboriginal art was everywhere, and, despite Tony Abbot, Welcomes to Country became the norm. Suddenly, Stan Grant was reading the news and offering commentary on a huge array of platforms. What was Australia thinking?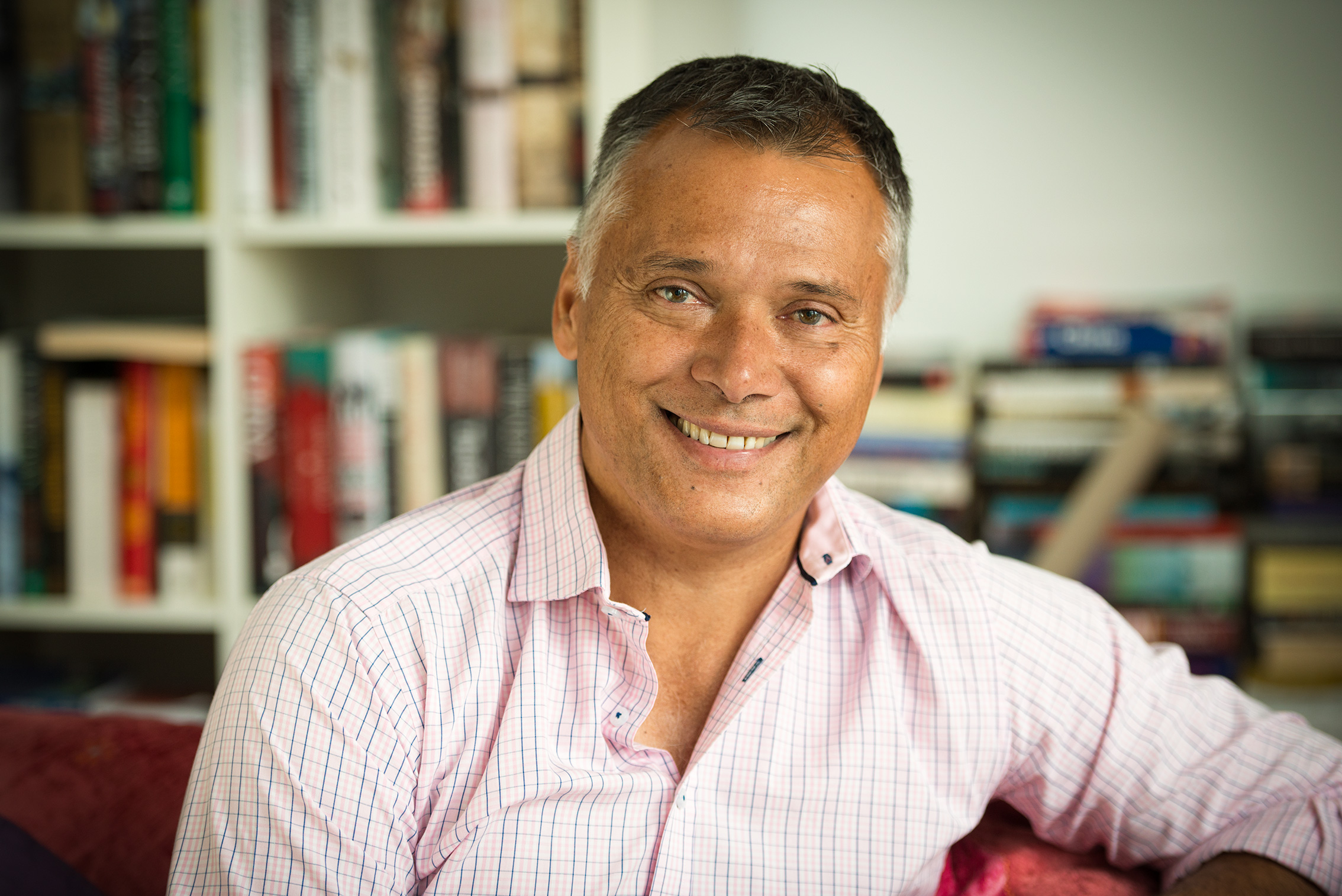 Stan Grant (photograph by Kathy Luu via Melbourne University Press)
Grant's two new books, Australia Day and On Identity, ask more and more questions, drilling deeper into the Australian psyche, laying down traffic-calming systems to make Australia slow down and think. Grant says he wrote Australia Day while worrying about his son's inheritance: the Australian soul. What is it? What will we become? He states in the introduction, 'We [Australians] prize identity more than citizenship. We look to what divides us; define ourselves in opposition to each other.' He argues that we need to argue about our true selves, the true nature of the country and its history. Later, quoting Immanuel Kant, he says, 'We must put away "the ball and chain of permanent, everlasting minority", we must imagine ourselves beyond our tribes.'
Grant wrestles with this idea. This seems wise, because imagining Aboriginal Australia without tribes is exactly what Paul Hasluck, John Howard, and Tony Abbott want Australian Aboriginal people to do: forget their Aboriginality, become plain-label Australian, assimilate, give up. If we did, the world's oldest culture, the only warless and sustainable culture, would be lost to the world, and the spirit of William Cooper would be forgotten among the 'discoverers' of Australian gold, the inventors of rust-resistant wheat, the Hills Hoist, and the stump-jump plough. We cannot do it, we must not do it. Australia should reject that future, rebel against the banality of the colony.
Grant wrestles as Australia wrestles, searching for a way to be Australian and excluding nothing. He was disturbed, not just by the jingoistic Union Jack face paint that 'barely obscured a deeper menace', but by his love of the Australia 'that shone like a beacon for those around the world looking for a new beginning'.
Australia's democratic allure barely concealed a racist heart. Soon after Grant's return to Australia, football followers began booing Adam Goodes, an Australian Rules footballer. Some argued that he was being aggressively patriotic to Aboriginal Australia by employing Indigenous dance during a game, though New Zealand's black and white footballers do it every game. Or was he being punished for pointing out the racism of a thirteen-year-old girl? He immediately extended his gracious hand in consolation as soon as he learned her age. But that wasn't good enough for the true-blue shock jocks, who savaged Goodes like an American pit bull terrier.
Goodes became a symbol of a nation struggling with its past. Grant entered the storm of public shouting, trying to explain what it felt like for Aboriginal people. 'What we heard was not a boo, but a howl, a howl of humiliation that echoed across two centuries of injustice and exclusion.' Suddenly Grant was at the very centre of the national Australia Day debate.
Australia Day is a disturbing book, but it is incredibly even-handed, as any decent argument should be. Here is a chance to reflect, maybe even to formulate. We still have that chance to consider our nation without the bluster of bullies.
In On Identity, typically thoughtful and probing, Grant – forever untangling the skein of nationalism to analyse its warp – quotes Solzhenitsyn and Martin Luther King Jr. Then Grant writes, 'Love is kept alive in the darkest corners and against the greatest odds. You can put people in chains, you can herd them on boats, you can banish them to faraway lands and love does not die … love endures when even hope has died.'