A Season on Earth by Gerald Murnane
Text Publishing, $39.99 hb, 485 pp, 9781925773347
Fiction
A Season on Earth
by Gerald Murnane
A Season on Earth is the original version of Gerald Murnane's second published novel, A Lifetime on Clouds, which appeared in 1976. The story behind this book's publication is now well known, thanks to interviews Murnane has given and the author's 'foreword' to this edition, where he relates how he reluctantly cut his manuscript in half to fit with Heinemann editor Edward Kynaston's view of it as 'a comic masterpiece'. Kynaston was probably trying to exploit the publicity surrounding Philip Roth's Portnoy's Complaint, which had become a cause célèbre in Australia after being initially banned in 1970 but then published after its acquittal in an obscenity trial. The 'sin of self-abuse' is also central to Murnane's novel. Towards the end of A Lifetime on Clouds, rewritten by the author especially for that earlier version, central protagonist Adrian Sherd imagines Melbourne to be 'the Masturbation capital of the world', but then comes to realise 'the same problem occurred in every civilized country on earth'.
The first two parts of A Season on Earth, like A Lifetime on Clouds, focus primarily on Sherd's Catholic schooling and his fantasies of a hedonistic life in America. But the second half of A Season on Earth moves beyond the repressive confines of Victoria in the early 1950s to explore both the possibilities of a religious vocation – in Part Three, Sherd attends a junior seminary run by the Charleroi Fathers; and also, in Part Four, the imaginative potential of literature. Whereas A Lifetime on Clouds was a comic novel in the Roth idiom, with the Catholic environment of Murnane's suburban Melbourne replacing the claustrophobic Jewish community of Roth's New Jersey, A Season on Earth manifests itself in its full flowering as more akin to James Joyce's A Portrait of the Artist as a Young Man, a Künstlerroman about a boy's growth in consciousness from adolescence to artistic maturity. Murnane characteristically remarked in an interview that he thought his hero wouldn't be capable of writing anything by the end of the book, but such a sardonic awareness of art's inherent limitations has always been integral to the author's own creative consciousness.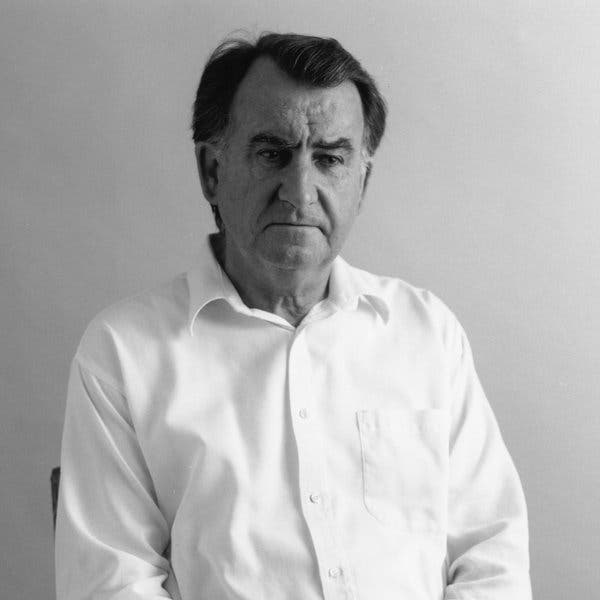 Gerald Murnane (photograph by Ian H. Hill/Macmillan)
This is also the source of Murnane's scabrous comedy, which delights in a rhetoric of bathos and disavows on principle any 'so-called abstract idea,' a term he declares in Landscape with Landscape (1985) to be 'self-contradictory'.  A Season on Earth cites Thomas Aquinas, Thomas à Kempis, and Thomas Merton, and there is a characteristically Catholic distaste here for what became known scholastically as the 'angelist' heresy, whereby man's humanist ambitions would try to appropriate some of the perfectionist qualities reserved in Church doctrine for angelic spirits. Despite Murnane's explicit disbelief 'in any gods or angels or demons', his fiction preserves a distinctive theological infrastructure, whereby religious ideas are displaced into broader cultural forms. Sherd concludes towards the end of this novel that 'his monastery was wherever he willed it to be'.  A Season on Earth negotiates paradoxical spaces in between sacred and secular. The book's title plays intertexually with Arthur Rimbaud's A Season in Hell (1873) to evoke the attractions and torments of transitory terrestrial incarnation.Murnane complains in his foreword about the 'butchering' of his original novel and how the Heinemann editors had 'misread' it. This reconstituted work certainly has more thematic coherence. Perversion was initially a theological category, designating backsliding from a state of grace – the opposite of conversion, which retains a more explicit religious significance – and the fraught attempts of Murnane's character to reconcile body and spirit are the axis upon which this entire narrative turns, from the tormented adolescent body of the first section to the fledgling literary intellectual of the last. When Sherd says in the final pages that his 'perverse human nature seemed to want nothing higher than the contentment of sharing a home ... with a pretty, uncomplicated marriage partner', it is now easier to recognise this within a framework of ontological perversion, where the limits of the human body necessarily circumscribe any higher inclinations.
There are already a number of distinguished novels in the literary canon that exist in variant versions, including Herman Melville's Pierre (1852), which his editor insisted on cutting drastically after Moby-Dick had been a commercial failure, and F. Scott Fitzgerald's Tender Is the Night (1934), where the author's preferred back-and-forth time scheme was initially deemed too complicated for the market to bear. Murnane is now generally recognised as a major literary figure, and the excavation of this work from the author's archives is important for Australian literary history. Michael Heyward, whose initiative is acknowledged in the author's foreword, and Text Publishing are consequently to be congratulated on making the work available.
There are, however, some oddities about the novel that make it less than totally satisfactory. Whereas in Joyce's Portrait of the Artist Stephen Dedalus's solipsism is presented with increasing narrative irony and detachment, the reader of A Season on Earth is locked inside Adrian Sherd's obsessive consciousness, with only the occasional jolt to make us recognise the partiality of his perspectives. At the end of Part Three, for instance, Father Camillus briskly dispatches Adrian from the seminary, saying that the monastic life 'is not what God wanted of him'; but this alternative angle on Sherd's inept performance as a seminarian comes as a surprise because we have been following the contours of this protagonist's imaginative world for so long. Henry Miller is cited here as a potential prototype for Sherd's own creative work – he wonders if 'publishers might be interested in Australian stories with a predominantly sexual content' – but unlike the first-person picaresques of Miller (or Saul Bellow), Sherd's imagination is framed, indeed boxed in, by various mentors and idealised figures. These range from Denise McNamara, the schoolgirl on the Melbourne train whom he cherishes as his 'Earth Angel', to a subsequent series of intellectual types: Matthew Arnold, Francis Thompson, A.E. Housman, and others. (At one point, Sherd decides 'he would model himself on Housman as far as was possible'.) This renders Murnane's hero more passive than those of Miller or Bellow, and it also contributes to the odd sense of a continuous present and a flattened mental landscape. Adrian lurches from one scenario to another, failing to bring his life experiences into any kind of conceptual alignment, and indeed giving us the sense that any such alignment would be illusory. The short, chiselled sentences, while reinforcing Murnane's emphasis on the immediacy of particular experience and the distortions of conceptual abstraction, also reinforce this sense of a radically disrupted discursive flow: 'Adrian had a hard ride home from Stepney. The wind that had been behind him in the morning was blowing into his face. His stomach ached.'
It is valuable to have A Season on Earth in print, but it is not difficult to understand the reservations of the Heinemann editors when this manuscript was first presented to them. There are many sardonic comic observations here of Melbourne in the 1950s – I particularly liked the report of a man staying up 'till all hours last night trying to put an extra cupboard in his laundry' – but what is most interesting about Murnane's work in general is the way it correlates these social scenes with larger metaphysical questions. Exemplifying an idiosyncratic Australian style of late postmodernism, Murnane's fiction projects a sliding scale between extension and compression, where larger dimensions are refracted obliquely through parochial perspectives. This is not the greatest work in his oeuvre, but it is definitely worth having.