Open Page
Open Page with Geoffrey Lehmann
Where are you happiest?
At night I sit on the brick patio of a beach house at Currarong with a garden of flannel flowers and kangaroo paws. I listen to the ocean through a windbreak of low eucalypts and banksias, just a hundred paces away.
Are you a vivid dreamer?
In a recurring nightmare, I'm about to sit for a university exam in English or History. I haven't been to any lectures and I can't find the exam room.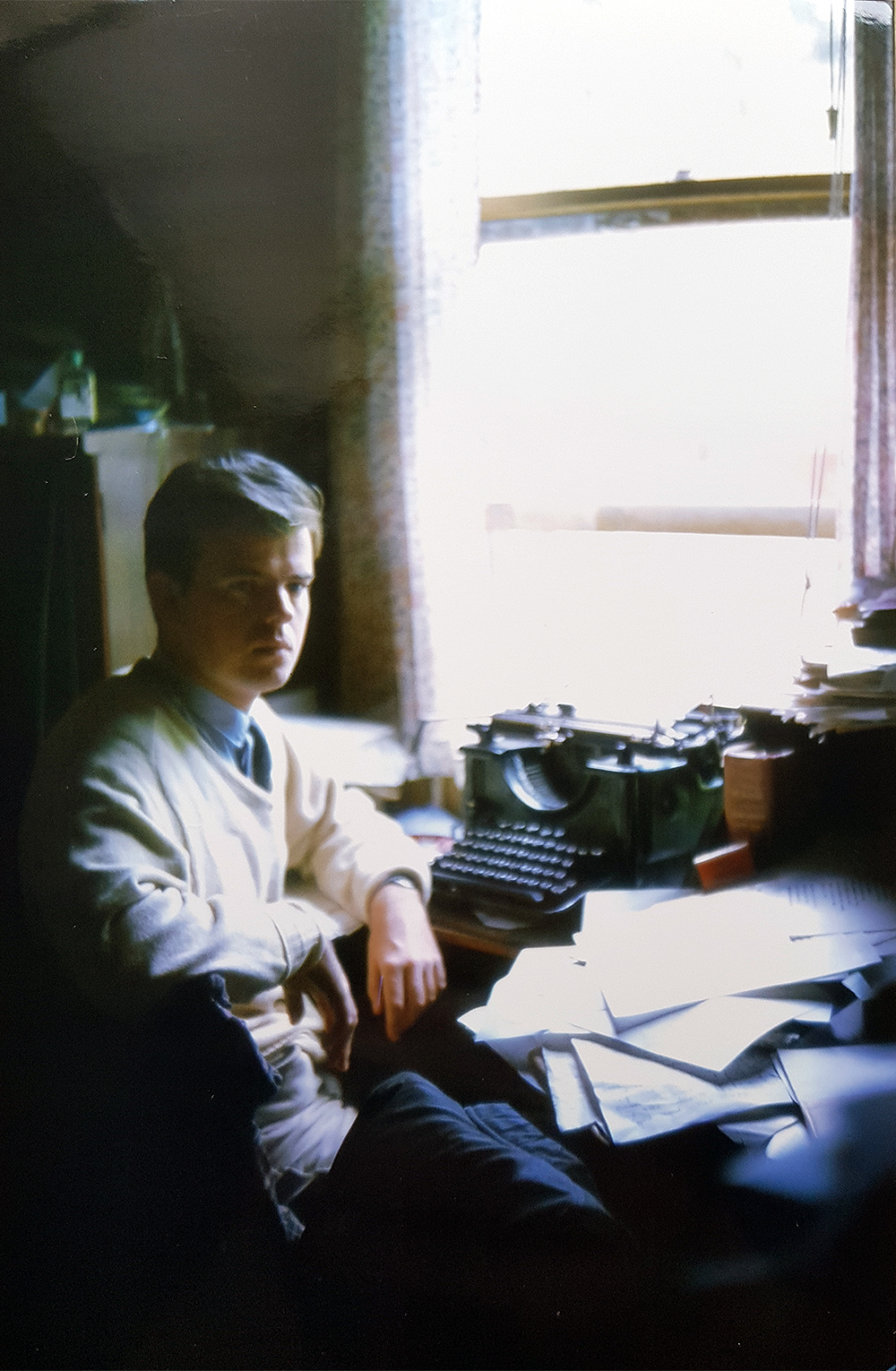 Geoffrey Lehmann in the early 1960s (photograph by Diana Lehmann)
What is your favourite film?
Akira Kurosawa's High and Low. I like almost everything from John Wayne westerns to musical comedy. Among long films I admire Claude Lanzmann's Shoah and Béla Tarr's Sátántangó.
And your favourite book?
C.K. Scott Moncrieff's original translation of Marcel Proust's In Search of Lost Time. It has a dinner party extending over a hundred pages where the conversation is about the etymology of French place names. In a wonderfully funny interlude, the host assumes that Baron de Charlus is of the lesser nobility. Terence Kilmartin's 'improvement' of Moncrieff's translation kills this incident. I once drafted a will for Proust's second cousin.
Name the three people with whom you would most like to dine.
Virgil Thomson, Gertrude Stein, and Wallace Stevens. Thomson said that he and Stein 'got along like a couple of Harvard boys' while creating their opera Four Saints in Three Acts. Stevens, who attended the world première in his home town of Hartford, found their opera 'most agreeable musically', despite 'numerous asses of the first water in the audience … people who walked around with cigarette holders a foot long, and so on'. I would serve Alice B. Toklas's Chicken à la Comtadine, using my own home-made tomato jam.
Which word do you most dislike, and which would you like to see back in public usage?
My most disliked word is 'intersectionality'. A dozen or so identity medals shine and jingle confusingly as this word is pronounced. There is no word I'd like to bring back. Finding new words matters more.
Who is your favourite author?
Almost all 'great' novelists and many obscure ones.
And your favourite literary hero and heroine?
Maggie Verver in Henry James's The Golden Bowl. Maggie preserves her marriage to a man she loves, though it takes nerves of steel to do it. Gore Vidal disparaged James's novel as a victory of 'force' (i.e. money) over feeling. James had a more complicated mind than Vidal.
Which quality do you most admire in a writer?
Wordsworth, Dickinson, Kafka, Faulkner, Shakespeare, Calvino, and Cervantes are startlingly 'new'. Henry James liked reading Whitman to Edith Wharton. Who could guess that James was a Whitman fan?
Which book influenced you most when you were young?
Thomas Mann's Magic Mountain, when I was sixteen. The Jesuit Naphta's attack on Settembrini's liberal humanism shocked me. But my enthusiasm for enlightenment values survived.
Name an early literary idol or influence whom you no longer admire – or vice versa.
William Carlos Williams seemed too plain. Robert Gray convinced me otherwise.
What, if anything, impedes your writing?
Having nothing to say.
What do you think of the state of criticism?
Healthy, while it is still being written by literary hacks – I have been one.
And writers' festivals?
The smaller are more enjoyable than the larger.
Are artists valued in our society?
Yes.
What are you working on now?
Studying German at school and university, Rilke's New Poems astonished me and became the main influence on my adolescent poetry. I have just completed Fifty Rilke Poems – translations of rhymed Rilke poems into rhymed English – mainly from his New Poems, which were written when he was at the height of his powers, before they went into decline with the much-lauded Duino Elegies.