The Valley by Steve Hawke
Fremantle Press, $27.99 pb, 256 pp, 9781925591187
Fiction
The Valley
by Steve Hawke
The discovery of human bones is an intriguing narrative opening that rarely disappoints and seems an adaptable vehicle for the Australian gothic and representations of the impacts of colonisation on people and country. Perhaps this is because the image of curved, white mineral shapes (and the hint of stories fossilised within) contrast equally vividly with sandy coastal plains, central red dust, bleak mountain scarps, and dense green forest.
Amanda Curtin's The Sinkings (2008) begins with a grisly murder in 1882 and the 'discovery' of bones in a remote location near Albany along Western Australia's south coast. Steve Hawke kicks off The Valley in a similar vein. First the discovery in the present of the bones, which are found 'with arms folded, at peace', and then back to 1916 to a murder in a different menacing location named Poison Hole, in the Kimberley. Like The Sinkings, The Valley jumps back and forth over a century, focalising through the perspectives of different characters and filling in the back-story through archival material (in this novel, the 'fragile, yellowed papers: The Last Will & Testament of William Noakes', the family's unfortunate patriarch). The result is a multivocal contemplation of the significance of what is found.
Hawke's representation of Kimberley characters and communities, the Bunuba chief among them, and traditional and contemporary cultural practices are rich and evocative. He takes reasonable steps to establish his credentials to undertake this delicate task as a non-Indigenous writer. Biographical notes tell of a fifteen-year working relationship with Aboriginal communities and organisations in the Kimberley, and sustained contact ever since. Hawke, in an author's note, states that the novel should not be thought of as 'endorsed in any way by the community'. On the back cover, Stephen Kinnane, descendant of the Miriwoong people of the East Kimberley, says that 'Hawke draws us into a world that is respectfully and honestly grounded in decades of living in the Kimberley and working with Aboriginal people.' Hawke has explored this material before in his writings, including Noonkanbah: Whose land, whose law (1989) and the play Jandamarra, which premièred at the Perth International Arts Festival in 2008.
Of most interest is how The Valley engages with multifaceted aspects of masculinity such as fatherhood, men's relationships with one another and with women, issues of violence, substance abuse, emotional well-being, and caring. Male relationships are prioritised in this family saga, with the first scenes depicting traumatic events in the lives of four young men over four generations, each scene bringing significant pairs together: cousins, brothers, father and son, husband and father-in-law. These early events establish the family history against which the present narrative, in 2005, can be understood. Here, we see sixteen-year-old Broome boy Dancer Rider serving as pallbearer for his great-uncle. Afterwards, in a drug-fuelled haze, he falls foul of some local bikies. His father, Andy, desperate to smooth things over, accepts an offer to take Dancer up the Gibb River Road to a remote cattle station.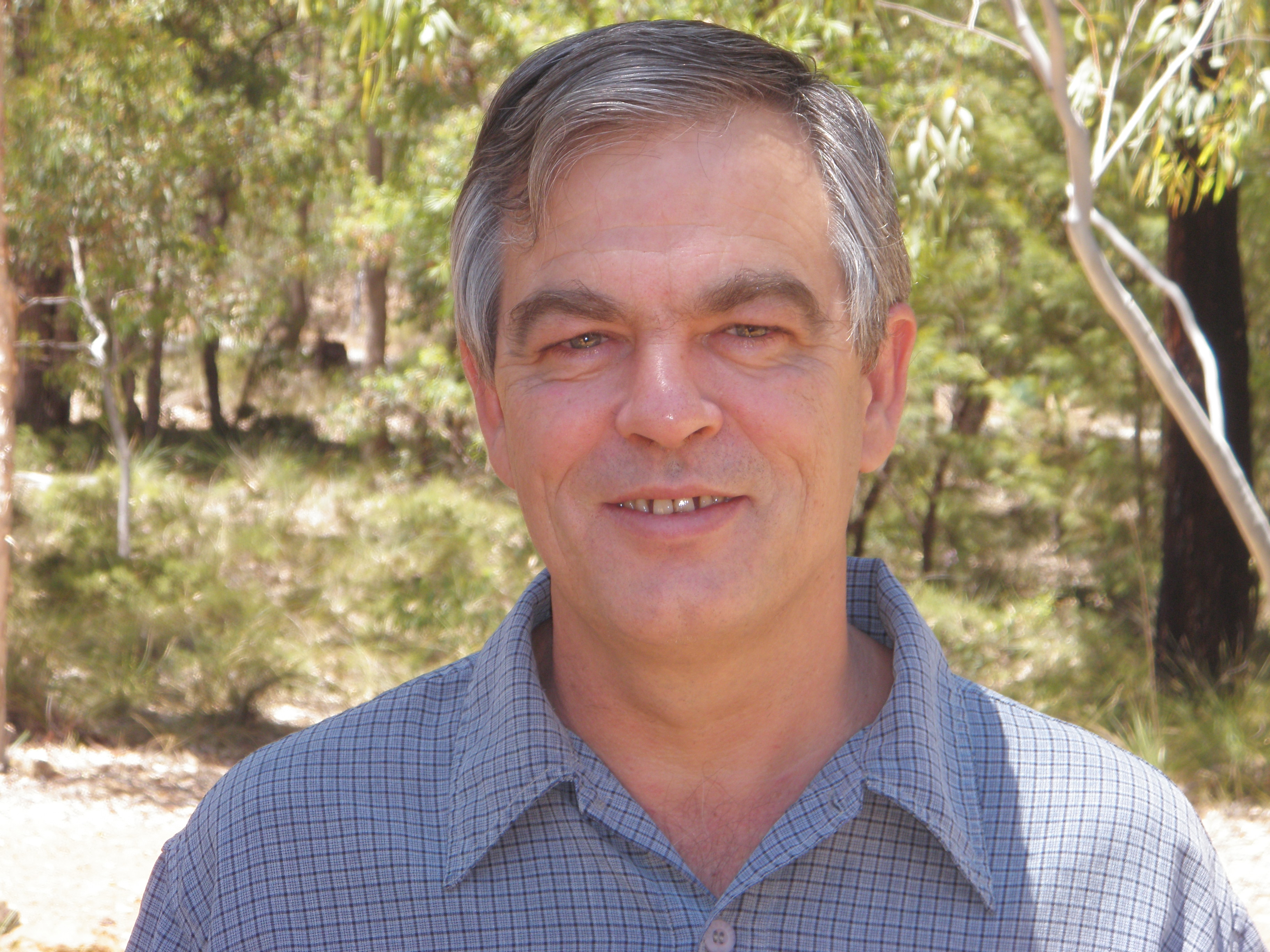 Steve Hawke (photo via Fremantle Press)
Highlands, once a thriving station in the heart of Dancer's mother Milly Walker's country, is now a struggling enterprise run by the Jimbala Wali Community. Milly's father, Two Bob, whom Dancer has never met, seeks Andy's help, ostensibly to bring a herd of bullocks out of a remote valley deep in the country, to which access is known only by Two Bob and his great-nephew Riley. The valley, Two Bob's childhood home, is a place of secrets where the pathway is hidden by a 'jumble of driftwood and bushes that looks for all the world like flood debris'. As the novel unfolds, Two Bob's more pressing intentions become clear, shimmering into focus like the contours of the 'small glistening valley enclosed on all sides'.
Most of the female characters are treated obliquely in this story; some leave the family picture prematurely and tragically. One exception is community leader Rosa, who provides a supportive role in the final chapters. This is not intended as a criticism, for the depth of feeling and diversity of experiences of being male in this family is genuinely engaging. Curiosity about the fate of centrally elusive figure Milly, who disappeared fifteen years earlier, casts a pall over the almost mythical, Arthurian journey of the four men and Rosa as they travel into 'true country', towards much deeper resolution than any of them expected.
Epic tales can be challenging to follow. Hawke provides some tools to keep the reader on track. A five-generational family tree mapping the connections between the Walker and Rider families, and a glossary of Kimberley, mostly Bunuba, terms, bookend the narrative; I found myself often referring to both. A similar visual guide, à la Tolkien, mapping the geographic locations so central to this story, might have helped, but Hawke's graphic storytelling – 'a timeless speckle of eucalypts and spinifex in greens and yellows, shot through with rocks and patches of pindan' – provided the necessary clues about the subtle differences in the physical settings. The final scenes, set against the landscape described above, are breathtaking as the burdens of long-held secrets are released and responsibility for family and cultural knowledge is shared more evenly and respectfully between generations.