Literary Studies
Writers on Writers: Ceridwen Dovey on J.M. Coetzee
by by Ceridwen Dovey
'We think back through our mothers,' writes Virginia Woolf (twice) in A Room of One's Own. At first, she seems to be suggesting that women artists can only derive inspiration from women who precede them: 'It is useless to go to the great men writers for help … the weight, the pace, the stride of a man's mind are too unlike her own.'
But Woolf's bravura rhetorical essay (she calls her writing 'harliquinade' for its 'assortment of patches') arrives at far more radical ideas about gender and the imagination than this essentialist position foreshadows. The artist's mind, she argues later, is androgynous, with 'no single state of being', and can think back 'through its mothers or through its fathers'.
On J.M. Coetzee is a bright gem, with similar formal adventurousness. A kind of palimpsest, South African-born Ceridwen Dovey's reading of Coetzee overlays witnessing her mother's study of his work. It traces abandonment and desire through the relationship between readers and writers. Curiously, beautifully, despite and through its surface subject, it comes like Woolf's essay to limn ideas of women and fiction – or mothers, reading, and writing – in revealing ways.
Part of Black Inc.'s series in conjunction with the University of Melbourne and State Library Victoria, Dovey's work follows Alice Pung on John Marsden, Erik Jensen on Kate Jennings, and Christos Tsiolkas on Patrick White, and precedes Nam Le on David Malouf and Michelle de Kretser on Shirley Hazzard.
Dovey quips that 'writer on writer' is 'a curious phrase that makes me imagine covering his body with my own'. She quotes South African scholar Hedley Twidle envisaging his complex feelings about Coetzee – of becoming 'childishly possessive, stalkerish, reluctant to teach Coetzee because he doesn't want to share him' – resolved by, to borrow Dovey's phrase, 'seeing Coetzee's bum in lycra as he heads off on one of his cycling routes'.
To imagine this possessiveness in voyeuristic terms – something I find creepy with its note of control or ridicule – strikes me as a way to manage both the erotic charge of reading and the uncomfortable distance between the work we host in our heads (and hearts, if you imagine words, as poet Paul Celan did, like messages in bottles that may with luck 'wash up on land, on heartland') and the person who wrote it. My Coetzee, it insists, who can't be yours.
The initials 'J.M.' are 'an act of distancing, a warning shot my mother clearly heard: do not come too close, you will not find me here'. Yet for Dovey, quoting Woolf, his novels 'seemed to issue a sly invitation to join in their "dangerous and exciting game, which it takes two to play"'. What does Coetzee want from readers: 'For them to back off, or to come closer?'
Besides the vista of the lycra-clad writer, the corporeal is central to Dovey's work. In 1980, the year Coetzee published his third novel, Waiting for the Barbarians, and Dovey was born, her mother read as she breastfed her newborn. Dovey imagines her mother's 'somatic response to the words' coursing 'through her into me: elation and despair, trepidation and longing'. She feels 'marked by that embodied encounter with his writing, via my mother, as a newborn'.
As Dovey thinks back through her mother, motifs of distance and loss recur. The young child wanting 'to know what was inside the book that kept my mother in thrall' understands that 'this book was one of the portals through which I might one day follow her' to 'the secret world of her mind'. Although she writes, 'I felt no bitterness at having a door temporarily closed between my mother's world and mine, for there was never any doubt that my sister and I were front and centre of her life', the 'mysterious man whom she referred to only as "J.M.''' hovers, 'an unseen but strongly felt presence in our small family drama'.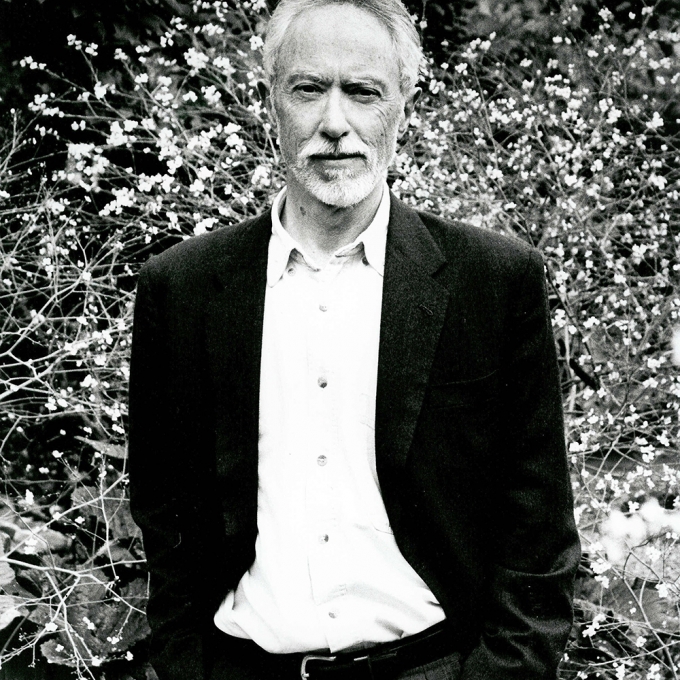 J.M. Coetzee (Photo by Bert Nienhaus)Dovey situates this within another of Coetzee's correspondences. In his exchange with psychoanalyst Arabella Kurtz, published as The Good Story: Exchanges on truth, fiction and psychoanalysis (2015), they discuss 'the third position', which Kurtz describes as 'the ability to build a space in one's own mind for the relationships between others'. While Dovey celebrates her mother's relationship with Coetzee as a means to learning this step towards a child's maturation, a shadow lingers. In this flickeringly lit place – beyond the closed door – where the daughter variously understands, admires, and is mystified by the mother's own intimate imaginative world – individuation and abandonment hover.
This is a work about eroticism, and the other face of abandonment: giving oneself generously and wholly, here, to the life of the imagination and the pleasures of reading. The story of Dovey's mother, writing the first critical study of Coetzee as her PhD and corresponding with a Coetzee famously 'allergic to any interlocutor who wants him to make the meaning of his work explicit', frames Dovey's reading and her emergence as a celebrated writer whose books Coetzee endorses.
Dovey and her mother exemplify the 'scholar of one candle' Wallace Stevens wrote about. They meet Coetzee's work in different, private ways. Stories of the family's migration between South Africa and Australia ebb and flow, as does Dovey's 'worship' of Coetzee's novels and her sense of being unable to 'interpret them without my mother's prompts, which in turn makes me feel helpless and resentful'. In this ambivalent, fructive space, Dovey's reading and writing develop, along with this work, which enfolds an exquisite Künstlerroman, and a celebration as much of Teresa Dovey as of J.M. Coetzee.