Adani and the War Over Coal by Quentin Beresford
NewSouth, $34.99 pb, 416 pp, 9781742235936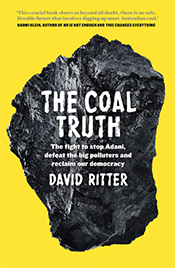 The Coal Truth: The fight to stop Adani, defeat the big polluters, and reclaim our democracy
by David Ritter
UWA Publishing, $29.99 pb, 200 pp, 9781742589824
Environmental Studies
Adani and the War Over Coal
by Quentin Beresford

&

The Coal Truth

by David Ritter
Who can forget the image of Scott Morrison, as federal treasurer, juggling a lump of lacquered coal in parliament on 9 February 2017? Appearing pretty chuffed with his own antics, Morrison urged people not to be afraid. Eighteen months later, the jester is now prime minister. His ascension results from one of the most undignified and ill-conceived political coups in Australia's political memory. The Liberal Party clambers from the rubble of its bitter internal ruptures with the same foot soldiers of big coal even more prominent.
In Adani and the War Over Coal, Quentin Beresford provides detailed analysis of each policy switch and deal struck by politicians and mining corporations to advance the coal industry. Politicians with personal interests vested in coal radically deploy the power of their office to smooth and broaden the reach of resource corporations. Pugilistic audacity and naked entitlement characterise a war conducted on behalf of big coal against Australian citizens and environments.
Continue reading for only $2.50 per week. Subscribe and gain full access to Australian Book Review. Already a subscriber? Sign in. If you need assistance, feel free to contact us.