Privacy is having its moment. Google users have unknowingly permitted the corporation to track their every movement and record every web search, YouTube video watched, and more. Facebook allowed data to be collected from users and their friends via a third-party application, which were then used by data analytics firm Cambridge Analytica to target Trump voters with 'fake news' in the 2016 US presidential election. And personal data is far from all that can be bought and sold online. In 2014, more than 250 celebrity- owned iCloud accounts were hacked, and their explicit personal photos disseminated online. The prevalence of sharing non-consensual pornography ('revenge porn') is not restricted to the rich and famous. In the United States, the Data and Society Research Institute reported in 2016 that one in twenty-five Americans had been a victim of 'image-based abuse', to use the terminology now preferred by researchers. In Australia, according to a 2017 RMIT University report, that number is around one in five.
It is this history of image-based abuse that Jessica Lake traces in the timely The Face That Launched a Thousand Lawsuits: The American women who forged a right to privacy. Using almost thirty court cases from the late nineteenth and early twentieth centuries, Lake chronicles how women attempting to regulate non-consensual use of their photographic portraits through the courts forged our modern understanding of the right to privacy. In doing so, she challenges the traditional understanding that this right was first formulated by Samuel D. Warren and Louis D. Brandeis in their influential article 'A Right to Privacy' (1890). Lake argues that Warren and Brandeis drew on pre-existing public debates about protecting 'ladies' in the public sphere, and that women were driving forces within this history. Most pertinently to our current moment, Lake makes clear that while the prevalence and increased distribution of image-based abuse owes a debt to social media, these modern developments are only the latest in a long history of privacy invasions enabled through technological advances.
Modern photography was the invention of George Eastman, who made photography accessible to the amateur when he developed the Kodak camera in the 1880s. By 1896, Eastman had sold more than a hundred thousand hand-held cameras. Amongst these were detective cameras, named for their size and discrete use. Advertisements not only targeted police and detective departments, but also ordinary people who wished to photograph others without their knowledge or consent. There was no sense on the part of photographers that this non-consensual practice ignored the rights of the would-be victims. Photographers were further incentivised because they could monetise these images. From 1865 the United States granted photographers all copyright in their images, just as painters and sculptors had over their artistic property. However, as Lake explains, photography altered the contract between subject and artist, particularly when the subject was photographed without their knowledge or consent.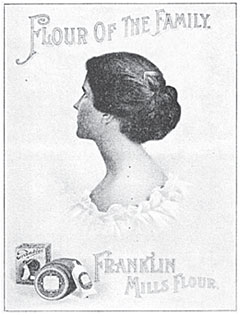 Abigail Roberson's image, as it appeared on advertisements for a flour productLegal claims based on a right to privacy challenged this doctrine of copyright. In 1900, Abigail Roberson brought legal action in the Supreme Court of New York, Monroe County, after discovering that Rochester Folding Box Company had non-consensually used her image on their packets of flour. Her lawyer claimed she had a 'right to privacy' which had been violated by the commercial practices. Roberson lost the case in the New York Court of Appeals, but in 1903 the New York legislature did what the courts would not, and – using language lifted almost entirely from the Roberson decision – passed New York's first privacy laws. US state Supreme Courts did not explicitly recognise this right until 1905, when the Supreme Court of Georgia became the first state to uphold a right to privacy in Pavesich v. New England Life Insurance Co. The plaintiff, Paolo Pavesich, was a man, a fact Lake justifiably notes as particularly striking, given how women plaintiffs 'dominated' this area of law during this period.
The disconnect between copyright law and the right to privacy is at the heart of many of the case studies that Lake has resurrected from the archives, involving both still and moving pictures. Rather than remaining passive subjects of the photographer's gaze, women used the courts to challenge the exploitation of their image and invasion of their private space and person. Stella Kunz sued when an interaction with her was filmed without her knowledge and later used in a moving picture advertisement (Kunz v. Allen). Katherine Feeney consented to her caesarean operation being filmed for educational viewing by medical societies, but sued after it was included in the film Birth (1917) without her knowledge, and screened across the United States (Feeney v. Young). These claims were filed against a background of burgeoning discussions of women's roles and women's suffrage, when women had limited citizenship rights. The courts provided an avenue of redress when women had few others, and Lake demonstrates that even when their cases were not successful, women plaintiffs pushed the language of privacy into the public sphere and influenced legal and political debates.
In 1890, the Ladies' Home Journal warned that 'women should always know the standing of the man to whom they entrust their negatives'. That this same victim-blaming advice is still offered as a precaution against modern image-based abuse exemplifies how much progress is needed in this realm. Yet The Face That Launched a Thousand Lawsuits reveals the great strides already made by pioneering women, who continue to inform modern privacy debates, even if their names had been – until now – long forgotten.